To Provide the Best Customer Experience, Be Proactive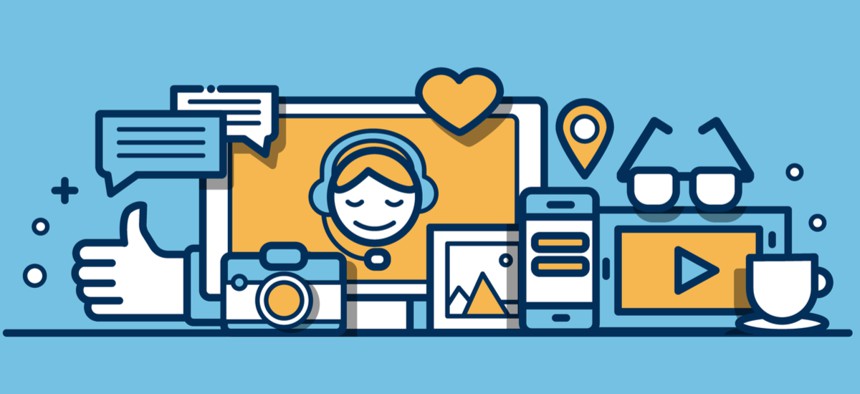 "Be where your customers are" and other helpful tips from customer experience professionals.
The public sector's problems engaging customers and providing positive customer experiences are well-documented, especially within the federal government, where agencies routinely rank among the worst of the worst.
What's less clear is what public sector organizations ought to do about it.  
On March 27, Nextgov hosted several customer engagement experts in Las Vegas to discuss how they've successfully engaged customers and improved customer experience scores. Below is a summary of the lessons they learned.
1. Treat your customers like you'd want to be treated.
The golden rule applies to customer engagement, too.
Nicole Denton, an online communications strategist with Salt River Project, a Phoenix-based power provider, said one of the most common mistakes organizations make is only engaging with customers when they have to. Much like customers of government agencies, electric consumers have little choice in what power company they use, but Denton said that shouldn't be an excuse to be complacent. During rainy seasons, when flooding and outages often occur and customers are at their most stressed, Denton said she and her team often work around the clock responding to customers through email and social channels.
Little things, like uploading photos of power crews fixing downed lines, help build rapport with customers and also highlight how Salt River Project—a company customers have little choice in using—is working on their behalves.
Denton said the company is cognizant of its reputation in the community. The better their reputation, the more people "trust us to resolve issues."
2. Whenever possible, engage in real-time.
Chris Jones, airport chief marketing officer for the Clark County Department of Aviation, said he made Twitter his department's primary means of crisis communications a few years ago when it became clear that traditional news releases and press conferences weren't immediate enough for modern customers. Airports within Clark County see 50 million passengers annually, and Jones said tweets—often amplified by news outlets or other large accounts—are an effective way at reaching a larger number of passengers.
As an example, Jones referenced a British Airways plane that caught fire with 170 people aboard while accelerating for takeoff at McCarran International Airport in September 2015. Photos of the plane ablaze circulated immediately on Twitter, causing panic regarding the passengers' safety. Jones instructed one of his personnel to post a picture of the plane after the fire was put out so viewers of the viral incident would know the danger had subsided in real time.
"We recognize the importance of digital media and timeliness it offers," Jones said.
So too does Jennifer Davies, the City of Las Vegas' senior public information officer. Davies led the city's social engagement efforts following the Oct. 1 mass-shooting that left 59 dead. Although the shooting didn't technically occur within Las Vegas city limits, the city's Twitter account became the official go-to for updates and information for the public, more than doubling its followers to 500,000. It also played a critical role for citizens, releasing integral information about the scene and potential victims that was amplified by news outlets and other official government accounts.
"I would literally tweet out an image and within seconds, see it on the local television stations," Davies said.
Las Vegas has also taken to using Facebook Messenger to provide another means of real-time engagement.
3. People matter most.
People matter more than technology, at least when it comes to customer engagement. That means two things: Hiring people who understand the importance of providing customer engagement and ensuring an excellent user experience for the people you serve.
Davies said hiring the right talent often requires two ingredients difficult to attain in government: Buy-in and revenue. Davies, who was hired as the city's first social media manager six years ago, is now among a four-person team. It didn't happen overnight—and in fact, took several years—she said one tried and true way to get buy-in from organizations is to "tout your successes." Monitor engagement metrics, such as social media followers, and share them upward.
Denton said the user experience component is also key. Salt River Project makes use of A/B testing to test how it should roll content to users. It also makes sure its website is easy to navigate regardless of device, and that emails to roughly 1 million customers contain only relevant information. In addition, she said Salt River Project is looking to bring more digital natives and ideas from the private sector into its organization.