Cyberattacks Haven't Stopped but Neither Have Bills to Fight Them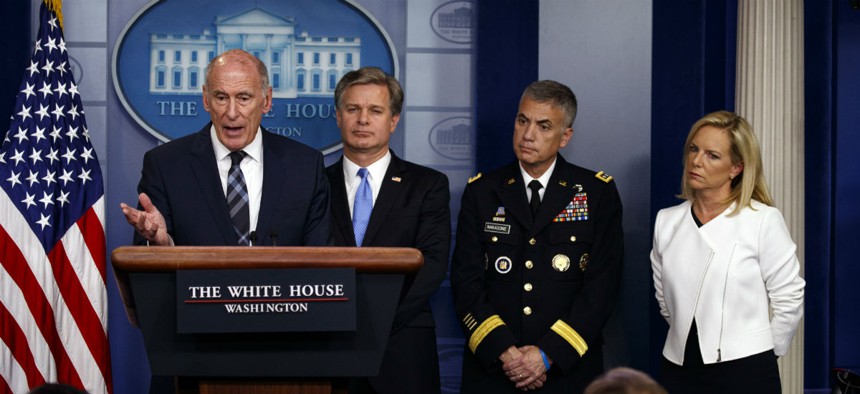 Top national security and intelligence leaders pledged to defend the country from foreign influence campaigns.
When they took the podium at Thursday's White House press briefing, national security and intelligence chiefs had one resounding message for the American people: The country is still under attack.
"Russia attempted to interfere with the last election and continues to engage in malign influence operations to this day," said FBI Director Christopher Wray. "This is a threat we need to take extremely seriously and to tackle and respond to with fierce determination and focus."
Wray was joined by Director of National Intelligence Dan Coats, Homeland Security Secretary Kirstjen Nielsen, National Security Agency chief Gen. Paul Nakasone and National Security Adviser John Bolton, all of whom reiterated their commitment to defending against foreign influence campaigns.
The briefing came the day after internet researchers urged the government to take more targeted actions against online misinformation campaigns at a Senate Intelligence Committee hearing.
But What Have You Done for Me Lately?
Senate Republicans knocked back a Democratic effort to commit an additional $250 million to election security Wednesday. That would be on top of $380 million Congress committed to the issue in Mach.
Senate Appropriations Committee ranking member Patrick Leahy, D-Vt., introduced an amendment to the Senate's "minibus" spending package to include the funds but the amendment failed to reach the 60-vote threshold.
Homeland Security official Chris Krebs has said several times that the initial $380 million is insufficient to replace all outdated and vulnerable voting machines, but he's also faulted state officials for not being specific enough about much money they need and what they'll do with it.
Another NDAA in the Bag
The National Defense Authorization Act, chock full of tech and cyber measures, is heading to the president's desk after final passage by Congress last week.
Among the big-ticket provisions of the bill are governmentwide bans on the Chinese companies Huawei and ZTE, more flexibility for the Pentagon to block questionable contractors, and a major report on the Defense Department's JEDI cloud. The bill passed 87 to 10.
One no vote on the bill came from China hawk Sen. Marco Rubio, R-Fla., who fought to include a provision that would have reinstated punitive measures against ZTE for violating U.S. sanctions and effectively put the company out of business. In floor remarks, Rubio described the U.S. and China as in a Cold War-style geopolitical struggle with China making technological leaps at the U.S.'s expense.
The Tech Trifecta
Sen. Mark Warner, D-Va., announced top executives from Facebook, Twitter and Google would return to Capitol Hill on Sept. 5 to discuss their strategies for fighting misinformation on their platforms ahead of the 2018 midterms.
Facebook Chief Operating Officer Sheryl Sandberg and Twitter CEO Jack Dorsey have both formally accepted the Senate Intelligence Committee's invitation, but Google CEO Sundar Pichai—as of Friday—has yet to confirm his attendance.
Small Businesses, We Got You
The Senate on Wednesday unanimously passed a bill that would provide small businesses with a thorough set of guidance and resources to help bolster their defenses against cyberattacks.
The NIST Small Business Cybersecurity Act, introduced last year by Sens. Brian Schatz, D-Hawaii, and James Risch, R-Idaho, would help companies that often lack resources to invest in robust security protect their data using latest federal cyber standards.
I'm the Hunter; I'll Bring Back the Goods
Homeland Security cyber teams that hunt down adversaries and respond to cyber incidents would be made permanent under legislation introduced Tuesday by Sens. Maggie Hassan, D-N.H., and Rob Portman, R-Ohio.
Companion legislation has already passed the House.
Hassan and Portman earlier teamed on a bill to create a Homeland Security bug bounty program.
It Takes Two
Another bipartisan pair, Sens. Lindsey Graham, R-S.C., and Sheldon Whitehouse, D-R.I., introduced a separate pair of cyber bills last week.
The International Cybercrime Prevention Act would give prosecutors additional power to shutdown botnet armies of zombie computers. The Defending the Integrity of Voting Systems Act would clarify that it's a federal crime to hack any voting systems used in a federal election.
Securing the Supply Chain
The Homeland Security Department plans to stump hard for a legislative proposal that would dramatically broaden its ability to bar civilian government contracts with companies that might pose a cybersecurity risk, Undersecretary Chris Krebs said Tuesday.
That Trump administration proposal hasn't been formally introduced yet, though. A separate bill that passed the House Homeland Security Committee would grant Homeland Security similar power but only over the department's own contracts.
Doubling Down on Drones
Industry is working closely with the government to expand the commercial use of drones, and a bipartisan trio of lawmakers wants to double the money available to those companies.
Sens. Mark Warner, D-Va., John Hoeven, R-N.D., and Catherine Cortez Masto, D-Nev., introduced an amendment that would increase funding for the Unmanned Aircraft Systems Integration Pilot Program from $3 million to $6 million.
Led by the Transportation Department and Federal Aviation Administration, the initiative is exploring how to safely integrate drones into commercial airspace in ways that are currently illegal under federal law.
A Quantum of Solace
The Senate Commerce Committee forwarded a bill Wednesday that would create a national coordinating office for quantum computing and mandate a decade-long national quantum computing initiative.
The bill from Committee Chair Sen. John Thune, R-S.D. and ranking member Sen. Bill Nelson, D-Fla., mirrors legislation that passed through the House Commerce Committee earlier this year and is expected to hit the House floor in the fall.
Let's Face the Facts
Citing the potential for racial discrimination and privacy rights violations, Democratic lawmakers called on a congressional watchdog to investigate the use of facial recognition technologies by private companies and law enforcement agencies.
In a letter sent Tuesday, they asked the Government Accountability Office to figure out which state, local and federal agencies are currently using the technology and what measures they're taking to safeguard against potential abuse. They also raised concerns about how companies that sell facial recognition tools train the programs.
The request comes after the American Civil Liberties Union released a report showing Amazon's "Rekognition" program, which is used by law enforcement groups around the country, misidentified 28 members of Congress, many of whom were people of color.
Coming Up
No more Congress! (at least until Aug. 15)
Both chambers are out on recess, but while House members will be sipping margaritas with their constituents through Sept. 4, the Senate is scheduled to reconvene mid-August to decide on judicial nominees and hammer out appropriations packages, including a mildly contentious Homeland Security Department reauthorization bill.