Senators Want to Double Funding for Putting Commercial Drones in the Air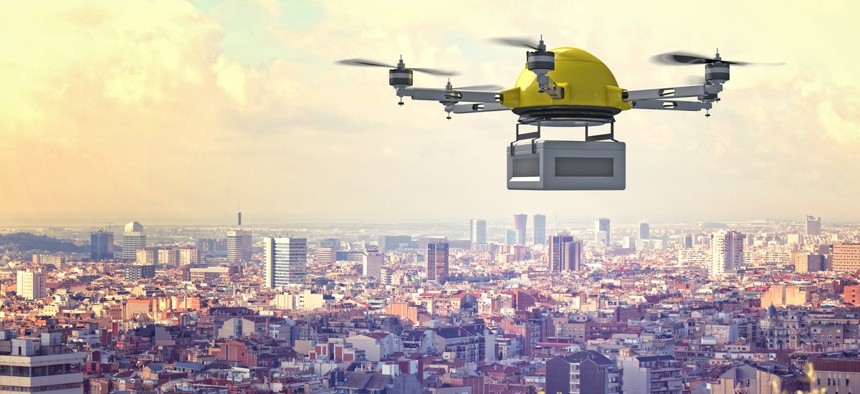 A bipartisan trio of senators wants to double the amount of federal funding supporting the integration of commercial unmanned aircraft systems, or UAS, better known as drones.
The current version of the Transportation, Housing and Urban Development spending bill would allocate $3 million in matching grants for companies working with the Federal Aviation Administration's test sites. The amendment introduced by Sens. Mark Warner, D-Va., John Hoeven, R-N.D., and Catherine Cortez Masto, D-Nev., would double that amount to $6 million.
"This amendment will ensure we continue supporting advancements in the safe and responsible integration of unmanned systems in our airspace," Warner said in a statement. "I look forward to working with my colleagues to ensure we provide the necessary funding toward research and development of this cutting-edge technology so that the U.S. can maintain our competitive edge."
The FAA has been working since 2013 to integrate drones into commercial airspace using test sites. The latest efforts are ramping up after FAA and Transportation Department officials in May announced the first 10 public-private partnerships to participate. Under the program, federal officials will team with local governments, universities, companies and community groups to test commercial uses for drones in conditions that are currently illegal to operate under.
Those pilot(less) programs "will test the safe operation of drones in a variety of conditions currently forbidden. These include operations over the heads of people, beyond the line of sight and at night," Transportation Secretary Elaine Chao said when announcing the first 10 partnerships. "Instead of a dictate from Washington, this program takes another approach. It allows interested communities to test drones in ways that they're comfortable with."
The program received a lot of initial interest from groups across the country, with more than 150 submissions to be a part of the first pilots.