Congress Questions Trump's ZTE Deal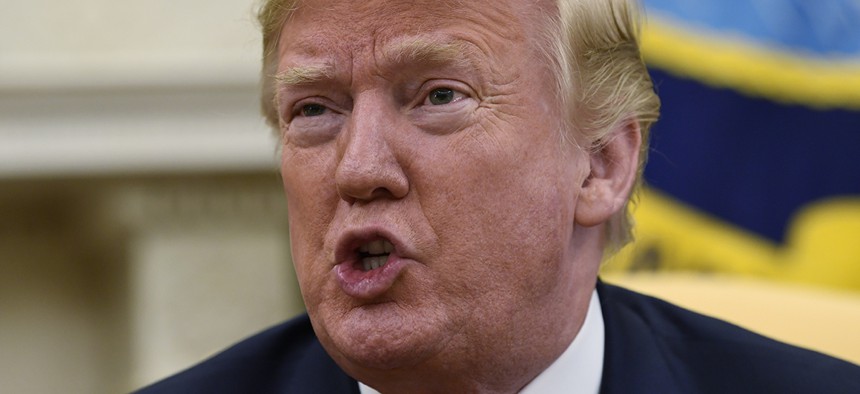 Congressional security hawks were not pleased—to put it mildly—with the Trump administration's Thursday deal to reverse a U.S. ban that effectively put the Chinese telecom ZTE out of business.
The ban, which barred U.S. companies from supplying parts to ZTE, was triggered because ZTE repeatedly violated U.S. sanctions on Iran, but lawmakers were largely concerned the company could be used as a Chinese government tool to spy on Americans.
Sen. Ron Wyden, D-Ore., called the deal "a loser for American security and a loser for American workers." Rep. Adam Schiff, D-Calif., ranking member on the House Intelligence Committee, asked on Twitter: "Is the President so desperate for a deal—any deal—that he is willing to put Chinese jobs ahead of our national security?"
A bipartisan quartet of senators went a step farther, rapidly introducing an amendment to the Senate's National Defense Authorization Act that would restore the ban. The amendment, sponsored by Sens. Marco Rubio, R-Fla., Tom Cotton, R-Ark., Chris Van Hollen, D-Md., and Chuck Schumer D-N.Y., would also bar ZTE and Huawei, another Chinese telecom that's prompted spying fears, from all U.S. government contracts, grants and loans.
The text of the NDAA already barred the Chinese companies from Defense Department networks and would establish a procedure for the department to require other contractors to prove they weren't unduly beholden to foreign powers.
Elsewhere in the Senate NDAA
The Senate version of the annual defense policy bill would also effectively require the Defense Department to adopt binding cybersecurity directives that the Homeland Security Department imposes on civilian agencies.
The bill requires the Pentagon to appoint a single official responsible for integrating cybersecurity into industrial control systems relied on by the defense department and establishes a Pentagon program to help small defense contractors improve their cyber protections.
It would also establish a long-range commission, modeled on a Cold War predecessor, to help the U.S. gain and maintain a cybersecurity advantage against adversaries.
Sens. James Lankford, R-Okla., and Amy Klobuchar, D-Minn., are trying to add their election security measure to the bill as an amendment.
And Of Course, JEDI Provisions
The Senate's defense policy bill calls on the Pentagon to provide more information about the coming Joint Enterprise Defense Infrastructure cloud contract. It would require a plan to "rapidly acquire advanced commercial network capabilities" and other networking groundwork before it moves to JEDI. It would require an assessment of all the applications it may move and how they might need to be modified to properly function there. Lastly, the Senate's bill would ban the Defense Department from implementing new systems that aren't "cloud-ready."
The House version includes language that would force the Defense Department to report how a single-award contract would mesh with the rest of the Pentagon's clouds before any data could be moved to JEDI.
The department expected to release a final request for proposals in May but delayed it.
The House passed its version of the defense bill May 24, and the Senate is expected to pass its version this week. After it passes, the next step is hammering out the differences in conference.
A Use It Or Lose It Lesson
The House Thursday passed a revised version of the White House rescission package, a proposal that revokes about $15 billion in appropriated funds that agencies didn't spend. A Congressional Budget Office report on the package found the measure would save just $1 billion in actual outlays over the next 10 years. It heads to the Senate next, where it can pass with a majority of votes.
Don't Report Russians with Hacked Emails, Go Straight to Jail
Congressional hopefuls could end up in the hoosegow if they're offered hacked information about their opponents that seems to come from a foreign agent and they fail to report it to the FBI under legislation introduced Thursday by Rep. Eric Swalwell, D-Calif.
The requirement would also apply to candidates' families and campaign staff, according to the Duty to Report Act, which boasts 14 cosponsors, all Democrats.
For anyone who's been living under a rock, Russian officials met with members of President Donald Trump's family during the 2016 campaign with the offer of non-public "dirt" on Democratic nominee Hillary Clinton.
Thanks, But No Thanks
An effort to reinstate the Office of Technology Assessment failed on the House floor Friday. The defunct office once offered lawmakers advice on technical issues but was defunded in 1995. A group of Democratic lawmakers offered an amendment to reinstate the office to an appropriations bill to fund energy and water programs, military construction, the Veterans Affairs Department and the legislative branch for fiscal 2019. It failed by a vote of 217-195, largely along party lines.
Lieu to States: Don't Mess with Encryption
Rep. Ted Lieu, D-Calif., reintroduced a bill Thursday that would prohibit states from passing laws that degrade encryption.
Federal Bureau of Investigation officials have long warned that warrant proof encryption allows terrorists and criminals to "go dark" online, but federal lawmakers have not taken action to weaken encryption. Lieu's bill would effectively halt states from taking the lead.
Coming Up
It's a comparatively light tech and cyber week in Congress so far. Here's a rundown.
At 10 a.m. Tuesday, the Senate Judiciary Committee will hold a hearing on law enforcement capabilities to combat election interference.
At 2:30 p.m. Tuesday, a Senate Appropriations subcommittee will mark up a funding bill for the Commerce and Justice departments.
At 10 a.m. Wednesday, the Senate Commerce Committee will convene an oversight hearing of the National Telecommunications and Information Administration.
At the same time, the Senate Homeland Security Committee will mark up numerous bills, including the Cyber SAFETY Act, which would expand liability protection for firms that develop cybersecurity technologies.
At 10:30 a.m. Thursday, the full Senate Appropriations Committee will mark up numerous spending bills, including for the Commerce and Justice Departments and the legislative branch.