Lawmakers Warn of Cyber Threat Posed by Beijing, Moscow to Energy Sector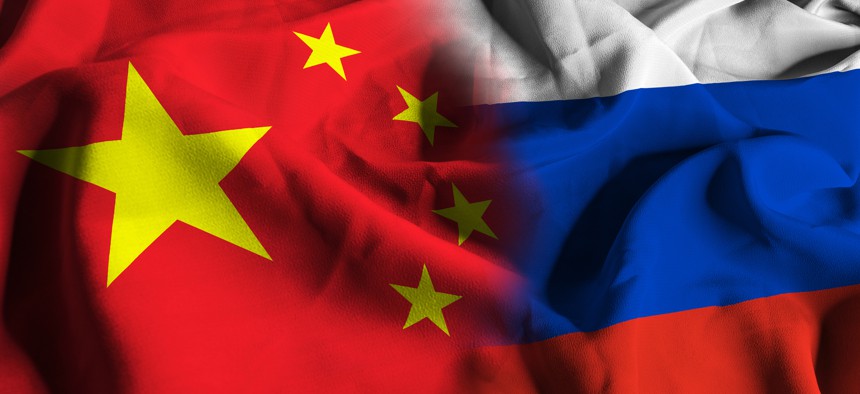 Enhancing collaboration and information sharing with industry partners can help mitigate threats, but concerns remain about the extent to which foreign-made equipment is embedded within the U.S. electric grid.
Cyber criminals affiliated with the Chinese and Russian governments pose a significant threat to the nation's energy infrastructure, lawmakers warned during a Senate Energy and Natural Resources Committee hearing on Thursday. Strengthening partnerships with the energy sector remains critical for federal officials to defend against potentially crippling cyberattacks, but more needs to be done to determine the scope of built-in cyber vulnerabilities that could undermine enhanced industry-government collaboration. 
Sen. Joe Manchin, D-W.V., who chairs the Senate panel, noted in his opening remarks that the U.S. intelligence community's recently released 2023 annual threat assessment "assessed China as the broadest and most active cyber threat to the U.S. government and private sector networks," and identified Russia "as the top cyber threat that is specifically focused on targeting our critical infrastructure."
"Russia's cyberattack that shut down Ukraine's electricity grid in 2015 was a wake-up call to the possibility of large-scale cyberattacks on critical infrastructure like the electric grid," he said, adding that Moscow's actions have only underscored the impact that energy sector-focused cyberattacks—such as the 2021 ransomware attack on the Colonial pipeline—can have on the entire U.S. economy. 
Sen. John Barrasso, R-Wyo., the committee's ranking member, also called Russian cyber attacks "an immediate threat to the American energy sector," noting that "Russia-connected hackers attempted to take almost a dozen American power plants and natural gas sites offline" in the opening weeks of Russia's invasion of Ukraine last year.  
But Barrasso warned that Beijing poses "the greatest long-term cyber threat to America's critical energy infrastructure," adding that "China's been targeting American pipeline control systems for more than a decade" to gain a foothold within vital networks for potential exploitation in future operations.
Given the increasing cyber threat posed by global adversaries, as well as the persistent threat posed by international hacking groups looking to extort victims—like the perpetrators of the Colonial pipeline attack—senators on the committee pushed for enhanced collaboration between private sector energy companies and the Department of Energy, the Cybersecurity and Infrastructure Security Agency and other federal agencies. 
Manchin—along with Sen. Jim Risch, R-Idaho—introduced legislation on Wednesday to authorize the DOE's Energy Threat Analysis Center, or ETAC, "to coordinate information sharing, threat assessments and threat mitigation measures" between DOE, CISA, the intelligence community and private sector partners. 
DOE's proposed fiscal year 2024 budget seeks $5 million to further expand ETAC, which is currently operating as a pilot program. The National Cybersecurity Strategy, released on March 2, cited ETAC as an example of the type of collaborative approach needed "to enable timely, actionable and relevant information sharing directly with private sector partners in their respective sectors." 
"ETAC will serve as the energy sector's centralized hub in the federal government for cyber information sharing and threat response, and DOE will be able to better defend the U.S. energy sector against cyber threats and inform the industry of actionable steps they can take with their threat response," Manchin said, adding that "the creation of this center is critical to the energy security of our nation."
Stephen Swick, chief security officer of American Electric Power, told the committee that collaborative spaces, such as ETAC, "offer a potential way to deepen our public-private partnership" and enhance needed information sharing across the sector. 
"To best protect the electric grid, we must proactively identify threats, strategize how to shield against them and share relevant intelligence and mitigations across critical infrastructure to strengthen our defenses," Swick said in his written remarks. "Regardless of what we do to protect our own systems, we each are as strong as our weakest interconnected peer."
But lawmakers said that DOE and federal officials need to do more to identify vulnerabilities that could undermine enhanced cyber awareness and collaboration, particularly when it comes to Chinese-made equipment that is already embedded within the electric grid. 
Puesh Kumar—the director of DOE's Office of Cybersecurity, Energy Security and Emergency Response—said that officials "need to be focused on the China threat when it comes to the grid equipment, both hardware and software, that is deployed across the United States." 
Kumar said DOE has been focused on four areas related to these concerns, including identifying critical components that could have a debilitating impact on services if they are disrupted, establishing the provenance of equipment parts, promoting education and awareness of potential vulnerabilities and "testing some of this equipment down to the chip level and down to the software level in partnership with the DOE national laboratories." 
Sen. Josh Hawley, R-Mo., pressed Kumar if DOE knows "what percentage of the U.S. electric grid contains components that are manufactured in China." Kumar was not able to provide an estimate, noting that the department is conducting a "broad analysis" to determine the scope of Chinese-made components and subcomponents within the electric grid—although he was also unable to provide an estimate as to when that testing and review process would be completed. 
Hawley said he found it "really quite baffling" that DOE could not provide answers about the scope of the problem or offer an estimate as to when its review would be finished. 
Sen. Angus King, I-Maine, echoed Hawley's concerns and said that determining the amount of Chinese components within the nation's electric grid was "a hair on fire urgent matter."
"We need a much sharper answer on that, because that's an enormous opportunity for malicious activity," King told Kumar.