Key Official: Defense Information Operations 'Not Evolving Fast Enough'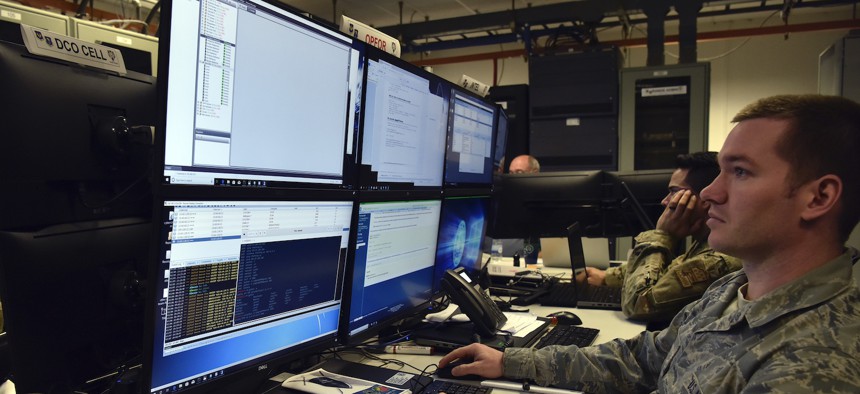 China will soon harness AI to supplant Russia as the world leader in information warfare, a DIA leader said.
The U.S. military isn't keeping up with information-warfare threats from Russia, Iran, and China, defense officials told lawmakers on Tuesday, adding that the military needs to prioritize information operations, diversify its information-ops units, and relearn how to coordinate IO across units, forces, and services.
"We're evolving as a country and a force from a heavy focus on counter...violent extremist organizations to a much more diverse threat environment where information is one of the tools they're using," said Christopher Maier, the acting assistant defense secretary for Special Operations and Low-Intensity Conflict. "We've got to be able to play their game against them and beat them in some respects on their own playing field."
Right now, the job of conducting information operations as part of broader military operations falls primarily to U.S. Special Operations Command or SOCOM. In April 2019, the command stood up a new Joint Web Ops Center to better tackle information operations.
The Army, too, is making information ops a key component of its future cyber operations. Last July, Lt. Gen. Stephen G. Fogarty, who leads the Army Cyber Command, or ARCYBER, outlined how the Army plans to integrate information operations into exercises and eventually operations over the coming decade. "Internally, ARCYBER will work to build information capabilities into combined arms teams with converged cyber, influence, and electromagnetic capabilities that deploy to bring immediate, turn-key informational combat power to maneuver commanders," Fogarty wrote.
Still, Maier told a House hearing on information operations, SOCOM "would say that they are not evolving fast enough. And as you know, in training special operations forces, it really requires recruitment and training far down the line." 
Maier said that diversity in recruitment, seeking applicants with different language backgrounds, would play a key role in helping the military. 
Neill Tipton, the Director of Defense Intelligence said, that U.S. agencies and offices were once better at coordinating information operations.
"We're rebuilding muscle memory that we haven't had since the Cold War as we operate in this kind of information domain. Clearly, there are gaps in how we do that," Tipton said. 
One former senior defense official familiar with the Department's efforts and capabilities in information warfare applauded Maier's acknowledgement that SOCOM needs to adapt their recruiting and training for better information operations. But the official said the problems go deeper. 
"DoD is poorly prepared to conduct influence operations," which the official said are "viewed as an afterthought and something the combatant commanders, especially after kinetic operations, rather than something that the E-ring must be engaged in 24/7/365. They are more concerned with countering disinformation rather than going on the offensive. All of this needs to change."
A second former senior defense official said SOCOM's IO woes are "largely due to a lack of civilian oversight of the command," which is the role of the assistant defense secretary for Special Operations and Low-Intensity Conflict, or ASD SOLIC. "In the absence of effective civilian oversight, SOCOM has focused on what they wanted to focus on, not necessarily what they should. To be clear...this is not the fault of anybody in the SOLIC office, past or present. It is because DoD has failed to follow the law and SOCOM has actively resisted it."
The second former official noted that the 2017 National Defense Authorization Act elevated the position of ASD SOLIC, but this law was implemented only in the final days of the Trump administration. Acting Defense Secretary Chris Miller moved ASD SOLIC from the office of the defense undersecretary for policy; its incumbent now reports directly to the defense secretary. Miller also gave ASD SOLIC formal control over SOCOM's budget. 
"I would argue had this been done, in addition to properly resourcing the office, when the law was enacted, Chris Maier's statement at this week's hearing would have been much different," the second former official said.
At the hearing, Maier said that decision to elevate the position was currently under review by the Secretary of Defense.
Also March 16, the Office of the Director of National Intelligence released an unclassified version of a report that looked at foreign influence operations. The report details Russian efforts to sway U.S. public opinion during the 2020 election towardPresident Donald Trump. It also describes Iranian actions to hurt Trump's re-election chances. 
The report concludes that China "did not" attempt to influence the election, contradicting a claim made repeatedly by Trump on the campaign trail. 
James Sullivan, the defense intelligence officer for cyber at the Defense Intelligence Agency, said at the hearing that Russia right now is clearly "ahead," and the more aggressive and practiced operator in information operations. But, Sullivan said, "China will grow into that role. China will use machine learning and AI faster than the Russians will do it."
The most important takeaway, he said, is that information operations are going to be a permanent fact of life for the U.S. military, the government, and citizens. 
"The threat in the information domain is here to stay. Because it really comes down to conventional military overmatch in which neither country has that against the United States. Cyber is a great equalizer in that nobody is 100-percent mature in this domain and information dominance is effective. It is cheap. It is quick."