A Big 2020 Election Hack Never Came. Here's Why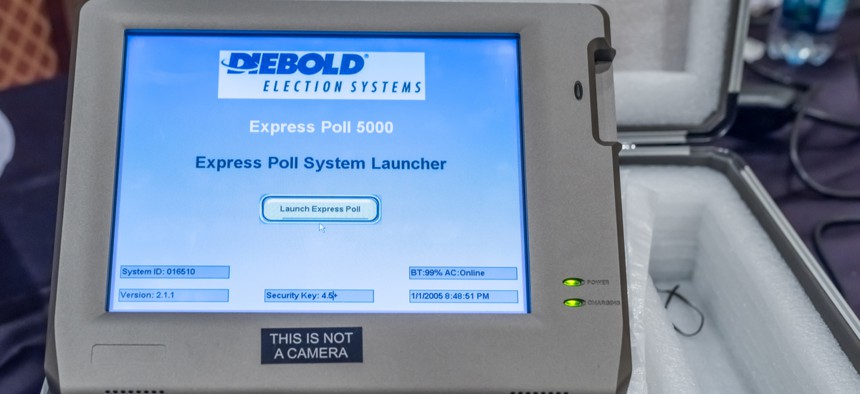 America's cyber defenders are getting more proactive — and more chatty.
As the final high-tension hours of voting ticked away on Tuesday, nervous reporters waiting for news of foreign information warfare efforts were left like Vladimir and Estragon by the roadside, waiting for a phantom that never appeared. Instead came news of U.S. cyber operations meant to retaliate for earlier Iranian meddling and to deter more of the same.
"The move against Iranian hackers working for the Islamic Revolutionary Guard Corps came shortly after they launched an operation two weeks ago posing as a far-right group to send threatening emails to American voters and also posted a video aimed at driving down confidence in the voting process, said the officials, who spoke on the condition of anonymity because of the operation's sensitivity," according to the Washington Post, which broke the story. 
U.S. Cyber Command officials declined to formally acknowledge the operation, citing policy, but did send a statement from Gen. Paul Nakasone, the director of U.S Cyber Command and the NSA.
"When it comes to those who threaten our democratic processes, we are equal opportunity disruptors. We're going to take action against any nation state or actor who attempts to interfere in our elections," the statement reads.
Cyber Command officials said that Nakasone had talked to reporters and, without mentioning the operation specifically, indicated that he was "very confident in actions" taken against adversaries "over the past several weeks and the past several months to make sure that they're not going to interfere in our elections."
The move follows a Cyber Command operation in 2018 targeting Russian influence operators in the runup to that year's midterm elections in the United States, which, of course, followed well-documented Russian attacks aimed at influencing U.S. voters through misleading social media posts and a hack-and-leak campaign that targeted at the Democratic Party in 2016.
Yesterday's news shows the willingness of U.S. Cyber Command to conduct information operations in other countries, even countries with which the United States is not officially at war. What's perhaps more interesting is that stories about these efforts are reaching the press. But that, too, may be part of the strategy, Lindsay Gorman, an emerging-tech fellow at the bipartisan Alliance for Securing Democracy, told Defense One in an email. 
"Overall, NSA/CYBERCOM have shown a sophisticated understanding of the foreign actor and foreign influence threat that makes significant strides from where our defenses against these operations were back in 2016. In particular, anticipating adversary activity and heading it off at the pass; increasing coordination with social media platforms, researchers, and foreign partners; raising the costs for adversaries to interfere in our democracy; and prioritizing clear communication with the public about these threats all make our elections and our democracy more secure," Gorman said. 
Over the course of the day yesterday, officials at CISA provided multiple updates to reporters on what they were seeing, or not seeing, in terms of attacks on election infrastructure. Aside from a few technical glitches, there was relatively little to report.
"Over the last four years, the Cybersecurity and Infrastructure Security Agency (CISA) has been a part of a whole-of-nation effort to ensure American voters decide American elections. Importantly, after millions of Americans voted, we have no evidence any foreign adversary was capable of preventing Americans from voting or changing vote tallies," CISA director Chris Krebs said in a statement.  
All of those efforts play a strategic role not just helping the public understand and have faith in the electoral outcome — especially those who preferred a different outcome —  but it holds a secondary value as well: telegraphing a deterrence message to U.S. adversaries. 
That marks something of a shift in the way the United States has handled such sensitive matters. It's a change that Gorman and other national security watchers have  advocated for. 
"An integrated information component of policy is not just pro forma talking points developed after policy decisions that no one uses. Rather, it involves advancing transparent and truthful information to prevent others from filling information vacuums and ensuring that the information dimension of every government action is prioritized, not viewed as an afterthought," Gorman and co-author Laura Rosenberger wrote in the Summer 2020 issue of the Washington Quarterly. "Integration of an affirmative information component into all government actions will be critical for contesting the information space and for ensuring the success of policies across all domains. This holistic integration also includes understanding that government is not necessarily always the right messenger and that marshalling trusted outside voices is often the best approach."
In the days and weeks ahead, officials at both CISA and Cyber Command are worried that disinformation efforts could grow as campaigns squabble in court over counting procedures and candidates make unfounded claims of cheating. Yesterday, while hundreds of thousands of people across multiple states received suspicious robocalls with false information about the polls, authorities were quick to push correct information, but there's no indication it came from a foreign adversary. Take that to be a positive indicator that the strategy is working. Last night, a senior official at CISA described the days and possibly weeks ahead as a "prime landscape for disinfo."
"Our operations, our focus, our work does not end on Nov. 3rd. Today is the start of a period of time when we will maintain constant vigilance. We have our teams ready to assist the Department of Homeland Security in cyber incidents and the FBI's Foreign Intelligence Task Force to provide information to social media platforms to counteract influence operations," Nakasone said in his statement.
In his own statement, Krebs said, "We will remain vigilant for any attempts by foreign actors to target or disrupt the ongoing vote counting and final certification of results. Keep calm, continue to look to your state and local election officials for trusted information on election results and visit CISA.gov/rumorcontrol for facts on election security."
Of course, there's little that U.S. Cyber Command or CISA can do to thwart disinformation that comes from Americans, or American campaigns. So how will we know if their strategy is working?
"We'll know it's working if we do not see widespread panic and doubt in the integrity of our electoral processes. A strong adversary goal in these operations is the 'perception hack' – that the mere perception of successful interference degrades confidence in our system, even if no system has been breached," said Gorman. "Clear communication on the robustness of our defenses can remove the possibility of an easy win for our adversaries." 
Yet there is no defense from our own inclination, as a nation, to hack our own perception and give in to resentful delusion to repair our own wounded egos. As Beckett would say, "We are all born mad. Some remain so."