Biden Team Highlights Cybersecurity Focus With First Cabinet Picks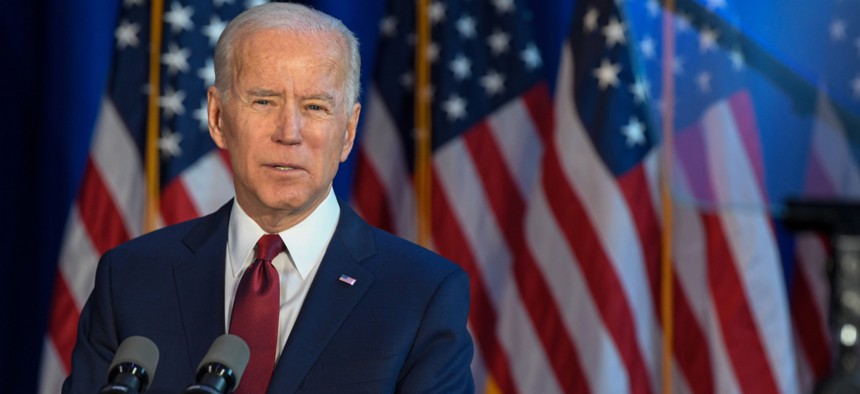 Familiar faces will likely have to revisit efforts around information sharing and establishing global norms.
The Biden-Harris transition team has explicitly called out cybersecurity as a priority in naming the first six individuals it plans to appoint or nominate for key cabinet positions. 
In a formal announcement planned for Tuesday, President-elect Joe Biden and Vice President-elect Kamala Harris intend to introduce Antony Blinken for secretary of State, Avril Haines for director of national intelligence, Jake Sullivan for national security advisor, Alejandro Mayorkas for secretary of Homeland Security, Linda Thomas-Greenfield for U.S. ambassador to the United Nations and John Kerry as special presidential envoy for climate.
"These officials will start working immediately to rebuild our institutions, renew and reimagine American leadership to keep Americans safe at home and abroad, and address the defining challenges of our time—from infectious disease, to terrorism, nuclear proliferation, cyber threats, and climate change," reads a release Monday from the Biden transition team.
Mayorkas, Haines, Sullivan and Blinken will serve in roles crucial to cybersecurity policy and have all worked in the Obama administration, which pioneered enduring cybersecurity approaches centered on the development of public-private and international partnerships.
Mayorkas, who would be the new leader of DHS, was deputy secretary of the department during the Obama-Biden Administration from 2013 to 2016 and the challenges he confronted then around information sharing with the private sector are still front and center now. He's also tackled cybercrime and securities fraud as a U.S. attorney. 
House Homeland Security Committee Chairman Bennie Thompson, D-Miss., praised Biden's selection of Mayorkas, noting his experience in cybersecurity.
"At a very nascent stage, the industry, individuals, companies ask of us, 'What is really in it for us? What is the benefit for us to share information?'" Mayorkas said in a 2016 speech in Israel. He invited that country to participate in the new information-sharing architecture that was being developed to help quickly disseminate indicators of compromise while protecting the private sector from fear of enforcement from their regulatory agencies and other legal liabilities.
But year after year, DHS' inspector general has highlighted a problematic lack of participation in the information-sharing mechanism by the private sector.
On the flip side, as the new leader of the intelligence community, Haines will be expected to uphold a commitment by the current administration for the government to declassify and share more contextual information about cyber threats with the private sector.  
ODNI will also play a key role in bodies like the Federal Acquisition Security Counci,l which has the authority to recommend exclusion and removal orders and is focused on eliminating foreign adversaries from the supply chain of U.S. information and communications technology.
"People often say that 'personnel is policy,' and President-elect Biden is making clear that he will bring a thoughtful, sober approach to the intelligence collection and analysis so important to our national security," Rep. Jim Langevin, D-R.I., and a key member of the Cyberspace Solarium Commission said, noting how easily the position can become embroiled in politics. "I commend him for his selection of Avril Haines."
Haines was deputy director of the Central Intelligence Agency from 2013 to 2015 and assistant to the president and principal deputy national security advisor from 2015 to 2017. She also worked early on under Biden as deputy chief counsel to the Senate Foreign Relations Committee and has been leading the transition team's national security and foreign policy components since it started in June.   
As global alliances become more important for taking on China and establishing international norms, Blinken's leadership of the State Department figures to be key. Blinken was deputy secretary of State from 2015-2017, and has been advising Biden since 2002, when he also served on the Senate Foreign Relations Committee. The Cyberspace Solarium Commission has pushed for the creation of a bureau of cyberspace security and emerging technologies at State to be led by an ambassador-level assistant secretary. State's organization of its cybersecurity work has been under scrutiny ever since Former Secretary of State Rex Tillerson threatened to slash its cybersecurity office in 2017.  
To coordinate all these entities and others, the public-private solarium commission has also pushed for the establishment of a national cybersecurity director. Former National Security Advisor John Bolton eliminated a similar cyber coordinator role.
Sullivan, Biden's pick for national security advisor, has been deputy assistant to the president and advised Biden on national security when he was vice president. He was also the director of the State Department's policy planning staff under then-secretary Hillary Clinton. Observers will be keenly watching to see how he organizes the administration's cybersecurity efforts.