Tillerson to Slash Cyber Office, Other Special Envoys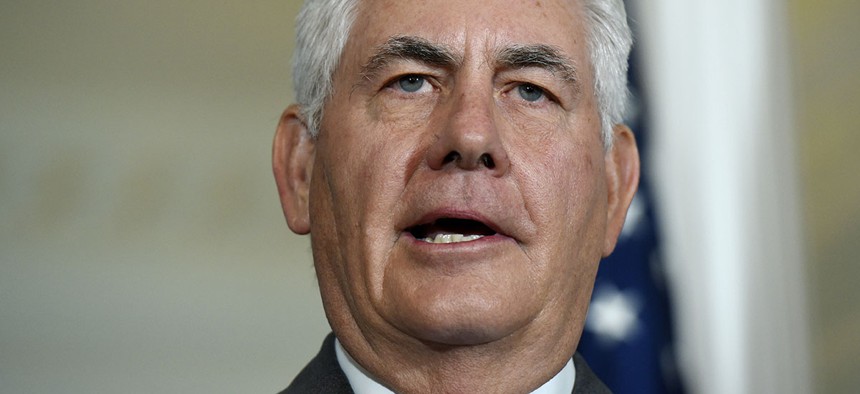 The move is part of a broader effort to streamline department operations and reduce its budget.
Secretary of State Rex Tillerson gave formal notice to Congress Monday that he plans to shutter the department's cyber coordinator office and roll some of its responsibilities into the economics bureau.
The plan to close the Obama-era office had been rumored since Cyber Coordinator Chris Painter abruptly stepped down in July.
The move is part of a broad reorganization to remove or downgrade several dozen special envoys, special ambassadors and other specially created positions across the department, according to a letter Tillerson sent to Senate Foreign Relations Chairman Bob Corker, R-Tenn.
» Get the best federal technology news and ideas delivered right to your inbox. Sign up here.
Some special envoys and representatives will be retained and have their positions expanded, according to the letter, which was first reported by CNN.
Tillerson described the reorganization as an effort to streamline State Department operations, eliminate redundancies and shift power to the department's core architecture of regional and functional bureaus. It likely also aids Tillerson's effort to cut the State Department budget by roughly 30 percent.
Corker applauded the move in a Twitter statement, saying the proliferation of special envoys and representatives has "in many cases…done more harm than good by creating an environment in which people work around the normal diplomatic processes instead of streamlining them."
Painter published a spirited defense of his office's work Aug. 1, soon after leaving his post, but did not describe the circumstances of his departure. Painter noted in particular that his office, which was the first of its kind among government foreign affairs divisions, has spawned 20 counterparts in other nations.
Those offices have helped advance issues such as enforcing good nation state behavior in cyberspace, combatting crime and internet governance "from being seen as largely niche or technical issues, to core issues of national security, economic security, human rights and, ultimately, core issues of foreign policy," Painter wrote.
Six House Democrats, including House Intelligence Committee ranking member Adam Schiff, D-Calif., and House Homeland Security Committee ranking member Bennie Thompson, D-Miss., introduced an amendment to a spending bill this month aimed at saving Painter's office. The amendment is unlikely to gain traction unless it can win Republican support.
Tillerson's plan also would fold the coordinator for international communications and information policy into State's economic bureau. Daniel Sepulveda formerly filled that role, representing the U.S. at major internet governance forums such as the International Telecommunications Union, the Internet Corporation for Assigned Names and Numbers and the Internet Governance Forum.
Other reassigned posts include special officials focused on global women's issues and anti-Semitism.
Posts that will be retained and expanded include a special representative for religious freedom and an envoy to Muslim communities.