Citing Cyber Threats, Trump Orders Ban on Buying Energy Sector Equipment from Foreign Adversaries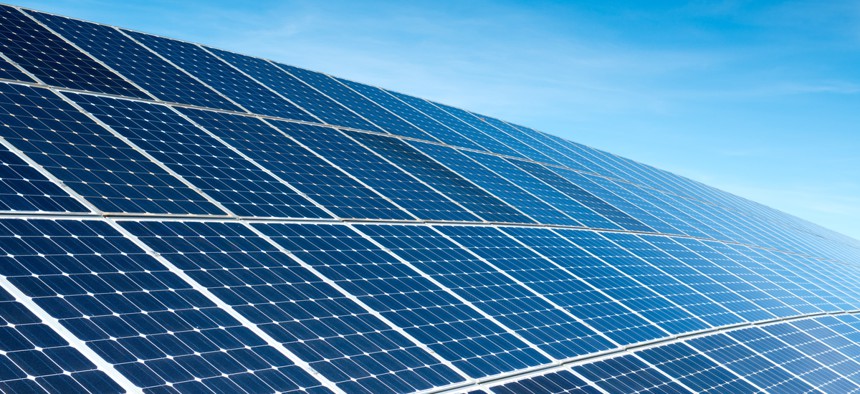 Some stakeholders say Commerce Department rules to implement a similar order about telecommunications equipment from last May are "impossible" to comply with.   
President Trump has tasked the Secretary of Energy with issuing rules that would ban U.S. entities from procuring foreign equipment that the administration said could make the nation's electricity systems vulnerable to cyberattacks.
"The bulk-power system is a target of those seeking to commit malicious acts against the United States and its people, including malicious cyber activities," he said declaring a national emergency in an executive order issued today.
The order seeks to restrict the acquisition of electric equipment "designed, developed, manufactured, or supplied by persons owned by, controlled by, or subject to the jurisdiction or direction of foreign adversaries."
The order does not specifically mention China or any other country. But defining foreign adversaries as "any foreign government or foreign non-government person engaged in a long‑term pattern or serious instances of conduct significantly adverse to the national security of the United States or its allies or the security and safety of United States persons" recalls connections to Huawei, which is already forbidden for use by the federal government.    
Energy Secretary Dan Brouillette now has 150 days to coordinate with the secretaries of Defense and Homeland Security, the Director of National Intelligence, and the heads of other agencies, "as appropriate" to publish rules or regulations to implement the order.
Bipartisan fear of China's ability to infiltrate U.S. critical infrastructure and pilfer or manipulate sensitive data has led to high-profile restrictions on Chinese companies, including the telecommunications giant Huawei.
A May executive order called on the Commerce Secretary to issue rules banning the import of information and communications technology from foreign adversaries. Stakeholders pushed back hard on Commerce, which proposed allowable imports be determined on a "case-by-case basis."
BSA | The Software Alliance—members of which have supply chains that are deeply interwoven with international collaborators—told Commerce the rules would make it "impossible for companies to create responsive compliance programs or to conduct business with a predictable and reliable understanding of the risks."
Trump administration officials acknowledge measures to limit the engagement of U.S. entities with Huawei relate to economic security, in addition to perceived cyber threats. And China is challenging U.S. "protectionism" on the world stage.  
Some climate advocates, meanwhile, fear the new executive order uses cybersecurity as a pawn to attack clean energy because Huawei is a leading manufacturer of the inverter technology that enables solar energy to flow through the electric grid. 
"Trump has long ignored cybersecurity threats to our nation, most notably in his own election," Adrian Shelley, director of the Texas office for the group Public Citizen, which also works on democracy issues, told Nextgov. "We wonder if [the president's] present concern isn't motivated by yet another opportunity to attack clean energy."
But Trump's move would likely have the support of some powerful lawmakers, including top democrats and Maine Independent Senator Angus King.
"Congress recently acted to block Huawei from our telecommunications equipment market due to concerns with the company's links to China's intelligence services," King and 10 other senators wrote in a February 2019 letter. "We urge similar action to protect critical U.S. electrical systems and infrastructure."