Lawmaker Calls for Shifting Defense Funds to Combat Cyber Threats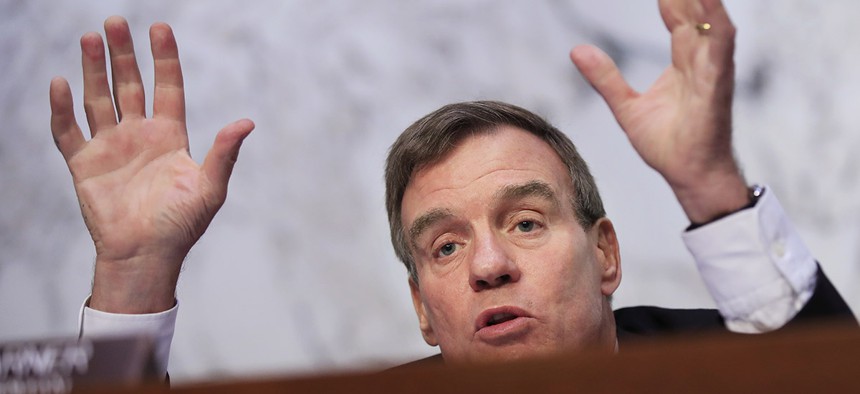 The Defense Department would get more bang for its buck with digital tools than "20th-century" weapons, Sen. Mark Warner said.
One of Capitol Hill's most ardent cyber advocates on Friday proposed a sweeping policy doctrine to defend the U.S. against "hybrid cyberwarfare."
The measure, laid out by Sen. Mark Warner, D-Va., calls for a "whole-of-society" approach to curbing online propaganda campaigns and defending networks against foreign attacks. He also drove home the need for government officials to revise defense spending to address modern technological threats and play a bigger role in shaping international rules for cyberspace.
"I fear that we've entered a new era of nation-state conflict, one in which a nation projects strength less through traditional military hardware and more through cyber and information warfare," Warner said in a speech at the Center for New American Security. "We need a coherent strategy for how to deal with the hybrid approach of cyber and disinformation that's coming from our adversaries."
As global rivals like Russia and China invest heavily in online misinformation and cyber tools in recent years, the U.S. has lagged behind, according to Warner. The government pours hundreds of billions of dollars each year into "20th century" weapons, he said, but federal agencies and private companies are increasingly under attack online and social media platforms are being weaponized to undermine the democratic process.
Under his proposal, fighting these digital threats would become a top national security priority.
Chief among Warner's recommendations is the notion that adversaries should face consequences for any attacks they wage.
The U.S. today is hesitant to punch back in cyberspace out of fear that it could escalate to real-world conflict, he said, but international standards for cyberwarfare would make it clear how nations should respond to different attacks. For decades, the U.S. has been a "consistent dissenting voice" whenever the international community tries to codify those norms, and Warner urged foreign policy leaders to reverse this approach.
"We need to start holding our adversaries accountable" through sanctions, indictments or even offensive counterattacks, he said. Failing to do so, he said, "is downright dangerous."
He called on the Pentagon to allocate more funds to building its cyber defenses and digital weaponry. Citing the relatively low price tag of Russia's efforts to meddle in the 2016 election, Warner suggested cyber tools deliver more bang for the buck than conventional weaponry. Civilian agencies should also increase spending for research and development in emerging technologies and combating disinformation campaigns.
The private sector also needs to play a role in strengthening the country's cyber posture, he said.
He reiterated calls for the tech industry to strengthen the security of internet-connected devices, which often represent the weakest links in agencies' and companies' cyber defenses. Last year, Warner introduced legislation that would require all internet of things devices purchased by the government to meet a set of basic cyber standards, and Rep. Robin Kelly, D-Ill, plans to introduce a companion bill in the House next week.
Warner also pressed social media companies to be more proactive in preventing their platforms from becoming "petri dishes for Russian disinformation and propaganda." As the top Democrat on the Senate Intelligence Committee, he's frequently criticized Facebook, Twitter and other tech titans for their reactionary approach to online threats.
Uniting agencies and society at-large on a single cyber front requires White House buy-in, he added, but the president himself has largely turned a blind eye to the issue.
"[Trump's] refusal to fully acknowledge [2016 election interference] really disrupts and undermines some of the very good people in his administration who are trying to fight this," Warner said. He also highlighted the lack of dedicated cyber leadership within the White House, State Department and Congress as a barrier to a unified strategy.
Experts often say it will take a massive "cyber Pearl Harbor" to galvanize the country into action, but Warner warned "gradual and accumulating" attacks are a much bigger threat.
"Our personal, corporate and government data is being bled from every network every day," he said. "Our faith in our institutions and our tolerance of one another is being eroded by misinformation. It's time that we dramatically shift how we view these threats."
Warner is exploring potential legislation to codify top-level cyber leadership and broaden cyber funding, his press secretary Rachel Cohen told Nextgov.