2017 Was Marked by Continuity and Confusion in Cyber Policy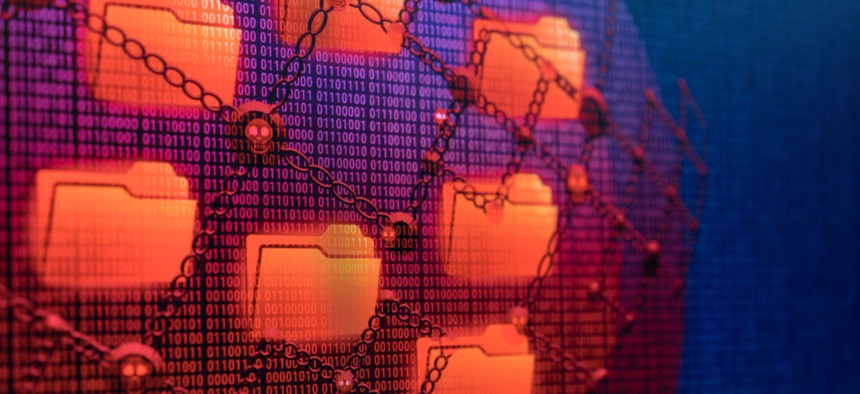 The Kaspersky ban, WannaCry and big changes at State Department topped the news cycle.
This was an unpredictable year for U.S. cybersecurity policy, maybe even an eerie one.
Few cyber watchers would have predicted in early 2017 that the Trump administration would move to increase transparency about how and when U.S. intelligence agencies hoard cyber vulnerabilities to use them against adversaries.
Fewer still might have guessed that the State Department's cyber diplomacy office—which has become a model for dozens of nations worldwide—would be unceremoniously shuttered.
In many ways, continuity was the defining element of the Trump administration's cybersecurity policy in 2017. On big picture items from raising U.S. government cyber defenses to punishing international cyber pariahs, the Trump team was in lockstep with their Obama administration predecessors.
In other cases, including shuttering the State Department cyber office, though, the Trump administration blazed a new path.
And, of course, the administration's failure to take significant action in response to Russia's cyber meddling in the 2016 election—as determined by U.S. intelligence agencies and sometimes disputed by the president—cast a shadow over all the administration's cyber priorities and pronouncements this year.
Here are seven of the biggest cyber policy stories from President Donald Trump's first year in office.
Continuity in an Executive Order
After its fourth month in office, the Trump team issued an executive order that read like an endorsement of most of the government cyber policy that preceded it.
The order doubled down on modernizing and improving government networks. It even moved a step further by promising top officials who presided over digital failures would be held responsible for them—though the order didn't get into specifics.
The order's priorities were also shored up by a budget that included hikes in cybersecurity spending despite deep cuts elsewhere.
Confusion in the Ranks
Trump filled many top cyber positions with seasoned experts this year, including Tom Bossert as Homeland Security adviser, Rob Joyce as White House cybersecurity coordinator and Jeanette Manfra as assistant secretary for cybersecurity and communications at the Homeland Security Department.
The overall slow pace of Trump administration appointments has worked its effects on tech and cyber departments, though. About one-third of agency chief information officers are still acting rather than permanent nearly one year into the administration. The government lacks a permanent federal CIO or chief information security officer. The Homeland Security Department also lacks a permanent undersecretary for its cyber and infrastructure protection division.  
Joyce in November said he expects a cascade of top tech and cyber officials to take office after higher-level nominees are confirmed, but there's no timeline yet for when that will happen.
Kaspersky Gets the Boot
Perhaps the administration's boldest cyber move so far was Homeland Security's September decision to ban the Russian anti-virus software made by Kaspersky Lab from all government systems.
The decision underscored Homeland Security's power—granted by 2014 legislation—to force major changes on agencies to shore up governmentwide cybersecurity. It also prompted a lawsuit from Kaspersky, which says the government violated its constitutional due process rights by not giving the company a genuine opportunity to plead and prove its innocence.
The directive banning Kaspersky cited close ties between company executives and Russian intelligence officials as well as a Russian law that might compel Kaspersky to help the Kremlin intercept digital communications transiting Russian networks.
Naming North Korea
Another sign of continuity between the Obama and Trump administrations was a focus on naming names in cyberspace. Bossert and Manfra officially attributed a surge of May ransomware attacks that used a cyber tool called WannaCry, to North Korea this month.
The attribution was aimed both at the North Korean regime itself and at the U.S.'s other cyber adversaries. The message was clear: We know who's doing what in cyberspace and we'll make sure people who break the rule are punished.
The president's unwillingness to consistently back the intelligence community's assessment that Russia was responsible for breaches at Democratic political organizations in advance of the 2016 election, however, has damaged the government's attribution authority, many cyber experts say.
The State of Cyber at State
The Trump administration's most controversial move in cyberspace this year may have been Secretary of State Rex Tillerson's August decision to shutter the State Department's cyber coordinator's office along with the office's myriad other special envoys and ambassadors. Since its launch under former Cyber Coordinator Chris Painter in 2011, the office has become a model for nearly two dozen nations that have created similar offices in their foreign affairs departments.
State's ultimate goal is to elevate rather than diminish its cyber mission, Deputy Secretary of State John Sullivan told lawmakers in September. But, three months later, the department has yet to release formal plans.
The House Foreign Affairs Committee passed a bipartisan bill that would restore the cyber coordinator's office in November.
When the Government Hacks
Also in November, the White House pledged to release an annual report detailing how the government decides whether to tell companies about new software vulnerabilities that intelligence agencies discover in their products or to hold on to those vulnerabilities and use them to spy on adversaries.
The White House also pledged to publicize any changes to the board that reviews those vulnerabilities. That board includes officials from the Treasury, Energy and Commerce departments, who will presumably advocate for the security of consumers and companies, in addition to intelligence agency representatives.
The move marks a major shift toward transparency for the shadowy "vulnerabilities equities process," but it also comes after a series of high profile leaks of National Security Agency and CIA hacking tools that called into question whether the government can successfully store the vulnerabilities it decides to keep.
Among the leaked NSA tools were exploits that North Korea likely used in the WannaCry ransomware attacks.
White House Cybersecurity Coordinator Rob Joyce acknowledged those leaks "undermine public confidence and damage our ability to carry out intelligence missions" in a blog post announcing the new transparency initiative.
Elevating the Military's Cyber Mission
Trump also gave the order this year to begin elevating the 7-year-old U.S. Cyber Command to a unified combatant command. The elevation was authorized in the 2016 version of an annual defense policy bill.
It's not yet clear, however, if the elevated command will get a new commander or if it will continue to be led, for a time, by NSA Director Adm. Michael Rogers.
Critics have complained about that "dual hat" relationship because the priorities of an intelligence agency are sometimes at cross purposes from those of a military unit. Many lawmakers worry, however, that CYBERCOM isn't yet ready to stand on its own.
Battling Botnets
A key element of the president's May executive order was a governmentwide effort to counter botnets—armies of zombie computers and other connected devices that criminals use to overwhelm websites. In late 2016, a botnet powered mostly by connected devices briefly overwhelmed prominent websites including Netflix and the New York Times.
Offices in the Homeland Security and Commerce departments are readying their anti-botnet plans now and will deliver them to the president in early 2018.