First AI advisory committee report stresses getting regulatory balance right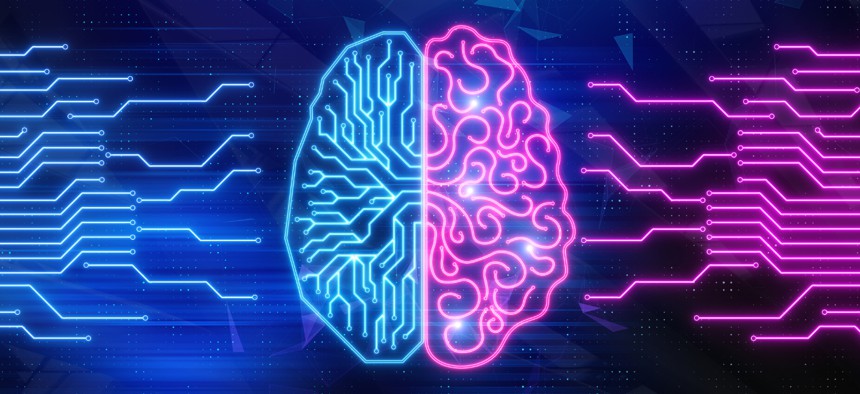 Designing trustworthy AI systems with government regulatory help is a central theme in the NAIAC's first report delivered to President Joe Biden.
The National Artificial Intelligence Advisory Committee delivered its first congressionally-mandated report to President Joe Biden that offers recommendations on how to maximize the benefits of implementing artificial intelligence across U.S. sectors and how to manage emerging systems like generative AI.
The Year 1 report, dated May 2023 and announced June 22, includes steps prioritizing trustworthy AI systems, new research and development initiatives and more international partnerships focused on aligning standards in AI governance.
NAIAC members, who are appointed by the secretary of Commerce and operate with the support of the National Institute of Standards and Technology, arrived at the conclusion that federal direction will help define whether or not AI technology will have a net positive or negative impact.
"If navigated appropriately, the U.S. government can ensure that AI creates greater opportunities, providing economic and societal benefits for a broader cross section of the population," the report reads. "However, if navigated poorly, AI will further widen the opportunity gap, and trustworthy AI for all may become an unrealized aspiration."
The report also recommends a whole-of-government approach to coordinating how trustworthy AI systems are developed and deployed. It calls for the White House spearhead funding initiatives to further offices dedicated to helping establish federal policy on AI, namely the National AI Initiative Office.
In this vein, the report advocates filling vacant AI leadership roles within the Executive Office of the President, creating a chief responsible AI officer within the Office of Management and Budget or National Artificial Intelligence Initiative Office and establishing an Emerging Technology Council to ensure a holistic regulatory approach to AI. 
"We are at a pivotal moment in the development of AI technology and need to work fast to keep pace with the changes it is bringing to our lives," Deputy Secretary of Commerce Don Graves said in a NIST press release on the report. "As AI opens up exciting opportunities to improve things like medical diagnosis and access to health care and education, we have an obligation to make sure we strike the right balance between innovation and risk. We can lead the world in establishing trustworthy, inclusive and beneficial AI, and I look forward to considering the committee's recommendations as we do that."
Prioritizing how the U.S. workforce will adapt alongside emerging AI systems is also a high priority. The report notes that with the advent of more advanced AI tech, the workforce will likely see a series of growth in some areas, and decline in others, changing the way some occupations work.
The NAIAC also unveiled focus areas it plans to tailor its advice around, including AI futures; AI in the workforce; AI regulation and executive action; education and inclusion; generative AI safety; rights-respecting AI; international collaboration; AI systems procurement; and AI and the economy.
Rich Press, a spokesperson for NIST, told Nextgov/FCW that the next steps surrounding the recommendations are Biden's decision.
"Once the recommendations from the advisory committee are delivered to the president and the National AI Initiative Office, it is up to them to determine how they might be applied," Press said.
The NAIAC's official report was unveiled as the Biden-Harris Administration announced a new NIST public working group dedicated to AI investigation. Following the agency's popular prior deployment of its AI Risk Management Framework, the working group aims to promulgate NIST's guidance for managing AI technologies' inherent risks.