Standards Development a 'Critical' Issue for US-EU Trade and Tech Council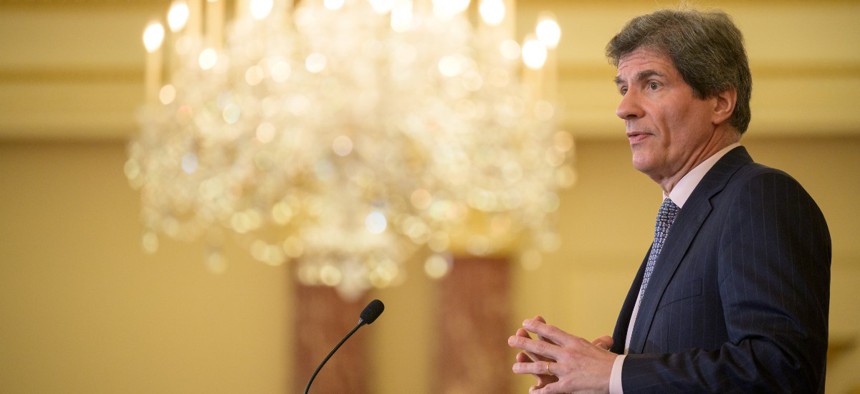 The bilateral group's agenda heading into 2023 will include emerging technologies like quantum computing and artificial intelligence, State Department Undersecretary Jose Fernandez said.
Promoting economic growth and cooperating on emerging technology development are the U.S-EU Trade and Technology Council's primary goals moving forward, following a meeting featuring global emissaries in College Park, Maryland earlier in December. 
Speaking to the Atlantic Council, State Department Under Secretary for Economic Growth, Energy and the Environment Jose Fernandez discussed the council's forthcoming projects and objectives, with a particular emphasis on unity among participating countries. 
"Right now in the TTC, we have 10 working groups…that tackle issues from sustainable, inclusive economic growth to promoting a rules based economic system," he said on Tuesday. 
Fernandez specified that some of the subjects the working groups will focus on include cultivating universal standards for new technologies. He referenced the joint artificial intelligence roadmap for member countries to navigate risk management harmoniously, as well as how AI and machine learning technologies stand to impact the workforce.
Fostering more collaboration for research and innovation in the quantum information sciences is also on the council's docket, as is developing universal standards for new technologies so as to facilitate the international transfer of tech products and data. 
Fernandez added that despite standards development being an admittedly "wonky" subject, it is also "critical" to the council's mission. 
"Our working groups has [sic] to have better cooperation and sharing information on standards internationally … and then responding to common strategic issues," he said. 
Developing common international standards for emerging technologies is important for the U.S. to maintain economic and scientific leadership, according to experts. In September, Elham Tabassi, the lead at the National Institute of Standards and Technology's Trustworthy and Responsible AI Program, testified during a Congressional hearing on the importance of the U.S. proactively working on standards development. 
The U.S.-EU Trade and Technology Council is slated to next meet again in early 2023 in Europe.