Air Force, Space Force Projects Will Speed Object Identification, Security Implementation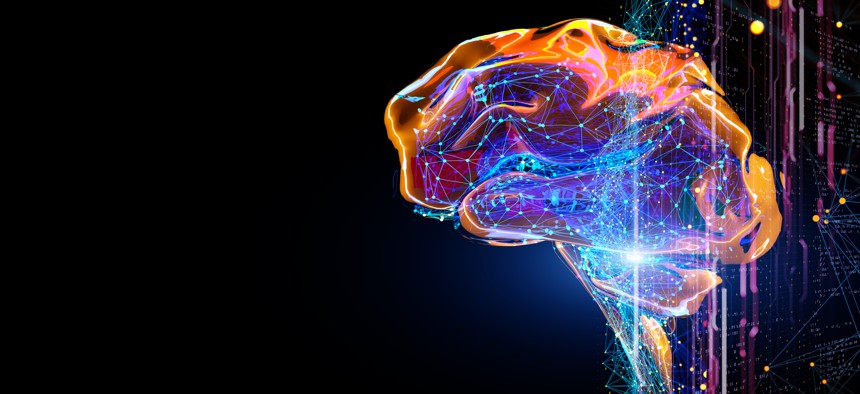 One project will use generative AI to identify space objects and another will use automation to improve the security compliance process in Space Force software development.
Two recently announced AFWERX projects will help the Air Force and Space Force identify space objects and secure the software used to handle space data more efficiently. 
Synthetaic, a company using synthetic data to train artificial intelligence models when training data is limited, will work with the Air Force to identify objects of interest quickly and accurately. And Anchore, a container security company, will work with Kobayashi Maru, the Space Force's software factory, to shift security compliance earlier into the software development process. The projects are examples of how the military and industry partners are using innovative technologies to increase the efficiency of certain critical processes. 
Corey Jaskolski, Synthetaic president and founder, told Nextgov in a recent interview the current process for doing geospatial labeling is often a months-long, labor-intensive process. Labeling had to be done by hand before AI models could be built to then do the work to identify objects of interest. That's especially troublesome given that sophisticated AI models depend on large amounts of data, while many objects that analysts would want to detect are rare.  
To get around this problem at speed, Synthetaic uses a technique called generative AI to essentially use existing data to propagate new data, allowing for high-performance detection without massive, existing datasets. Synthetaic's tool, called Rapid Automatic Image Categorization, builds, runs and gets results from AI "in seconds." 
RAIC "allows us to run AI models at a much faster speed that in this case, runs at sort of what we call 'the speed of need' for the Department of Defense and the warfighter," Jaskolski said. 
On the security side, Anchore, which also works with the Air Force's Platform One program, will be figuring out how to help Kobayashi Maru shift as many of the Security Technical Implementation Guide, or STIG, requirements as possible earlier into the development process. 
"So the idea of the work that we're undertaking is to really take these STIG tests, and look at what can be applied, much earlier in the development cycle," Anchore's Paul Holt said in an interview. "Obviously, primarily to drive out the cost of remediation, but also to keep the speed of innovation going, because in all of these cases, it's about getting software, getting innovation into the hands of the warfighter … as quickly as possible."
Anchore and Space Force will work together to identify the STIGs, which Holt called "heavyweight" compliance measures, with which they need to comply, and then conduct testing to see where they can fit within development pipelines. Baking security into the development process is the driving idea behind DevSecOps.
"With a program of this magnitude, it is critical that the software handling space data continues to be secure and protected, using the latest technology and techniques available in cybersecurity," Anchore Chief Technology Officer Dan Nurmi said in a statement. "Adding enforcement of security compliance standards earlier into the software development cycle means that violations can be detected and addressed as they arise and are resolved quickly, resulting in more efficient and comprehensive security enforcement across the development lifecycle."