A Cloud-Connected, AI-Enabling Commercial Computer is Heading to the International Space Station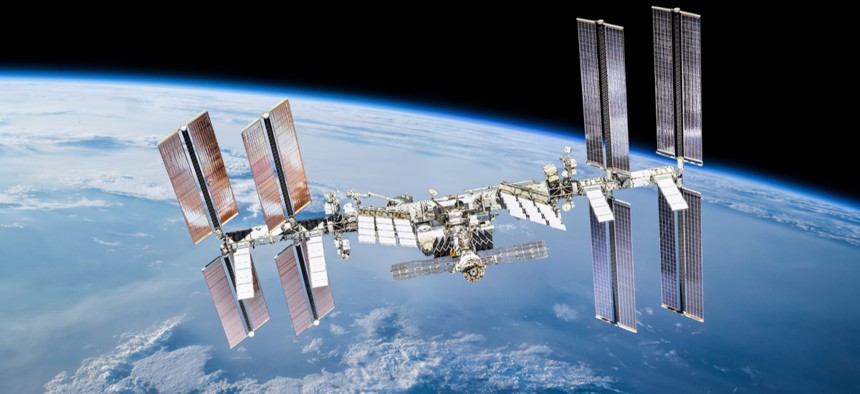 Among the cargo scheduled to launch into orbit via Northrop Grumman's resupply mission to the International Space Station on Feb. 20 will be Spaceborne Computer-2, or SBC-2: a Hewlett Packard Enterprise-made edge computing system set to enable in-space, commercial artificial intelligence and real-time data processing capabilities for the first time, HPE detailed Thursday.
Designed explicitly for rugged environments, the machine is expected to accelerate experiments astronauts conduct aboard the ISS—and power Earth-based research selected by HPE through proposals it's now accepting from anyone across the planet. 
SBC-2 will also tap Microsoft's Azure Space service to connect users on the space station to the Earth, and vice versa, through the cloud. The computer will be installed for the next 2 to 3 years, and is backed by a sponsorship from the ISS U.S. National Laboratory.
"Edge computing provides core capabilities for unique sites that have limited or no connectivity, giving them the power to process and analyze data locally and make critical decisions quickly," HPE's General Manager of Converged Edge Systems Shelly Anello said. "As we embark on our next mission in edge computing, we stand ready to power the harshest, most unique edge experience of them all: outer space."
Sending data to and from Earth is time-consuming and requires a great deal of bandwidth, but with its sophisticated features and server, SBC-2 will be able to tap into information on the spot from an array of sensors, satellites, cameras and other devices. The system will be equipped with certain technologies HPE already incorporates in existing computers it's developed, which are used in some of Earth's toughest environments, like oil and gas refineries and manufacturing plants. 
Graphics processing units "to efficiently process image-intensive data requiring higher image resolution such as shots of polar ice caps on Earth or medical x-rays"—and suited for unleashing advanced AI and machine learning techniques—are also included in its components.   
Potential early applications could be monitoring astronauts' physiological conditions in real-time, and making more sense of the "hundreds of sensors that NASA and other organizations have  strategically placed on the ISS," the release said.
On top of its own edge-enabling components, HPE also partnered with Microsoft to establish a connection between SBC-2 and its Azure cloud product, by way of NASA and HPE ground stations. This will enable scientists anywhere across the world performing experiments on the space-based computer to use the Azure cloud and seamlessly transmit information and results between it and Earth. Microsoft Research and Azure Space engineering teams are in the midst of evaluating the potential of research projects that might use heaps of data from 4K video streaming cameras that catch lightning strikes to pinpoint patterns that trigger wildfires, or model dust storms on Earth to pave the way for predictions on Mars—among others, HPE's release said.
In a separate announcement from Microsoft, officials said the collaboration marks the beginning of "an incredible journey," adding that it "will provide researchers and students access to these insights and technologies, inspiring the next generation of those who wish to invent with purpose, on and off the planet." 
As it works with that tech partner and the ISS on this endeavor, HPE is also accepting proposals online from individuals from anywhere who are looking to harness the new system for their own research pursuits. 
As its name indicates, SBC-2 was preceded by Spaceborne Computer, an original proof-of-concept previously built by HPE. Launched in 2017, NASA used the system to try out affordable, commercial off-the-shelf servers made for applications on Earth, but enhanced for use on the ISS. That effort demonstrated the need for more, trusty computing capabilities aboard the station—and SBC-2 will enable twice the compute speed.
"Additionally, gaining more reliable computing on the ISS is just the first step in NASA's goals for supporting human space travel to the moon, Mars and beyond where reliable communications is a mission critical need," HPE's release said.