GSA Releases Draft of New Government IT Services Contract Polaris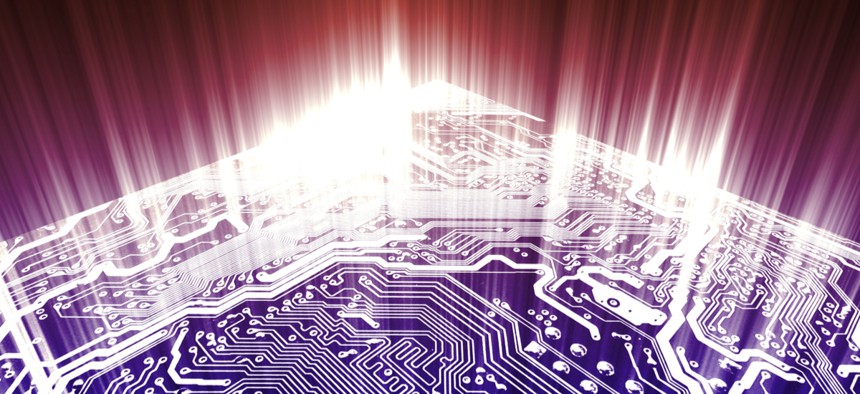 The draft request for proposals focuses on IT services and emerging technology offerings from three classes of small business.
The General Services Administration released the draft framework for its new governmentwide small business IT services contract, dubbed Polaris, including a list of service offerings covered under the contract and emerging technologies vendors should be prepared to pitch as part of task order competitions.
The Polaris governmentwide acquisition contract, or GWAC, is set to replace the ill-fated Alliant 2 Small Business contract, which GSA abruptly canceled in July. After waves of protests, rescinded awards and re-awards led to the Alliant 2 SB cancelation, GSA promised to fill the void with a new small business-focused contract and began work on Polaris, releasing the draft request for proposals on New Year's Eve.
"The principal nature of any resulting task order procurement must be for IT services," the document states, "however, ancillary support may be included when it is integral to and necessary for the IT services-based effort."
In addressing one of the issues related to Alliant 2 SB, the Polaris contract will focus on three socioeconomic groups, dividing into their own pools: small businesses, women-owned small businesses and those located within a historically under-utilized area, better known as HUBZones. The draft document notes GSA reserves the right to create and award spots on new pools as part of future open seasons.
Along with the focus on socioeconomic set-asides, the Polaris GWAC differentiates itself from other GSA contracts through its offerings: IT services like cloud, data management and software development, rather than commodities like IT hardware or off-the-shelf software products.
The draft RFP includes seven categories of services to be offered on the contract, including cloud services, cybersecurity, data management, information and communication technologies, IT operations and maintenance, software development and system design.
The contract also allows for some ancillary purchases of clerical support, data entry and IT products, among others, though these must be in direct support of a larger service offering.
While the contract will focus on more traditional government IT areas, Polaris will have a strong emphasis on emerging technologies, including:
Advanced and quantum computing, including cryptography and encryption; secure communications; design of high-performance computers, computer clusters and networks; and quantum machine learning.
Artificial intelligence, including computer vision, deep learning, machine learning, natural language processing, spatial computing and speech recognition.
Automation technology, including robotic process automation, automated messaging services, data cleaning scripts, interactive voice response and smart notification.
Distributed ledger technology, including blockchain implementation solutions, network design services and smart contract programming services.
Edge computing, including 5G implementation services, edge analytics, edge applications services, edge computing architecture design services and internet of things services.
Immersive technology, including virtual reality and augmented reality.
"The contractor should approach agency task order requirements with technical proposals offering innovative solutions that leverage the flexibility provided," the draft RFP states. "This includes utilization of the emerging technologies …, which can be provided as standalone concepts or applied to the performance areas."
The draft also calls out the Defense Department's Cybersecurity Maturity Model Certification, an impending requirement for third-party accreditation for all contractors doing business with the military.
"While CMMC is currently a DOD requirement, it may also have utility as a baseline for civilian acquisitions; so it is vital that contractors wishing to do business on Polaris monitor, prepare for and participate in acquiring CMMC certification," GSA officials suggest in the RFP.
The document offers a number of specific actions vendors can take now to ensure they are prepared for CMMC and other supply chain risk management programs.
The contract, as it stands, appears to solve some of the problems with Alliant 2 SB but could use some more specificity in areas, according to analysts at The Pulse of GovCon.
"Polaris is a Frankensteined version of all GSA's greatest-hits GWACs with a more similar scope to GSA 8a STARS III, a minimum contract award akin to A2SB, and on-ramping procedures comparable to HCATS and OASIS," the analysts said, citing contracts focused on employee training and professional services, respectively.
"Where Polaris is different is that GSA has set the bar so low that vendors will not really have to meet any real requirements, certifications or competitive thresholds at the initial level and leave everyone to duke it out and protest at the task order level," they said. "This is their way of addressing the A2SB problems and avoiding another fiasco."
While the draft RFP does not mention a ceiling for the contract, Alliant 2 SB was slated for $15 billion and the similar 8(a) Streamlined Technology Application Resource for Services II, or 8(a) STARS II, was increased from $15 billion to $22 billion this summer.
Once the final contract awards are made, GSA expects the GWAC to run for a base of five years, with one five-year add-on option.
Responses to the draft RFP are due by 4 p.m. Jan. 29.