Defense Secretary Nominee Says Hack Perpetrators 'Should be Held Accountable'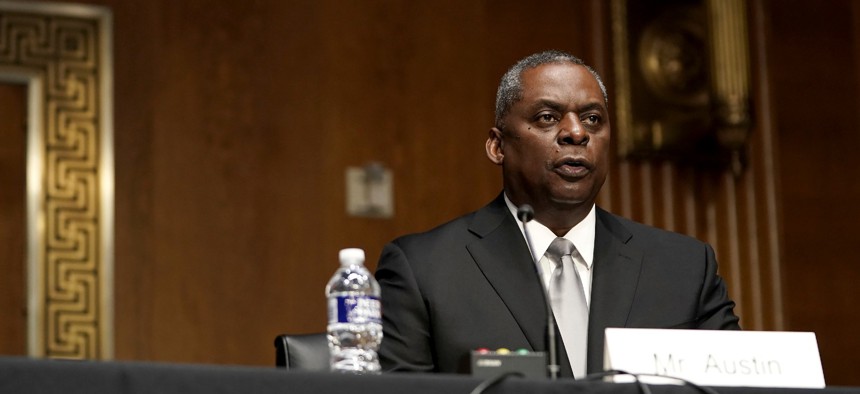 Gen. Lloyd Austin committed to conducting a review of defense cyber operations, if confirmed.
President-elect Joseph Biden's nominee for defense secretary told senators in a Tuesday confirmation hearing the perpetrators of the SolarWinds hack that affected several federal agencies should face consequences. 
Sen. Richard Blumenthal, D-Conn., asked retired four-star Gen. Lloyd Austin, who is seeking confirmation for the top job at the Defense Department, to commit to "conducting a top-down review of our cyber operations, including DOD's posture and structure" and to "making our adversaries pay a price" for attacks during a Senate Armed Services Committee hearing. 
"You have my commitment that I will conduct that review," Austin said. "I think that there is a review ongoing now to really ascertain what transpired. I'll join that if confirmed in stride and I really look forward to understanding with clarity what really happened."
"I truly believe that the [Federal Bureau of Investigation] and the [National Security Agency] have given Russia credit for this, they have attributed this activity to Russia, and if that's the case, I think Russia should be held accountable," he added. "That's my personal belief." 
While a large portion of questions at Austin's confirmation hearing focused on civil-military relations—Austin has not been out of military service for the required seven years and must seek a Congressional waiver to serve as defense secretary—Austin did touch on technology. 
Sen. Mike Rounds, R-S.D., also asked Austin about cyber operations. Rounds asked the general for his thoughts on offensive cyber operations, and Austin confirmed he believes offensive cyber capabilities are necessary. 
"I've been away from it for a bit, but I really look forward to kind of getting back getting under the hood and understanding how the processes work now to ensure coordination across the board, across the agencies, and in this endeavor speed matters," Austin said. "And so anything that we can do to facilitate the work of the operators I think is goodness. We've got to make sure we're doing it in the right way."
Sen. Jack Reed, D-R.I., the highest-ranking Democrat on the Senate Armed Services Committee, said there's "much to be done" to ensure the department's acquisition process is able to effectively support the fielding of critical technologies. Reed said the question of how to elevate scientific development and how to get prototypes to the field faster are important questions for the next defense secretary. 
"I certainly agree with you, Sen. Reed, that our acquisition system needs to be more agile and more responsive to the needs that you just mentioned," Austin said. "We need to get the capability down to the people who need it, the people who are going to use it as quickly as possible. I'd also say that we need to develop the operational concepts that support those new capabilities to make sure that we continue to present a credible deterrent." 
In his opening statement, Reed also named some of the technologies DOD should prioritize for resources in the coming years.
"The department must focus its efforts on critical technologies like artificial intelligence, quantum computing, biotechnology and cybersecurity, while also emphasizing rapid delivery of advanced new weapon systems on timelines that keep pace with technological change," Reed said. 
Later in the hearing, Austin expanded on his views regarding modernization and competition with China in response to questions from Sen. Thom Tillis, R-N.C. Austin said he still believes the U.S. has a competitive edge over China, but that that gap has closed significantly. 
"Our goal will be to ensure that we expand that gap going forward," Austin said after listing quantum computing, AI, connected battlefields, and space-based platforms as capabilities DOD will rely on in terms of competition with China. 
Austin said later development of these capabilities will not come cheap. 
"But this is not a choice in my view, these are things that we must invest in going forward if we're going to maintain a competitive edge."