Sammie Finalists Highlight Outstanding Accomplishments of Federal Employees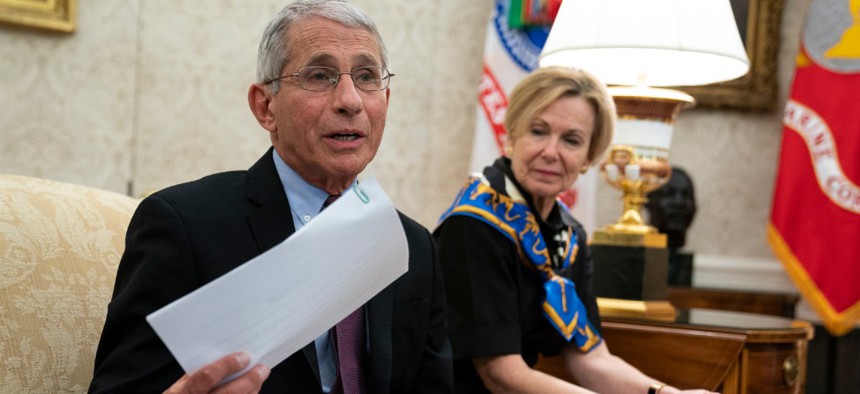 Leaders in public health, law enforcement and information technology were among the 27 finalists for the prestigious annual Samuel J. Heyman Service to America Medals, known as the Sammies, announced on Sunday evening.  
Renamed in 2010 for entrepreneur and nonprofit Partnership for Public Service founder Samuel J. Heyman, the program launched in 2002 to highlight public sector talent and has honored over 500 federal employees since. The finalists are contenders for awards in six categories: the Paul A. Volcker Career Achievement medal; emerging leaders; science and environment; safety, security, and international affairs; management excellence; and federal employee of the year. Additionally, all finalists are eligible for the Service to America Medals People's Choice Award. 
"The COVID-19 pandemic has vividly demonstrated how important an effective government is to our safety and welfare," said PPS President and CEO Max Stier. "The 2020 Service to America Medal finalists represent the many extraordinary career public servants who are making our lives better. It is vital that we take the time to recognize and celebrate these exceptional individuals."
Six of the finalists, including both individuals and teams, work at either the Centers for Disease Control and Prevention or the National Institutes of Health, which are at the center of the government's federal pandemic response. Specifically, Dr. Anthony Fauci, director of the National Institute of Allergy and Infectious Diseases and White House coronavirus task force member, and Dr. Nancy Sullivan, NIH senior investigator and Biodefense Research Chief who developed an Ebola virus treatment, are honored. 
Other finalists' achievements include: research on how the melting ice in the Arctic and Antarctic oceans has impacted climate change; policy creation to sanction countries for human rights abuses; expansion of telehealth options for veterans; trade negotiations with Canada and Mexico; and work to respond to and prevent mass shootings in schools, workplaces and public areas.
A selection committee composed of leaders from government, business, foundations, academia, entertainment and the media chose the Sammie winners, who will be announced in the fall. For the People's Choice Award, the public can start voting on Sunday for the "federal employee they believe has made the most significant contribution to the American people." The winner will be named over the summer. 
The Partnership also announced that Microsoft CEO Satya Nadella will receive its third annual Spirit of Service award for his work to expand federal services through cloud computing, artificial intelligence and predictive analytics. 
Sunday kicked off the 36th National Public Service Week, which honors federal, state, county and local government employees.