Author Archive
Courtney Bublé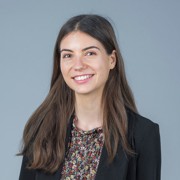 Courtney Buble is a staff correspondent who covers the federal government with a focus on oversight, management, contracting and regulations. In 2022, she won the American Society of Business Publication Editors' Young Leaders Scholarship and was selected for the Poynter-Koch Media and Journalism Fellowship for 2022-2023. Before joining Government Executive in July 2019, she worked for NBC News. Courtney graduated from The George Washington University in 2018.
CXO Briefing
After nearly six decades of civil service, Dr. Anthony Fauci hopes his post-government life will focus on inspiring the next generation of public servants.
CXO Briefing
"The United States of America is stronger, more resilient, and healthier because of him," said President Biden. 
CXO Briefing
Inspector General Joseph Cuffari defended his office's work, but lawmakers pushed back.
---
CXO Briefing
The former acting Pentagon inspector general asks, "Who is watching the watchdogs?"
News
"While I share the concerns of my colleagues about the actions of the current inspector general, it is also clear the Secret Service tried to impede the inspector general's investigation into the events of Jan. 6," said Sen. Chris Murphy, D-Conn.
CXO Briefing
The Biden administration has faced pressure from lawmakers and others to do more on the outbreak.
CXO Briefing
Activists say this would be a practical step to help ensure all the best candidates are getting considered for intelligence jobs. 
CXO Briefing
This comes after an outside oversight group alleged wrongdoing in the inspector general office, which the IG contests.
CXO Briefing
The Office of Federal Procurement Policy has not had a confirmed leader since the Trump administration, despite the Biden administration's goals to use procurement to advance equity and curb climate change. 
CXO Briefing
Mitigating the virus comes down to "testing, tracing and timely vaccines and treatments," a senior health official says.
CXO Briefing
Though there is "strong scientific concern" that monkeypox is spreading differently than in the past, the current case count is low and there's not a huge risk to the general community, a CDC official says.
CXO Briefing
Waivers can be issued under certain circumstances, but proposed exceptions must be made available to the public and approved by an office within OMB.  
CXO Briefing
"For the first time Americans will see a full picture of what it looks like for the entire federal government to advance equity at once," a senior administration official said.
CXO Briefing
The update to the Buy American Act would build on the administration's push to get federal agencies using more domestic products and services.
CXO Briefing
These stopgap spending measures can lead to "endless stop-and-start contract cycles, creating inefficiency and disruption."
CXO Briefing
"This ruling helps more than 40,000 companies like Arkansas Valley Adventures who provide seasonal recreational services on federal lands," said an attorney for the plaintiffs.
CXO Briefing
Brian Miller, special inspector general for pandemic recovery, wrote in a new report that $25 million in CARES Act start-up funds is not enough.
CXO Briefing
This comes as a "record number" of states and localities are increasing their minimum wages in 2022.
CXO Briefing
The people-first approach tackles everything from federal benefits to passport services to disaster recovery. 
CXO Briefing
The rule is "an executive power grab to force a social agenda through federal contractors," said the legal team.