Author Archive
Courtney Bublé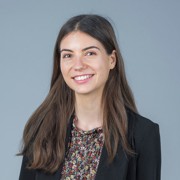 CXO Briefing
Activists say this would be a practical step to help ensure all the best candidates are getting considered for intelligence jobs. 
CXO Briefing
This comes after an outside oversight group alleged wrongdoing in the inspector general office, which the IG contests.
CXO Briefing
The Office of Federal Procurement Policy has not had a confirmed leader since the Trump administration, despite the Biden administration's goals to use procurement to advance equity and curb climate change. 
---
CXO Briefing
Mitigating the virus comes down to "testing, tracing and timely vaccines and treatments," a senior health official says.
CXO Briefing
Though there is "strong scientific concern" that monkeypox is spreading differently than in the past, the current case count is low and there's not a huge risk to the general community, a CDC official says.
CXO Briefing
Waivers can be issued under certain circumstances, but proposed exceptions must be made available to the public and approved by an office within OMB.  
CXO Briefing
"For the first time Americans will see a full picture of what it looks like for the entire federal government to advance equity at once," a senior administration official said.
CXO Briefing
The update to the Buy American Act would build on the administration's push to get federal agencies using more domestic products and services.
CXO Briefing
These stopgap spending measures can lead to "endless stop-and-start contract cycles, creating inefficiency and disruption."
CXO Briefing
"This ruling helps more than 40,000 companies like Arkansas Valley Adventures who provide seasonal recreational services on federal lands," said an attorney for the plaintiffs.
CXO Briefing
Brian Miller, special inspector general for pandemic recovery, wrote in a new report that $25 million in CARES Act start-up funds is not enough.
CXO Briefing
This comes as a "record number" of states and localities are increasing their minimum wages in 2022.
CXO Briefing
The people-first approach tackles everything from federal benefits to passport services to disaster recovery. 
CXO Briefing
The rule is "an executive power grab to force a social agenda through federal contractors," said the legal team.
CXO Briefing
This follows a preliminary injunction for three states last week. 
CXO Briefing
"This is not a case about whether vaccines are effective. They are," wrote the judge. 
CXO Briefing
The ruling is expected to impact 327,300 workers.
CXO Briefing
This was the fourth time the Pentagon completed an audit since it became a requirement in 1990. 
CXO Briefing
GSA launched a tracker this week to monitor compliance with the mandate.
CXO Briefing
Comments submitted as part of the survey show a diversity of thought on the requirement.