Author Archive
Courtney Bublé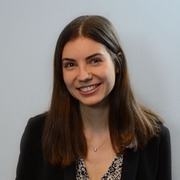 CIO Briefing
The people-first approach tackles everything from federal benefits to passport services to disaster recovery. 
CIO Briefing
The rule is "an executive power grab to force a social agenda through federal contractors," said the legal team.
CIO Briefing
This follows a preliminary injunction for three states last week. 
---
CIO Briefing
"This is not a case about whether vaccines are effective. They are," wrote the judge. 
CIO Briefing
The ruling is expected to impact 327,300 workers.
CIO Briefing
This was the fourth time the Pentagon completed an audit since it became a requirement in 1990. 
CIO Briefing
GSA launched a tracker this week to monitor compliance with the mandate.
CIO Briefing
Comments submitted as part of the survey show a diversity of thought on the requirement. 
CIO Briefing
The deadline aligns with the Biden administration's other new vaccine mandates, but is more than six weeks after federal employees are required to receive their shots. 
CIO Briefing
The Justice Department and EEOC "have already determined that COVID vaccines can be mandated by employers," said an OMB spokesperson. 
CIO Briefing
A statutory provision allows the deputy director of the management and budget office to serve as the agency's acting leader indefinitely. 
CIO Briefing
Administration officials are seeking feedback in short "pulse" surveys that will go out roughly every two months.  
Data
This request "signals a maturation of the [chief data officer] position," said a data expert. 
CIO Briefing
A look at agencies' various approaches to getting employees back to their worksites; this list will be updated periodically.
CIO Briefing
Companies doing business with the federal government must name a person to coordinate implementation and compliance with the vaccine mandate for covered employees.  
CIO Briefing
Update released Thursday notes that the requirement holds for all federal employees regardless of whether they are working in the office. 
CIO Briefing
The department has met its goals in that area, but is looking to do even better. 
CIO Briefing
More guidance is expected to be released on September 24. 
CIO Briefing
GSA will issue guidance to agencies on how to take advantage of this first-ever contract. 
CIO Briefing
The House passed the bipartisan bill overwhelmingly on Monday night.