Author Archive
Courtney Bublé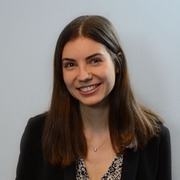 CIO Briefing
Companies doing business with the federal government must name a person to coordinate implementation and compliance with the vaccine mandate for covered employees.  
CIO Briefing
Update released Thursday notes that the requirement holds for all federal employees regardless of whether they are working in the office. 
CIO Briefing
The department has met its goals in that area, but is looking to do even better. 
---
CIO Briefing
More guidance is expected to be released on September 24. 
CIO Briefing
GSA will issue guidance to agencies on how to take advantage of this first-ever contract. 
CIO Briefing
The House passed the bipartisan bill overwhelmingly on Monday night.
CIO Briefing
The emergency assistance agency is also helping Tennessee following the massive floods. 
CIO Briefing
For more than a decade, the Special Inspector General for Afghanistan Reconstruction has been warning about "ghost soldiers" and corruption to anyone willing to pay attention.
CIO Briefing
U.S. Agency for Global Media says it "will not back down" in Afghanistan despite the danger.
CIO Briefing
If confirmed, Biniam Gebre would play a leading role in administering the administration's ambitious management plans.
CIO Briefing
This will help the government prepare for the next emergency, says the Professional Services Council. 
CIO Briefing
The 38-page document assists agencies with short- and long-term planning.
CIO Briefing
The Labor Department is seeking comments by August 23. 
CIO Briefing
These plans, which will not be made public, will vary by agency. 
CIO Briefing
The House passed an earlier version last Congress. 
CIO Briefing
OPM, State Department, FBI and Office of the Director of National Intelligence officials speak about Biden's recent executive order and what they've already been doing. 
CIO Briefing
The regulations are from the Equal Employment Opportunity Commission, Treasury Department and Environmental Protection Agency. 
CIO Briefing
The federal government still has "a lot of work to do to improve its competitiveness with the private sector as an employer of choice," head of the nonprofit that released the rankings says. 
CIO Briefing
Agencies must designate a senior official to spearhead efforts to support domestic manufacturing.
CIO Briefing
The agency said the changes, which are part of a larger plan to combat structural racism in biomedical research, are "long overdue."