Author Archive
Courtney Bublé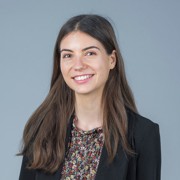 Courtney Bublé is a staff correspondent who covers the federal government with a focus on oversight, management, contracting and regulations. In 2022, she won the American Society of Business Publication Editors' Young Leaders Scholarship and was selected for the Poynter-Koch Media and Journalism Fellowship for 2022-2023. Before joining Government Executive in July 2019, she worked for NBC News. Courtney graduated from The George Washington University in 2018.
News
Legislation is aimed at reducing over-classification and improving the handling of secrets.
CXO Briefing
Revoking Schedule F, boosting diversity and equity, and restoring scientific integrity has been some of the Biden administration's accomplishments and goals.
Policy
A new paper, based on consultations with government officials and others, looks at what the National Geospatial-Intelligence Agency has done in recent years.
---
CXO Briefing
Rep. Mike Quigley, D-Ill., reintroduced bills regarding visitor logs and preservation of presidential records. 
CXO Briefing
This is just a wish list, as the administration still has to hammer out an agreement with a divided Congress.
CXO Briefing
A new executive order builds on earlier efforts by the Biden administration.
CXO Briefing
The ongoing investigations into handling of sensitive documents by former presidents and vice presidents have brought potential problems with the classification system back into the spotlight. 
CXO Briefing
Former Rep. Carolyn Maloney, D-N.Y., decried the direction of her former committee and Republican priorities in the new Congress. 
CXO Briefing
The negotiated version of the National Defense Authorization Act contains language to protect IGs from political interference and help them do their jobs better. 
CXO Briefing
"I shall continue to be true to the principle of nonpartisanship that is a hallmark of the IG system," Robert Storch said during his confirmation hearing.
CXO Briefing
The Office of Management and Budget published its annual governmentwide report on improper payments, but a fraud expert says they aren't entirely reliable.
CXO Briefing
Dr. Anthony Fauci gave his likely last appearance at the White House briefing on Tuesday as he prepares to leave the federal government after a more than five-decade career.
CXO Briefing
Pamela Wright's "exceptional executive leadership is invaluable to NARA, our strategic goals, and our mission," said the acting archivist of the United States.
CXO Briefing
The Democrats will maintain control of the Senate, meaning easier confirmations for political appointees and less combative investigations.  
CXO Briefing
As of midnight on Tuesday, the Senate is a toss-up and the House is leaning Republican.
CXO Briefing
The chair-in-waiting for the once "sleepy" committee would like to investigate COVID-19's origins, the Biden administration's border policies and the president's family members. 
Policy
More guidance is expected from the Office of Management and Budget.
CXO Briefing
This is part of the department's actions to implement an executive order from the president to increase police accountability.
CXO Briefing
The office is floating a draft bill that would keep it open an additional five years, provide more consistent funding and expand the special IG's jurisdiction.
CXO Briefing
The acting inspector general shared information about the review in response to a letter from a top senator expressing concerns about handling of messages related to the Capitol insurrection.