NGA Knows Its Challenges, Now It Needs the Tech to Address Them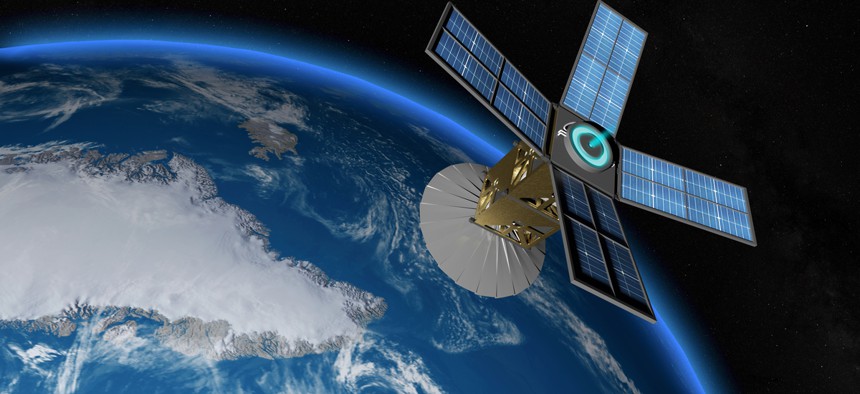 The world is changing—from commercially available GEOINT to COVID-19—so the National Geospatial-Intelligence Agency released a list of tech challenges the agency needs help to overcome.
The National Geospatial-Intelligence Agency released its second annual Tech Focus Areas, highlighting top problem areas the agency wants to address using technology in the coming year.
While NGA published a similar list in 2019, this year's authors note the world has changed significantly.
"The year 2020 will represent a historic inflection point for our agency, our community, and our nation. In addition to the challenges we currently face from the COVID-19 pandemic, great power competition has reemerged as another challenge to U.S. prosperity and security," the document states.
The nature of geospatial-intelligence, or GEOINT, has changed significantly as well. In the past, the U.S. government was the undisputed leader in global surveillance.
"Today, with commercial GEOINT available worldwide, we face a much more level playing field," the document states.
"Several near-peer adversaries are investing significantly in new technologies to close the gap with U.S. and allied capabilities," NGA Chief Technology Officer Mark Munsell wrote in an introductory note. "To stay ahead of these adversaries, we must bring together our world-class experts at NGA, industry partners with exquisite domain expertise and technical capabilities, and companies who have never worked with government before but whose products could help advance NGA's mission."
As such, Munsell said the document was designed to focus on areas of need, "rather than specific technologies." While the document does not address specific technological solutions, it is explicit—in broad terms—about the kinds of technologies NGA wants to explore.
In order to maintain leadership in this realm, NGA plans to foster partnerships with other agencies, industry and academia.
"The tech focus areas aren't 'shelfware'—we are identifying opportunities to leverage non-traditional acquisition capabilities to address the needs outlined in this document," Christy Monaco, NGA chief ventures officer, said in a release Wednesday.
The extensive list of needs includes things like analyzing immense data sets to provide useful models; managing and integrating data from diverse sources; improving the software development pipeline; taking advantage of advances in artificial intelligence and quantum computing; and preparing the agency for the future of work, including managing a distributed workforce.
The document condenses all this into five focus areas, each with several subsections explaining the agency's needs. From the document:
Advanced Analytics and Modeling
Analytical Modeling: NGA analysts need to conduct model-driven assessments of activities, the associated indicators, and their interrelationships across multiple domains to generate deterministic or probabilistic estimates of events.
Activity Modeling: NGA analysts need a way to describe an intelligence topic or challenge in order to process activity-based data for localization, characterization, correlation, and tracking of objects.
Knowledge Modeling: NGA analysts need a discoverable and collaborative knowledge reference base of assertions against structured objects and activities to enable the synthesis of different information.
Insights-as-a-Service: NGA analysts need geospatial web services that feed analytic, detection, and monitoring insights into existing workflows to more quickly derive intelligence value from GEOINT.
Supplier Capability Evaluation: NGA source strategy analysts need decision aids to 1) automatically evaluate the range of geospatial data supplier content and services accessible to NGA; and 2) for those NGA accessible items, recommend the optimal supplier offerings to effectively and efficiently satisfy needs based on cost, timeliness, and performance parameters.
Immersive Product Generation: NGA analysts need the ability to build immersive GEOINT products for augmented and virtual reality systems to support their customers' evolving needs.
Analytic Suggestion Service: NGA analysts need a user-friendly, machine-assisted modeling capability able to recommend statistical approaches based on observed workflow data to ensure they are aware of analytical options that may be of use.
Contextual Learning: NGA teams need extended reality tools in order to leverage abstract information for intelligence products and training material.
GEOINT Physical Sciences: NGA researchers need advancements in technology to improve the terrestrial and celestial reference frame, gravity, magnetics, manmade and natural feature extraction and attribution, and bathymetric, topographic, and infrastructure models in order to improve its ability to model the physical Earth.
Data Management
Data Integration: NGA analysts need the ability to rapidly discover and integrate diverse data types and multiple types of pixel- and non-pixel-based data from multiple sources to discover and characterize relevant patterns.
Multi-Domain Data Aggregation: NGA analysts need to rapidly aggregate diverse data types and schemas from sources across multiple domains to quickly extract intelligence at scale.
Location-Based Insights: NGA analysts need to integrate large amounts of data from commercial location-based services into existing workflows to improve their spatial and temporal insights about the physical environment.
Multi-Dimensional Data Management: NGA systems engineers need to organize and store geospatial information in data models that reflect temporal currency in order to produce more comprehensive intelligence products.
Automated Object Validation: NGA analysts need a way to automatically distinguish between multiple observations of the same object and observations of similar objects to validate the accuracy of imagery-based observations.
Terrain Elevation Data Alignment: NGA analysts need to align standard foundation terrain elevation datasets from different geodetic approximation models, such as ellipsoid, spheroid, and geoid, in order to be imported into 3D gaming platforms.
Customer Experience Metrics: NGA data scientists need a way to identify how and where NGA products, services, and data are utilized in order to identify customers and measure the impact on their missions.
Releasability Service: NGA needs an access control mechanism that considers geospatial and temporal restrictions in order to secure sensitive information within data objects.
Automated Conditioning Service: NGA needs the ability to automate data conditioning for easy and accurate metadata tagging so that data is discoverable and accessible by the enterprise.
Entity Relationship Modeling: NGA analysts need to conflate the ontologies, schema, and knowledge graphs of multiple non-pixel datasets and model the relationships between them.
Machine-Learning Training Data: NGA scientists need analysis-ready, structured, and validated data sets to support dynamic algorithms and model development that is repeatable and auditable for new and existing use cases.
Multi-Domain Data Transfer: The COVID-19 pandemic illustrated how quickly NGA analysts need to transfer data between multiple security classification domains to exploit all the geospatial data relevant to an intelligence problem.
Data Integrity: NGA analysts need the capability to automatically identify the source, format, and transmission method of data to assess its potential risk.
Data Assurance: NGA analysts need a scalable and interoperable way to continuously evaluate data provenance through its lifecycle so that they can make informed decisions about how all data sources can be used by the enterprise.
Capabilities and Data Protection: NGA systems engineers need a way to safeguard geospatial capabilities and data against malicious alteration and machine-generated errors.
Reliable Commercial and Publicly-Sourced Data: NGA analysts need to determine the "fitness of data" from public and commercial sources NGA has access to, so they can be used in GEOINT data, products, and services.
Automated Content Classification: NGA analysts need the capability to automatically classify natural language content in accordance with security protocols in order to minimize misclassification and to dynamically and more easily share information.
Modern Software Engineering
Authority to Operate Automation: NGA software engineers need tools to ensure the automation of security hardening and vulnerability assessment. Software application authority-to-operate must be reciprocal across a multi-cloud architecture so that engineers can rapidly deploy software to the enterprise.
Automated Monitoring: NGA site reliability engineers need a way to automatically understand which applications are currently up or down and be able to rapidly respond to issues so that they can increase IT system availability, resilience, and security.
Automated Testing and Deployments: NGA software engineering teams need the ability to run automated tests when code is checked in and to be able to automatically deploy that code to various environments and networks when appropriate, without causing downtime or impacting mission critical processes.
DevSecOps Automation: NGA software engineers need a development and integration platform that automates enterprise policies and observability of new application performance to reduce the time to deployment and increase the quality of code.
Software Supply Chain Transparency: NGA system engineers need to identify and programmatically track the provenance of all imported software, so they can determine how it can be used and what security procedures are required.
Identity and Access Management: NGA needs effective and reliable identity and access management mechanisms to increase the security of and access to applications and data repositories.
Rapid Deployment of Unclassified Code: NGA analysts need to pull software developed in unclassified settings to sensitive networks and rapidly determine where such software can be deployed across the enterprise to more effectively leverage uncleared developer talent.
Development Environment for 3-D Data: NGA developers need a development environment to build software applications to analyze multidimensional spatial data sources and integrate into the enterprise.
Artificial Intelligence
Machine-Learning Model Fitness for Use: NGA analysts need the ability to assess the fitness for use of complex machine-learning modeling algorithms in order to ensure understanding by human subject matter experts.
Risk Assessment: NGA analysts need to calculate the risk level of a piece of software by estimating its complexity and potential impact so that users can apply the right level of governance.
Activity Contextualization: NGA analysts need to extract and correlate tracks of activity from non-imaging sources, such as radio frequency and automatic tracking system data, with more traditional geospatial data, such as imagery, to contextualize changes in an area of interest.
Object Detection: NGA analysts need to detect objects and changes in an image with little or no description in order to assess movement or changes to features.
Feature Extraction: NGA analysts need to extract geospatial data feature geometries and their attributes with the highest measure of accuracy and speed from various sources in order to reduce labor-intensive manual extraction hours.
Object Classification: NGA analysts need to categorize detected objects at a broad level of organization or feature and further classify within that category.
Feature Characterization: NGA analysts need to automatically characterize the attribution information of extracted foundation geospatial data in order to build upon the knowledge recorded from previous recognition, identification, and classification of objects with the highest level of specificity.
Quantum Computing for Geospatial Optimization: NGA analysts need a hybrid quantum computing approach that combines classical and quantum computing to solve complex, multivariable geospatial optimization problems.
Future of Work
Maximizing Real-Time and Remote Collaboration: NGA employees need tools that allow them to coordinate and collaborate in real time across multiple devices, security domains, and geographic locations.
Multi-Domain and Multi-Partner Collection Management: NGA collection managers need to coordinate the planning and execution of GEOINT collection missions with ad hoc and virtual teams across multiple security domains and partnerships.
Flexible and Secure Work Tools: NGA teams need tools to work securely in unclassified and flexible workspaces in order to provide continuous access to data and mission work, while still adhering to location and security protocols.
Secure Cross-Domain Access: NGA engineers need to protect and run sensitive queries on networks with lower security levels so that they can leverage unclassified web services for sensitive analysis.
RELATED PODCAST