Defense is Embracing Robotic Process Automation But It's Not Yet Scaling It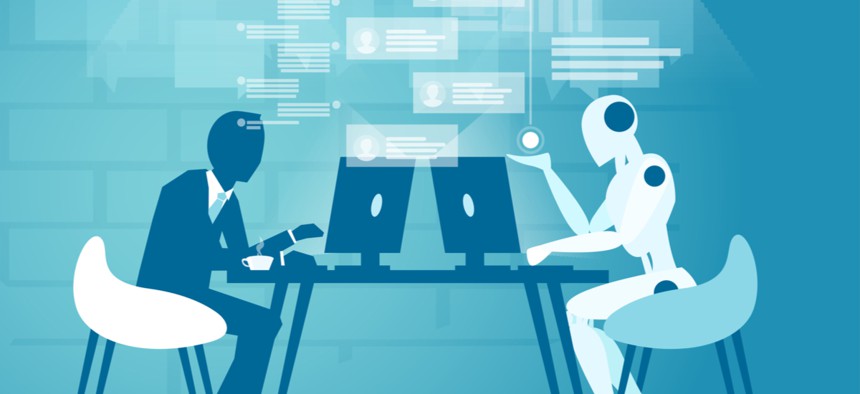 Bot security and varying cloud infrastructure could make it tough for the Pentagon to spread RPA tools. 
Defense agencies deploying robotic process automation are hitting technical and cultural issues as they explore scaling the tools across the enterprise. 
"There are a few agencies, I think, that have some pretty robust RPA implementations. The challenge I've seen in terms of scale is that we need to solve for a shared services model before we're able to accomplish the kind of scaling we've seen like in the commercial industry," Rachael Martin, a Joint Artificial Intelligence Center mission chief who focuses on improving business processes through AI and automation, said during a webinar held by the Institute for Critical Infrastructure Technology.
Martin and the other panelists offered a glimpse into various RPA efforts at play inside the agency and considered why it might take some time for the emerging tech's deployments to be unleashed at scale. 
RPA is, in simple terms, "a software robot that's programmed to execute tasks or series of tasks, and mimic human behavior," explained Eric Hansen, a retired Army intelligence officer and director of Defense and Intelligence Programs at Blue Prism. The tech is facilitated, he said, to "speak" machine to machine through APIs, and machine to human through user interfaces. 
Martin added that RPA bots are essentially digital assistants and inherently "are really just software."  
"There's this assumption that people are going to be opposed to RPA, because, 'oh it's going to take their job' or, you know, they won't be useful," Martin said. "But in every case where I've had my team go out to work with one of our partner offices to brief them on what RPA is ... once [Defense officials] understand that it's basically going to take over doing all of the really unfun things that nobody likes spending time on, they're really 100% OK with having RPA."
Martin said the relatively new technology's early use has been "driven by necessity" for work that makes sense to automate, such as tasks across financial management, human resources, contracting and acquisition. While most of Defense's technology adoption begins in the mission space, Hansen pointed out that the adoption of RPA started in administrative offices. 
"Just recently, we're starting to see some forays into the mission areas built primarily in data entry and data movement using RPA to move data across legacy systems or pulling data out of like email ... into some legacy systems," Hansen said. "So it'll be interesting to watch the migration from sort of back office, into more mission spaces."
Steve Holt is a partner at automation company Invoke Public Sector, which recently started working with Defense. He said some of the initial use cases are around creating flight authorizations, as well as some air and ground space planning and maintenance operations.
"We see those being able to scale really well. And the key that we see to scale is deploying it where it's autonomous and it's in a cloud infrastructure," Holt said. "So building up that infrastructure was really key for us to be able to prepare for that scale."
But beyond that, the panelists said the department must confront certain barriers to see the industry equivalent of RPA scaling across the enterprise. And one of the top issues is security: Insiders must address how to secure a digital worker that is not human. 
"It's a mindset change for the [agency] to think about how we can secure the digital workers, which are more controllable than people in general, but it's just not the way that [Defense] has worked over the past hundreds of years," Holt said.
Hansen added that more recently, officials are beginning to recognize the "emergence of non-person entities" after they ran into some "really, really silly problems."
"If you go to get a digital worker a password and user ID for a system, and that system forces you to check male or female, you know, which do you check? It is a digital worker," Hansen said. "It sounds incredibly, incredibly silly that you would be slowed down by such a consideration. But agencies aren't used to this—they're not used to digital workers. So I agree 100% that changing that mindset is important."
All the panelists agreed that cloud infrastructures will be key for more advanced automation down the road. Martin said one of the main issues she found as she reached out across the agency's partner offices is that agencies have different levels of cloud infrastructure and capabilities to host the software.
"We're finding that people are defaulting to desktop applications because it's easier than having to go through the whole process of standing up cloud infrastructure to host the software," Martin said. "I think in the long-term that is going to be what prevents us from scaling."
Some agencies are open to sharing services and letting other offices use their infrastructure to really harness RPA, but Martin said going forward the department needs to firm up "what that model looks like."