Lawmakers Launch Caucus to Address Emerging Tech's Impact on Work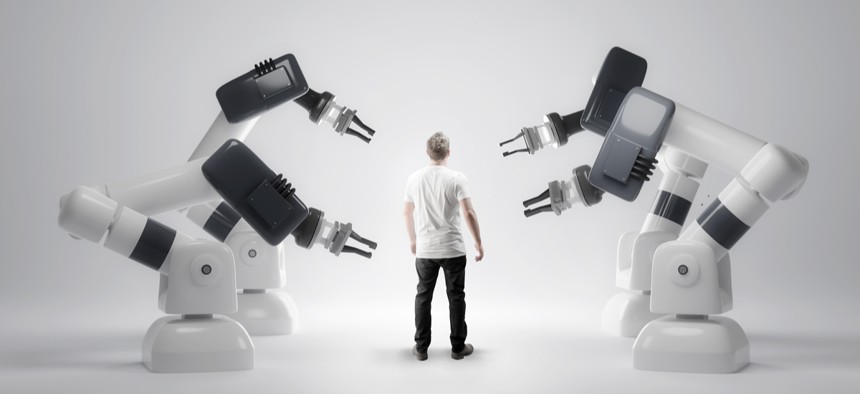 The Future of Work Caucus' ultimate goal is to develop a comprehensive policy strategy to proactively address emerging technologies' impact on jobs and workers across the U.S.
Artificial intelligence, robotics and other automation technologies will likely drastically disrupt countless aspects of the American workforce over the course of the next decade. Though Congress has yet to produce a deliberate plan to address the emerging technologies' potentially transformative impacts, this week lawmakers on both sides of the political aisle are uniting in a strategic effort to help the nation prepare and adjust.
On Wednesday evening a bipartisan group of lawmakers will officially launch the Congressional Future of Work Caucus at an event on Capitol Hill. 
Reps. Lisa Blunt Rochester, D-Del. and Bryan Steil, R-Wis., who led the months-long push to co-found the caucus, shared new details with Nextgov this week around members' ultimate vision and mission. 
"Our goal is to bring a diverse set of voices to the table to help develop a comprehensive policy strategy for the future of work," Blunt Rochester said. "Many members of Congress have worked on issues such as autonomous vehicles, artificial intelligence and universal benefits—but we believe that this caucus is the first-of-its-kind in bringing so many of those voices together from across the political spectrum." 
In the modern age, predictions around nascent technologies' effects on the economy, employees—and the all-encompassing "future of work"—range from exciting to bleak. While Steil notes in a video announcement of the new caucus that "one-third of jobs that will exist in 10 years haven't even been invented yet," there's also a great deal of concern about the jobs that could subsequently disappear. A 2018 study from McKinsey and Company, for instance, forecasts that between 2016 and 2030, "15% of the global workforce, or about 400 million workers, could be displaced by automation."
According to Blunt Rochester, who previously served as Delaware's Secretary of Labor, the new caucus is meant to serve as a repository for the wide range of Congressional proposals that relate to "automation, AI, the changing social contract, and the evolving economy, more generally." The congresswoman said she received approval to stand up the caucus late last Congress, and identified Steil as a partner who is "equally as passionate" about the issues. Together they went on to recruit other lawmakers from each of their own parties.
At the time of launch, other members of the caucus include: Reps. Steven Horsford, D-Nev., Yvette Clarke, D-N.Y., Jerry McNerney, D-Calif., Haley Stevens, D-Mich., Mary Gay Scanlon, D-Pa., Cathy McMorris Rodgers, R-Wash., Sheila Jackson Lee, D-Texas., Derek Kilmer, D-Wash., Brett Guthrie, R-Ky., Chris Pappas, D-N.H., Greg Walden, R-Ore., Van Taylor, R-Texas., Deb Haaland, D-N.M., Bobby Scott, D-Va., Steve Stivers, R-Ohio., Bill Foster, D-Ill., and Brian Fitzpatrick, R-Pa.
They (and any others who join going forward) will work directly with a wide range of stakeholders from academia and industry to hone in on relevant legal and regulatory concerns and establish a more comprehensive approach to creating future-of-work-focused policies. The caucus will try to identify new mechanisms to prevent job loss due to machination and burgeoning technologies. Members will also focus on training and re-training to establish a more resilient workforce that is prepared "to meet the demands of an increasingly digital economy."
"As far as our goals for the caucus, we want to develop a clearinghouse of legislation relating the future of work in Congress, get continued participation and education of our members on the various aspects of the future of work, and finally, produce a national strategy that includes legislative wins for our country," Blunt Rochester said. 
The congresswoman did not elaborate on whether the group plans to produce relevant legislation in the future, or if members will hyper-focus on automation and other emerging technologies' impacts on and inside federal agencies. However, she did emphasize that members will proactively focus on "AI, automation and new tech" and determine how to "best tap into and capitalize on these changes, while also minimizing the impact of disruption." 
Steil also told Nextgov that members will examine how to create effective skills programs, promote growth within emerging industries, and identify new ways to help workers access good-paying jobs. "The future of work depends on us working together now," he said.
The co-founders will meet with members and other interested individuals for the first time as an established group Wednesday evening. There, they plan to raise awareness about the caucus and "start the conversation."
"The caucus makes sense now because our country is at a crossroads," Blunt Rochester said. "As we enter the next evolution of our economy, we need a comprehensive approach to the future of work."