The Boldest Predictions for Federal Technology in 2019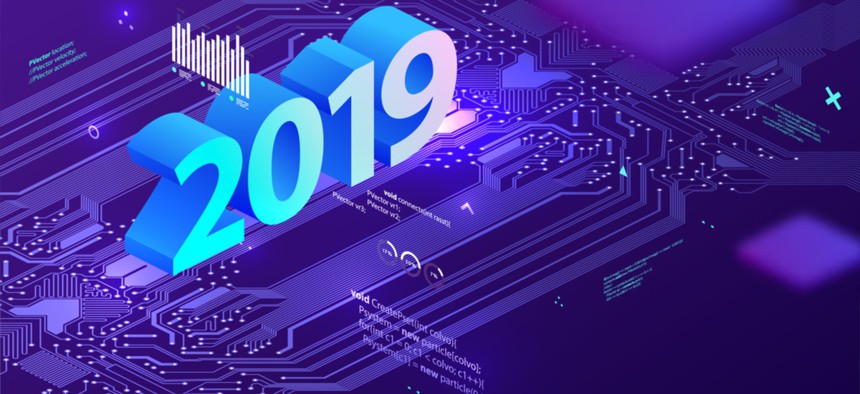 More cyber brinkmanship and super smart artificial intelligence are just a couple forecasts industry leaders divined for the coming year.
Predictions are hard, which is why Nextgov turned to industry leaders with a simple request: Give us your boldest prediction for federal IT.
They dove into specific initiatives like the Defense Department's Defense Enterprise Office Solutions contract and the General Service Administration's Enterprise Infrastructure Solutions contract as well as the pros and pitfalls of artificial intelligence.
In no particular order (and lightly edited for length), here is what to look out for in 2019:
IT Modernization is THE Priority for the Year
"Technology's (IT's) days as a mere enabler are over: in today's complex and dynamic environment, IT must lead the way. The relationship between technology and mission outcomes has never been stronger. As we move into 2019, we believe technology modernization will be the  No. 1 priority for federal government agencies in the year ahead, which is why IT leaders will become business leaders and use their unique understanding of technology's potential and limitations to help their agencies envision the art of the possible."
—Dominic Delmolino, chief technology officer, Accenture Federal Services
Federal Agencies Adopt Commercial Tech—For Real
"[W]e are starting to see a growing realization across government that adoption and deployment of commercial technologies is the best way to go to drive IT modernization. While this seems obvious to the rest of us, the mandates of the Federal Acquisition Streamlining Act, establishing a legal mandate to adopt commercial items in lieu of large, bespoke government IT systems, has been widely ignored, literally for years. This is rapidly changing.
A prime example is a massive new cloud job at [Defense Information Systems Agency] for email and collaboration tools called DEOS. The acquisition strategy for DEOS is to use the GSA Schedules program, Schedule 70 in particular. This is very unusual. [The Defense Department] also has said that DEOS will be a 'pathfinder' effort for civilian agencies. The focus of DEOS beyond enterprisewide licensing to a full subscription business model is also important. This migration maps against established commercial practices and reflects reality, I believe."
— Richard Beutel, managing principal, Cyrrus Analytics
Some Agencies Will Pay for Enterprise IT By the Drink
"At least one other major agency will follow the Air Force's footsteps and take an enterprise IT-as-a-service initiative. The concept of EITaaS has been talked about for years, but it always seemed a little far-fetched for an agency—too far outside the box. But the Air Force thinks otherwise, and as its initiative develops, we can expect other agencies to begin moving in this direction. That's because it makes sense. The as-a-service model provides agencies with the flexibility they need to adapt to changing requirements—continuous modernization, you might say." 
— Bryan Thomas, senior vice president, public sector, World Wide Technology
The Early Bird Gets Actual Transformation
"With [General Services Administration] extending the [Enterprise Infrastructure Solutions] deadline to 2023, agencies that were panicking to transition like for like applications will now breathe more easily … maybe too easily. Those that do not procrastinate will start to transition during 2019, finally upgrading critical legacy applications in a more strategic manner. This will enable those agencies that start now to ensure the 2023 transition serves as more of a transformation."
— Steven Boberski, vice president of business development, collab9
Other Sectors Will Follow the CDM Model
"The Continuous Diagnostics and Mitigation approach will gain traction beyond the public sector particularly within some of the critical sectors that are forward-thinking on cybersecurity. Rooted in the NIST concept of continuous monitoring, CDM is structured in four phases to determine what is on the network, who is on the network, what's happening on the network, and how data is protected on the network. CDM will continue to mature in the public sector as the leading method for continuous risk identification, prioritization, and mitigation—'ongoing' activities that are equally applicable and important for other industries such as financial services and health care."
—Ellen Sundra, vice president of Americas, Systems Engineering, ForeScout Technologies
Government Will Go to the Edge
"I predict that in 2019 the government will adopt a policy of managing data at the edge. Capturing data at the edge and being able to get [artificial intelligence and machine learning] faster with real-time capabilities and security is something all agencies would love to have access to (e.g. to save lives, stronger defense, etc.) and 2019 will be the tipping point. Agencies will no longer be able to avoid harnessing the power of data as AI/ML become critical to the success of our IT operations."
— Shaun Bierweiler, vice president of U.S. public sector, Hortonworks
Artificial Intelligence Gets Scary Smart
"In 2019, I predict that the rise of artificial intelligence will reach its tipping point. We will officially hit the point of no return where AI has moved beyond the comprehension of even the savviest IT leaders. 2019 will be the year that AI becomes mainstream pushed to the masses but, simultaneously, AI capabilities and actions will also become more ambiguous. As we continue to focus solely on the benefits of AI with very little awareness of potential concerns, our society will unconsciously be influenced by AI processes that make our day-to-day lives easier.
The widespread adoption and blind following of the 'all-knowing AI' will start to the give the impression of an omnipresent force. This belief and widespread adoption with force federal IT leaders to begin preparing and implementing the regulations and practices necessary to combat the omniscient AI."
— Mike Ewell, senior director of cyber, Solutions By Design II
Government Ditches 'Cloud First'
"We predict that the government will drop its 'Cloud First' position in recognition of the high costs of data egress, the evolution of hybrid cloud architectures, lower costs of hyper-converged infrastructure solutions, and better utilization of geographically disparate data and compute resources that operate on data where it's generated or at the edge. The major driver for this will be the need to improve the government's time-to-insight and time-to-decision processes and a more sustainable operating model. As Gartner stated at the 2018 [IT Infrastructure, Operations & Cloud Strategies] event, IT Infrastructure needs to be always available, always on, and everywhere."
— Russel Davis, chief technology officer and chief operating officer, Vcinity, Inc
The Resurgence of the Data Engineer
"The 'rise of the citizen data scientist' expression was emphasized over the last year as machine learning technologies matured to allow more automation and ease of use. The real need in 2019 now is not data scientists (nor 'citizen data scientists') but rather data engineers. Getting traction on machine learning use cases requires data engineers to understand, prepare and manipulate data in order for machine learning models to work."
— Scott Smith, managing director, Sila Solutions Group
The Perimeter Will Not Exist
"In 2019, we predict that the trend towards the cloud will continue and accelerate rapidly, which will ultimately lead to the widespread closure of government data centers. As the government enters the era of post-perimeter security—an entirely cloud-based, no perimeter IT infrastructure—agencies will be forced to move key security functions to the endpoint and establish a zero-trust access model."
— Bob Stevens, vice president of public sector, Lookout
Bad Guys Use AI Too
"Everyone is talking about [artificial intelligence] right now—it's the buzz of the industry. But not many people fully understand what AI and machine learning can do. One area where AI will be really powerful is cybersecurity. In 2019, we will see agencies start to harness the power of advanced analytics and machine learning to take action against real-time threats in an automated, predictive way. Using AI will also address some of the growing skills gaps federal agencies are experiencing, because these technologies when used this way can supplement the human element in cybersecurity.
On the flip, adversaries will also be leveraging these technologies to launch attacks, making the defensive use of AI even more critical for federal agencies in the coming year."  
—Jason Parry, vice president of client solutions, Force 3
The Government Will Tap Different Agencies' Data to Help Citizens
"We will see a broader push by public health agencies and their partner departments to integrate health and non-health data to better understand the intersection of services and to improve whole person care. Citizens, particularly those struggling with mental illness or addiction, will often touch several government entities (public health, law enforcement, social services, etc.). Not only can bouncing around the system be detrimental to their health, but the lack of coordination is not an efficient use of resources. For instance, a homeless person is more susceptible to illness and brushes with the police. The costs of visits to emergency rooms and free clinics, plus time spent in jail, add up quickly. Providing a stable housing option would be better for the individual, and for the taxpayer. Bringing together the relevant data from the different agencies will change how we help citizens in need."
— Joshua P. Morgan, PsyD, national director of Behavioral Health and Whole Person Care for U.S. Government and Education, SAS
Clouds Now Enable Data Oceans in the Future
"The rapid adoption of cloud systems will harness and combine the power of data harmonization with information alignment and cybersecurity awareness in an unprecedented fashion. As a result, the most forward leaning agencies in government will increasingly deliver modern, consumer-like user experiences that leverage native-to-platform artificial intelligence and machine learning. In turn, these next generation systems will further mine databases, data warehouses, and data lakes, as well as present authoritative information to augment human decision making, while fully understanding the 'chain of custody' and the 'identity' of all data which is entering an agency's enterprise boundaries. These capabilities are critical for agencies to be prepared to deal with the coming data oceans being produced by the internet of things."
— Bob Osborn, federal chief technology officer, ServiceNow
Phishing May Get Harder
"Believe it or not, the majority of successful security breaches are still a result of simple attacks through web and email—often a result of phishing attacks targeted at end users. In 2019, agencies will move away from on-premise tools to incorporate cloud-based threat isolation platforms that offer a virtualized security environment. This capability isolates web browsing and email attachment execution in an off-premise/virtualized environment, ensuring malware never passes through the security boundary."
— Chris Townsend, vice president of federal, Symantec
Cyber Adversaries Will Increasingly Push Our Limits
"2019-2021 prediction: Continued and persistent escalation in nation state led cyberattacks will push unexplored limits until a breach or provocation crosses a currently undefined line. The 'breach' may be intentional, accidental, loosely directed (actors may not have full understanding of what they are targeting) or have unintentional consequences (loss of positive control).  It may impact a government or civilian target. It may cause financial harm or loss of life, potentially both. Regardless, deterrence fails (it never worked anyway) and the incursion escalates into a national retaliatory response. This will result in kinetic, monetary, legal, and/or similar type(s) of active response and potentially escalate into open conflict.
The current and continuing escalation of cyber activity is really a game of brinkmanship—a very serious game that continues to push limits never before tested and one that will eventually result in an interpretation or realization of hostile intentions followed by an escalated response."
—Eric Trexler, vice president of Global Governments and Critical Infrastructure, Forcepoint