Author Archive
Caitlin Fairchild
Web Producer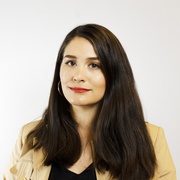 Caitlin Fairchild is Nextgov's Web Producer. In her role, she writes about privacy, personal security and emerging tech, but also coordinates Nextgov's social media strategy. She has worked at Government Executive Media Group since 2011. Caitlin has previously written for Living Social, Washingtonian and Nellis Air Force Base. She is an alumna of The College of William & Mary.
Cybersecurity
It's the latest web browser to add a boost user security.
Emerging Tech
The ACLU worries about the future implications of this.
---
Cybersecurity
The Marriott breach—the latest of many mega-breaches—inspired some lawmakers to push for new privacy legislation.
Cybersecurity
HTTPS doesn't necessarily mean what you think it does.
Cybersecurity
This organization wants to see heavy fines imposed against the social media company.
Cybersecurity
A lot of employees are flouting common security measures while traveling.
Emerging Tech
Figuring out a way to explore distant moons requires some creative thinking.
Emerging Tech
The agency hopes to measure how well they will respond to the next crisis.