Author Archive
Caitlin Fairchild
Web Producer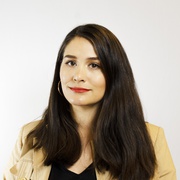 Caitlin Fairchild is Nextgov's Web Producer. In her role, she writes about privacy, personal security and emerging tech, but also coordinates Nextgov's social media strategy. She has worked at Government Executive Media Group since 2011. Caitlin has previously written for Living Social, Washingtonian and Nellis Air Force Base. She is an alumna of The College of William & Mary.
Digital Government
Lawmakers wanted to hear from the FCC about the recent hot-button issue of mobile carriers selling location data to third parties.
Emerging Tech
The House Energy and Commerce committee chairman wants location data answers, now.
---
Cybersecurity
Your telecom company knows where you are—and it may be selling that information.
Emerging Tech
The social network has established preinstall deals.
Emerging Tech
The company wants to explore untapped sensors in phones to take barometric readings.
Emerging Tech
Radar-based motion sensing gets a government thumbs up.
Emerging Tech
Countries around the world are making these requests.
Cybersecurity
This time it's over user photos that have been exposed.
Emerging Tech
The car rental company is promising super speedy checkouts.