Author Archive
Caitlin Fairchild
Web Producer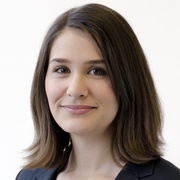 Caitlin Fairchild joined Government Executive in summer 2011 as an editorial fellow, after graduating from the College of William & Mary, where she spent four years writing for the student newspaper, The Flat Hat. In March 2012, she was hired full time as a web producer. She has completed internships at Washingtonian Magazine and at the public affairs office of Nellis Air Force Base in Las Vegas.
---
Emerging Tech
The claw is essential for investigating the red planet.
Emerging Tech
Here is how to save your data before the social network sunsets.
Cybersecurity
Google's decision not to immediately disclose the breach has ruffled some feathers.
Cybersecurity
A Chinese company targeted data centers of some of the largest commercial companies, according to a report.
Cybersecurity
In addition to a massive data breach, Facebook is in trouble for targeting ads using security information.
Emerging Tech
This tiny device is designed to track massive storms.
Emerging Tech
Some users felt the latest Chrome updates violated their privacy.
Cybersecurity
The tech company is gearing up for Congress' questions.
Emerging Tech
It's a change that may spark privacy concerns for some users.