US Needs Deeper Global Partnerships to Assert Tech Leadership, Report Argues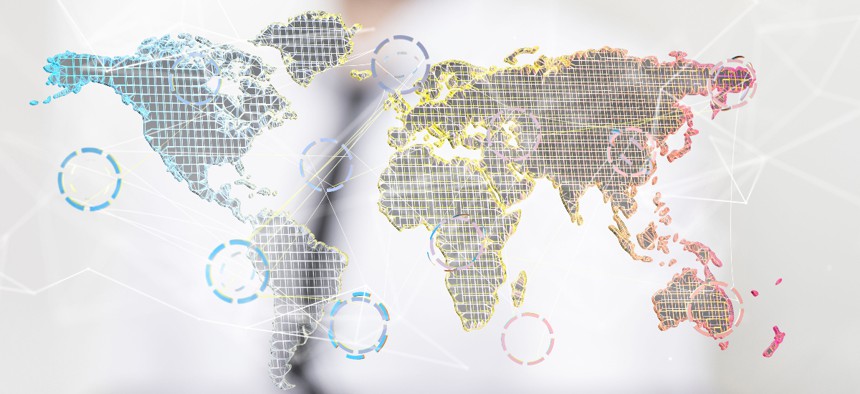 A report from the German Marshall Fund calls for "a new foreign policy of technology" that allows the U.S. to maintain its tech leadership on the global stage by working more closely with democratic nations.
The United States needs to forge stronger partnerships with international allies and address gaps in domestic policies that hamper innovation if it wants to outcompete adversarial nations in the technology sector, according to a report released by the German Marshall Fund's Digital Innovation and Democracy Initiative on Monday.
The policy organization's report cited the Biden administration's "industrial policy that includes tens of billions of dollars in technology subsidies" as a step in the right direction for strengthening domestic semiconductor research and development. But it also stressed the need for "a new foreign policy of technology" to resolve global tensions around the manufacturing of critical technologies to help determine "how democracies and their allies will address the technological challenges of the 21st century."
Some international partners have pushed back on last year's CHIPS and Science Act and Inflation Reduction Act, with European officials, in particular, objecting to perceived protectionist policies when it comes to subsidies for U.S.-based companies. And federal officials are still negotiating with other countries over the implementation of export controls designed to limit the Chinese government's ability to "purchase and manufacture certain high-end chips."
"This backlash risks undermining U.S. efforts to lead on global rules and values," the report noted. "The U.S. must have its allies' support for addressing technology challenges, from restricting Chinese access to critical semiconductor technology to contesting efforts in standards organizations to approve surveillance technologies. All this must be done in the name of promoting global rules and defending democratic principles and values."
Julia Tréhu—a co-author of the report and a program manager and fellow with the German Marshall Fund's Digital Innovation and Democracy Initiative—told Nextgov that these issues are "really bringing into focus the need for new initiatives and new bodies, and weaknesses in existing mechanisms."
"It's not always easy to bring allies on board with some of these export control measures," Tréhu said, adding that ongoing negotiations around export controls on Beijing's access to semiconductors, in particular, require "very delicate diplomacy."
On the domestic front, the report warned that U.S. public spending "must include guardrails to ensure that offline protections and rights apply online," while also not crowding out entrepreneurs and innovators from receiving the support they need to drive U.S.-based innovation. 
"The United States must also avoid the trap of failing to update regulations out of fear that doing so will create an advantage for rivals," the report added. "The lack of updated privacy protections, for example, is not only a national security vulnerability that allows foreign governments to buy data on Americans. Outdated protections also permit other countries, notably European, to lead, and they limit the data sharing needed to fuel advances in AI."
To resolve international tensions and bolster U.S. tech leadership on the world stage, the report outlined three specific initiatives that the federal government can take to counter the tech ambitions of authoritarian nations and "support socially responsible innovation and digital trade."
These include the creation of a digital policy lab "to foster innovation by serving as a platform for public-private-civil society partnerships;" the establishment of a technology task force to enable "resilient allied supply chains" through closer cooperation "among democracies and allies;" and the global promotion of principles outlined in the Declaration for the Future of the Internet that the Biden administration launched with more than 60 partner nations last year to support "an open, free, global, interoperable, reliable and secure" internet.
"We think these new policies show great promise, and they're good responses to the challenges that we face—whether that's climate change, or combating authoritarian efforts to control the internet," Tréhu said.