GAO Identifies Fraud Risks in FCC's Affordable Connectivity Program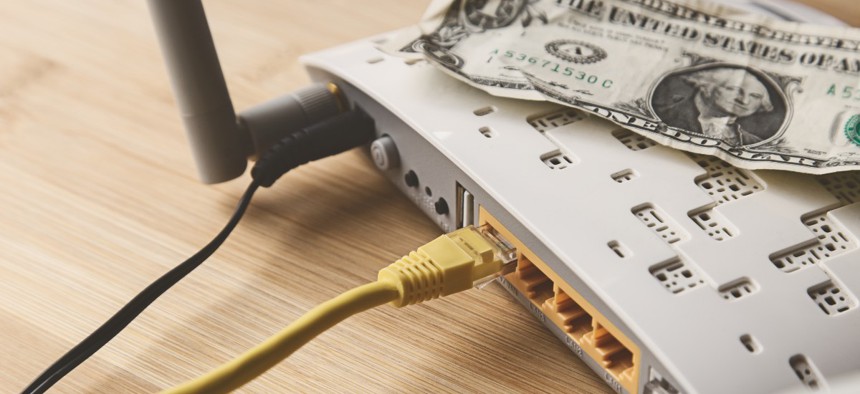 The FCC "may not be able to effectively prevent and detect fraud" in its program that offers low-income households discounts on internet services and connected devices, according to a review by the Government Accountability Office.
The Federal Communications Commission needs to enhance the oversight of its program offering discounts on broadband services and connected devices for low-income households to better prevent fraud, according to a report released by the Government Accountability Office on Wednesday. 
GAO's review examined the FCC's implementation of the Affordable Connectivity Program—or ACP—through which the agency reimburses internet service providers for offering discounted broadband services to low-income Americans. The program, which the FCC launched in December 2021 as a successor to the agency's Emergency Broadband Benefit program, serves approximately 14 million U.S. households. 
While GAO found that the FCC "has taken steps to manage fraud risks in the program," it noted that the agency's efforts "do not fully align with selected leading practices in GAO's Fraud Risk Framework."
The report found that FCC has not developed an antifraud strategy to mitigate identified risks in the program, and has also not developed a process for conducting regular fraud assessments. Additionally, GAO identified multiple weaknesses in the FCC's antifraud controls, including failing to identify "potential duplicate subscribers, subscribers allegedly receiving fixed broadband at P.O. Boxes and commercial mailboxes and subscribers with broadband providers' retail locations as their primary or mailing addresses."
While the ACP application specifies that program enrollees should not provide a P.O. Box or commercial address as their primary address and instead use the address where they would be receiving broadband services, GAO said an "analysis of ACP enrollment data flagged over 4,200 primary addresses as P.O. Boxes and over 6,600 primary addresses as commercial mailboxes." The report also noted that GAO "identified over 2,500 potential duplicate subscribers in the ACP enrollment data as of April 1, 2022."
When it came to verifying ACP subscribers' personal information, GAO also found that "over 874,000 (over 10%) of the approximately 8.5 million ACP subscribers who included the last four digits of their Social Security number did not match records in the Social Security Administration's Enumeration Verification System." While the report said that these incorrect numbers could be the result of non-fraudulent errors, it noted that "these mismatches represent a fraud risk that monitoring processes may flag for further review."
"Without regular fraud risk assessments, an antifraud strategy, and sufficient monitoring of controls, FCC may not be able to effectively prevent and detect fraud in this over $14 billion program," GAO added.
In addition to concerns about managing fraud in the ACP, GAO's report found that the FCC's performance goals and measures for the program "do not fully align with key attributes of effective performance management."
"For example, FCC's goals and measures lack specificity and clearly defined targets, raising questions about how effective these goals and measures will be at helping FCC gauge the program's achievements and identify improvements," the report noted. 
Additionally, the report flagged concerns about the FCC's consumer outreach efforts surrounding the ACP, including "clarity and incompleteness" issues when translating program materials into non-English languages and the agency's lack of a plan to guide its outreach efforts. 
GAO made nine recommendations in the report, including that the FCC "improve its program goals and measures, revise its language translation process, develop a consumer outreach plan and develop and implement various processes for managing fraud risks." The FCC agreed with all of GAO's recommendations and outlined plans to address the watchdog's concerns. 
GAO's review of the program was requested during the 117th Congress by Sen. Roger Wicker, R-Miss.—then-ranking member of the Senate Commerce, Science and Transportation Committee—and Sen. John Thune, R-S.D., ranking member of the committee's Subcommittee on Communications, Media and Broadband.
In a joint statement following the report's release, Thune and Sen. Ted Cruz, R-Texas—the incoming ranking member of the Senate Commerce Committee—said "GAO's findings reveal that the FCC's ACP is subject to massive waste, fraud and abuse of taxpayer dollars." 
"We find it incredibly concerning that the FCC has failed to establish a process that regularly assesses fraud risks within the ACP," they added. "It is incumbent upon the Senate Commerce Committee, which has jurisdiction over the FCC, to have an oversight hearing to address GAO's report and hold the FCC accountable to American taxpayers."