Climate Change Poses Threat to U.S. National Security, GAO Says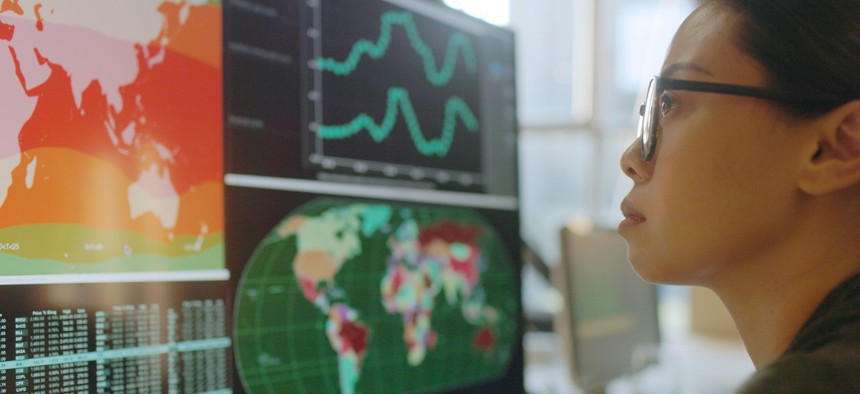 The Government Accountability Office said federal agencies need to "increase their resilience" to climate risks that endanger technologies like radar sites and the electric grid. 
The U.S. government needs to take additional steps to mitigate the national security risks posed by climate change, including working to shore up military bases and critical infrastructure susceptible to extreme weather-related events, according to a report from the Government Accountability Office published on Sept. 13.
The GAO report, which summarized the effects of climate change on U.S. security interests and outlined recommendations for strengthening the country's climate resilience, noted that "both the Department of Defense's global network of military installations and U.S. civilian infrastructure" are at risk of the "significant fiscal risk that climate change poses." 
The report cited several examples of the national security threat posed by the changing climate, including how melting polar ice caps have affected radar sites on the Alaskan coast, how rising sea levels have led to increased flooding at Norfolk Naval Shipyard in Virginia and the impact that more catastrophic storms—such as Hurricane Michael in 2018—have on military bases. GAO also noted that the changing climate is likely to place additional strains on the nation's energy grid, which could lead to "decreases in the production and efficiency of transmission of electricity and could cost billions of dollars each year."
DOD and civilian agencies "have taken various actions to address climate risks to national security-related infrastructure," the report noted, including working to shore up water and electric utilities and developing strategies to identify and mitigate climate-related threats to national security interests. 
Last year, DOD issued a Climate Adaptation Plan to help ensure the U.S. military's operational advantage in a changing global environment, which includes developing "comprehensive installation resilience plans" and taking "climate change considerations into supply chain management." The Pentagon also created a DOD Regional Sea Level database to help guide the planning and development of future facilities in coastal regions. 
But the report also said that "more work remains," especially when it comes to implementing some of the recommendations GAO has published over the past decade to help DOD, the Department of Energy and the Environmental Protection Agency—among other federal agencies—better prepare for and anticipate climate-related threats. 
"These recommendations include considering potential climate change effects when comparing defense infrastructure projects for approval and funding, issuing guidance on incorporating climate projects into facilities project designs, considering climate change in acquisition and supply and assisting civilian utilities with climate resilience efforts." the report said.
GAO said that taking these steps would allow DOD and federal agencies to "increase their resilience to the national security threats associated with climate change."