As Putin Schemes to Extend His Reign, Expect New Forms of Internet Repression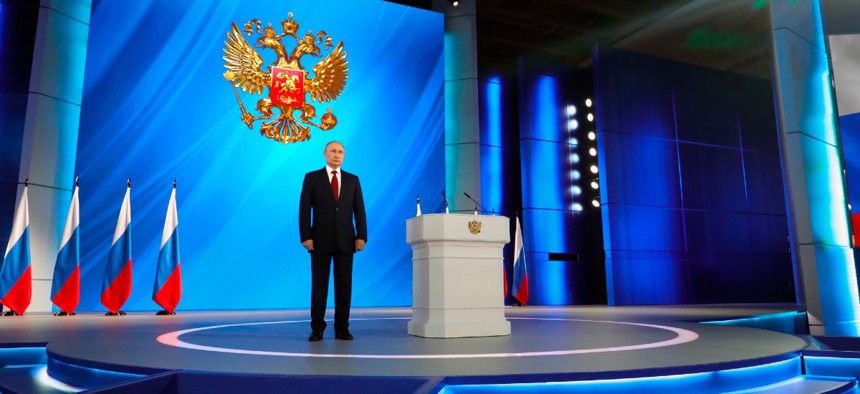 Russia under a president-for-life will likely grow more insular and less open to Western influence.
Russian President Vladimir Putin wouldn't seem to be a man with any real check on his authority, but there is still the Russian constitution, which says that a president can't serve more than two consecutive terms. Russia watchers believe he has found a way to stay in power after his second term expires in 2024 — one that will have disastrous effects on freedom and particularly Internet freedom in Russia.
On Tuesday, in a televised address, Putin announced reforms to shift authority to the State Council, a part of the Russian parliament. That would seem to have the opposite effect of consolidating power within the presidency. But then Russian Prime Minister Dmitry Medvedev resigned, along with his cabinet. That clears the way for Putin to stack government bodies with loyalists whom he has empowered to amend the constitution and give him the permanent control he's seeking, either by allowing him to remain president or elevating whatever new role he takes to de facto leader. 
"This wasn't much of a surprise. We knew the Kremlin would have to put a plan in motion," said Alina Polyakova, director of the Project on Global Democracy and Emerging Technology at the Brookings Institution. Putin has held the presidency for a total of four terms, bookending a 2008-12 hiatus as Prime Minister that is regarded as a simple Potemkin ploy to retain power.
The change in the constitution was one of a few options Putin and his loyalists were exploring, said Polyakova. Among the other options Russia watchers have highlighted, doubling down on the invasion of Ukraine or annexing the state of Belarus in order to become the President of a new Russian "super state."  Polyakova called the new constitution change the "path of least resistance."
The move "solidifies Putin's role as president of Russia for life" and "the source of power in Russia for the long term. That only spells bad things for the future of Russian democracy," she said. It "doesn't change the regime's attitude toward democracy. It strengthens the position toward dictatorship."
Tim Morrison, who served as Deputy Assistant to the President and Senior Director for Europe and Russia on the National Security Council until October, said on Wednesday, "Whatever it is that he's doing, the redrawing of the lines on the org chart he is undertaking for whatever purpose, I find it difficult to imagine that he's not going to use it to somehow stay in power." Morrison made his remarks at a Defense Writers Group event.
Polyakova said the move shows that the Kremlin is feeling supremely "confident" right now. It follows a series of protests over the summer against the regime, which garnered media attention internationally, but to little effect. "Obviously the Kremlin was not put off by the negative media attention," she said. "They think they have a free hand to put in these changes."
The Future of Online Speech in Russia is PutinNet
Russia watchers were already expecting more state repression.
"The next ideological battle will be YouTube," Andrei Loshak, a Russian journalist and creator of the documentary series InterNYET, said at an event at the Atlantic Council on Tuesday.  
Loshak said the Google-owned video service, which has ignored Moscow's demands for control, currently represents "a real alternative to the government propaganda machine." A state-sponsored attempt to mimic YouTube "failed completely," he said "They are working on a plan B." That's important because having a Russian version of popular services would be essential to pacify public outcry in the event of a shutoff. 
Loshak noted the Kremlin's attempts to build up hardware and software that would allow it to cut the country off from the global internet, but he and others are skeptical of the idea that Russia could do this without major disruption to civil and economic life.
Said Polykova, "Russia is not China. They don't have the Great Firewall...The Chinese were able to do it in sequence. Russia is trying to backward-engineer this. That's going to be more difficult. The government is not a well-oiled technological machine."
Russia's connections to global web culture are also far stronger and more numerous. Unlike China, Russia was an avid participant in global internet culture from the earliest days of the World Wide Web. Russian thinkers and journalists made liberal use of LiveJournal and other early platforms to discuss government efforts and expose Russian life to the outside. Then in 2012 or so, the Russian government began to develop a coordinated campaign to reduce the value of such platforms, not through outright censorship but through state-backed trolling and misinformation campaigns. In some ways, it was a dry run for its disinformation campaigns against Western targets.
Russia's late-December tests of its internet-cutoff powers tests were limited to a couple of remote regions, such as Siberia. "As far as I know, journalists didn't feel it. It didn't affect any press operations. But it did affect some sectors of the Internet, like airports," Andrei Shary, director of Radio Free Europe's Russian Service, said at Tuesday's Atlantic Council event.
Noted Polykova, "It wasn't covered by the Russian media."
Shary agreed that the real point of the Kremlin's efforts to block online platforms and foreign internet services is to help Putin retain control and push through his agenda. "That's why they need a system of blockage for the press, to be able to secure the inheritance of power in Russia. It's not just against journalists. It's about power," he said. "If you want to have total control over Russia, you need to be able to control the press."