VA's tech training program will soon expire — lawmakers hope to save it by year's end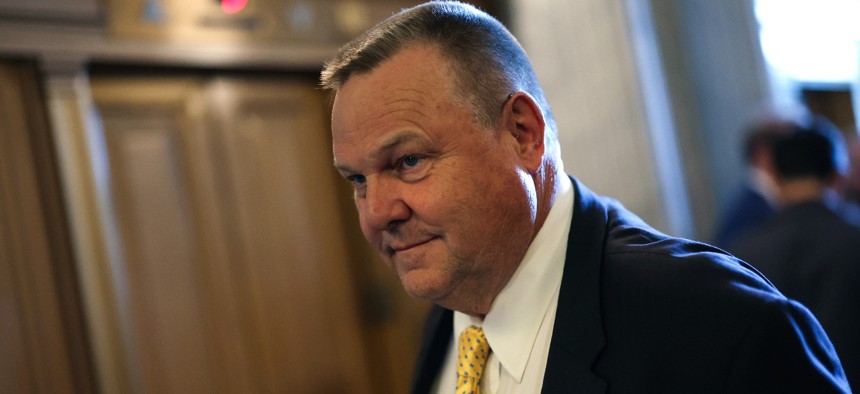 Senate Veterans' Affairs Committee Chair Jon Tester, D-Mont., said he is working with lawmakers to reauthorize VA's VET-TEC pilot before the end of the year.
Bipartisan leaders of the House and Senate Veterans' Affairs committees are negotiating a package of bills that includes legislation reauthorizing the Veteran Employment Through Technology Education Courses — or VET-TEC — program, according to a top Senate Democrat. 
Senate Veterans' Affairs Committee Chair Jon Tester, D-Mont., said extending the Department of Veterans Affairs' VET-TEC program is part of ongoing legislative discussions between the two chambers and signaled his hope it would pass before the end of the year. 
The five-year pilot program, which launched in 2019, offers eligible veterans tuition assistance "to enroll in high technology programs of education that the [VA] Secretary determines provide training or skills sought by employers in a relevant field or industry."
VA said the program — which has an 84% graduation rate — has given over 12,000 veterans the opportunity to pursue jobs in the tech sector. The pilot is set to expire in April 2024. 
"With more than 200,000 members of our armed forces transitioning out of the military every year, it's critical we make sure every servicemember is set up for success in that transition," Tester told Nextgov/FCW in a statement. "The VET-TEC program is an important tool for veterans to grow their technology skillset in the private sector, which is why I'm working with my Republican and Democratic colleagues to reauthorize it this year."
The House overwhelmingly passed legislation in May to permanently reauthorize the VET-TEC program. Following the 409-9 vote, Rep. Juan Ciscomani, R-Ariz. — who sponsored the bill — said "the authorization of the VET-TEC training program will empower a new wave of veterans when transitioning from their time in uniform to the workforce."
The bill's passage came after VET-TEC providers told members of the House Veterans' Affairs Committee in April that the program had run out of funding and was unable to accept new students. A VA official told Nextgov/FCW that the department was subsequently able to use de-obligated funds from the program to re-open enrollment.
"VA let all partners, potential students and VET-TEC providers know on Aug. 24, 2023, VA was again accepting enrollments for fiscal year 2023," the spokesperson said. "VA received nearly 1,200 applications immediately following the release of this communication — a single-day record."
Two Senate bills would reauthorize VET-TEC, although for different durations. A proposal introduced in May by Sens. Kevin Cramer, R-N.D., and Angus King, I-Me. — similar to the House bill — would make the pilot permanent. Legislation introduced in June by Sens. Mike Braun, R-Ind., Marco Rubio, R-Fla., and Thom Tillis, R-N.C., would reauthorize the initiative for an additional five years. Both bills would expand VET-TEC's annual enrollment to 6,000 students and allow more educational institutions to participate in the program. 
It remains unclear, however, if ongoing discussions surrounding the program's future favor a five-year extension or permanent reauthorization. But lawmakers, VA officials and other stakeholders seem confident that VET-TEC will be extended beyond April 2024.   
Alicia Boddy — the director of partnerships for the nonprofit coding bootcamp Code Platoon — founded the VET-TEC Working Group in 2019 to help coordinate communication between approved VET-TEC providers and VA officials. She said she recently met with lawmakers on the House and Senate Veterans' Affairs committees and "the sentiment continues to be they're really supportive of that program, they're really excited about it and everyone loves it."
"From my perspective, I heard that they were really just trying to figure out the offsets and how to pay for it," she said, adding that a recent meeting with the VA education benefits team focused on how to achieve better outcomes for VET-TEC moving forward and how to track graduates of the program through their first jobs in the tech sector. 
"It's almost like they've jumped ahead to say, 'well, how do we make this an even better program?" Boddy said. "So I'm trying to stay positive that they know this is going to pass and now we're talking about the outcomes that we will get."