CHIPS Act implementation at risk as November shutdown looms, Raimondo warns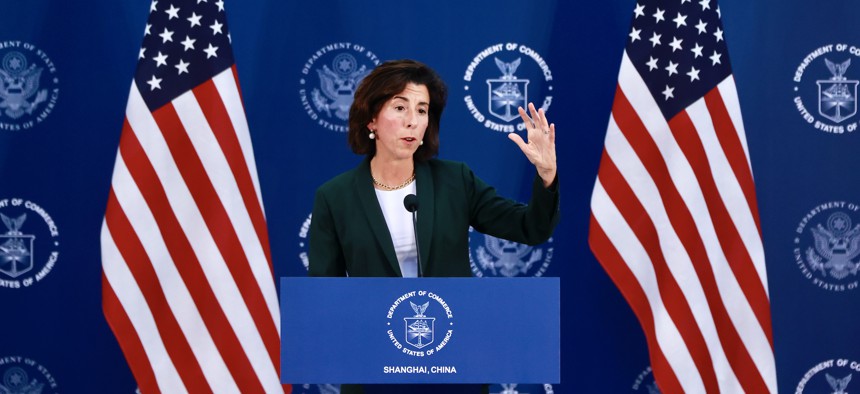 The shutdown would be "massively disruptive" for ongoing efforts to boost semiconductor manufacturing in the U.S., Commerce Secretary Gina Raimondo said Wednesday.
A government shutdown would be "massively disruptive" for the Commerce Department as it continues to disburse critical funding featured in the CHIPS and Science Act to boost semiconductor research and development in the U.S., according to Secretary Gina Raimondo. 
Raimondo testified before the Senate Committee on Commerce, Science and Transportation on Wednesday that the agency was in the process of "making historically bold and strategic investments that will strengthen national and economic security," and was planning to announce additional CHIPS Act investments this fall. 
The shutdown, narrowly averted late Saturday night after Congress passed a short-term spending bill, could have significantly impeded investments and the department's ongoing efforts to implement the CHIPS Act, according to Raimondo. She also emphasized the immense "stress" and concern the looming shutdown had caused among Commerce Department employees.
"It goes without saying that China, Russia, Iran aren't shutting down," Raimondo said. "The work we're doing in the CHIPS Act is essential to our national security, and any shutdown would be massively disruptive to our ability to stay on the pace that we're on in implementing this very important work."
The Creating Helpful Incentives to Produce Semiconductors — or CHIPS — Act was passed last year and includes nearly $280 billion in new funding investments for domestic semiconductor research and manufacturing. 
On Wednesday, Raimondo said the Commerce Department would be making a major announcement in the coming weeks about the "Tech Hubs program," a $10 billion economic development initiative included in the CHIPS Act that will award grants to accelerate technology-led economic growth across the country. 
Congress allocated the Commerce Department's Economic Development Administration $500 million as part of the fiscal year 2023 consolidated appropriations act to launch the program this year. 
"We have been overwhelmed by the quality and quantity of the tech hub applications," Raimondo said, noting that the agency has received more than 400 applications. "If we come away with nothing else, it's clear that this is worthy of more funding." 
The stopgap funding bill that Congress passed over the weekend will keep the government open until Nov. 17. However, it remains unclear whether lawmakers will manage to pass another spending bill before then to avoid a shutdown. On Tuesday, Rep. Kevin McCarthy became the first Speaker in U.S. history to be ousted from the post after right-wing Republican dissidents triggered a vote to remove him.