First CHIPS for America Funding is Now Available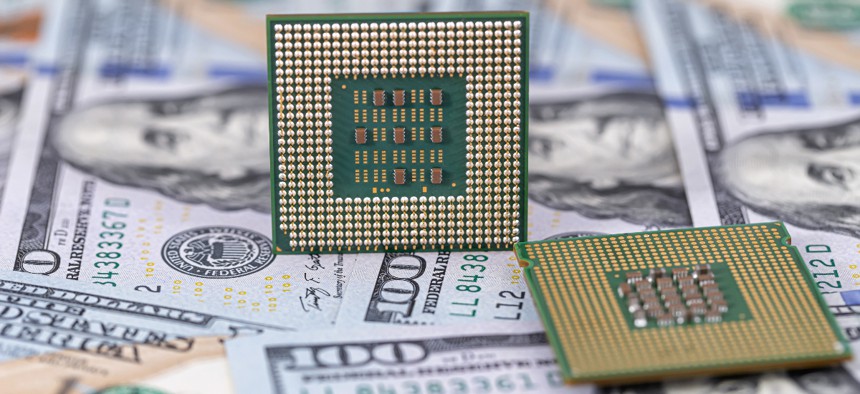 The $39 billion will go towards American semiconductor manufacturing.
The National Institute of Standards and Technology launched the first opportunity for CHIPS for America funding, according to an announcement issued Tuesday.
The $39 billion in funding will support domestic semiconductor manufacturing and is the first of three funding opportunities expected this year—the others will be for materials and equipment facilities, as well as research and development facilities.
In particular, this first funding opportunity "seeks applications for projects to construct, expand or modernize commercial facilities for the production of leading-edge, current-generation and mature-node semiconductors. This includes both front-end wafer fabrication and back-end packaging." 
"The CHIPS and Science Act presents a historic opportunity to unleash the next generation of American innovation, protect our national security and preserve our global economic competitiveness," Secretary of Commerce Gina M. Raimondo said. "When we have finished implementing CHIPS for America, we will be the premier destination in the world where new leading-edge chip architectures can be invented in our research labs, designed for every end-use application, manufactured at scale and packaged with the most advanced technologies. Throughout our work, we are committed to protecting taxpayer dollars, strengthening America's workforce and giving America's businesses a platform to do what they do best: innovate, scale and compete." 
NIST's announcement comes days after Raimondo stressed the importance of the CHIPS and Science Act and semiconductors for ensuring U.S. national security and economic interests. She emphasized the need to increase the semiconductor workforce and outlined a "Vision for Success," for the program.
Funding applications will be evaluated based on how they advance U.S. economic and national security, as well as commercial viability, financial strength, technical feasibility and readiness, workforce development and efforts to accelerate inclusive economic growth.
Awards will consist of direct funding, federal loans and/or federal guarantees of third-party loans. The funding is designed to complement and spur further private investment—not replace it. 
Furthermore, the CHIPS for America program will be focusing on: catalyzing private investment, protecting taxpayer dollars, creating a skilled and diverse workforce, collaborating with U.S. partners and allies and encouraging economic opportunity and inclusive economic growth. 
"Today marks another milestone met in implementation of the landmark CHIPS and Science Act," said House Science, Space and Technology Committee Ranking Member Zoe Lofgren, D-Calif. "The next step in reclaiming our leadership in semiconductor manufacturing is to spur innovation and manufacturing in the U.S.—and this monumental funding opportunity will do just that. When we worked on a bipartisan basis to provide $39 billion in incentives to advance our domestic semiconductor manufacturing capabilities and supply chain, we did it to build opportunity, security and ownership in America's technological future. Applicants from all over the country have the chance to be a part of that. This program will bolster our economic and national security while promoting a strong and diverse semiconductor workforce. I applaud the administration for including workforce friendly provisions like childcare to ensure that American workers will be able to show up at the job in the semiconductor industry." 
While some commended the funding, others raised concerns with its associated requirements.
"For well over a year, we've been discussing the significant economic and national security risks posed by the lack of a strong domestic chips manufacturing industry," House Science, Space and Technology Committee Chairman Frank Lucas, R-Okla., said. "The administration was adamant that unless the United States took action to incentivize chip production here, companies would choose to locate elsewhere—in countries that were providing enticements to attract innovative businesses. That's why it's troubling that now that the administration has the $52 billion in funds they requested, they're focusing less on the urgent need for chip production and more on attempting to impose their labor agenda on this critical industry." 
NIST did not provide a specific date for when selected applicants would be awarded, but noted it will be "as soon as applications can be rigorously evaluated and negotiated."