GAO: Federal Broadband Efforts 'Fragmented, Overlapping'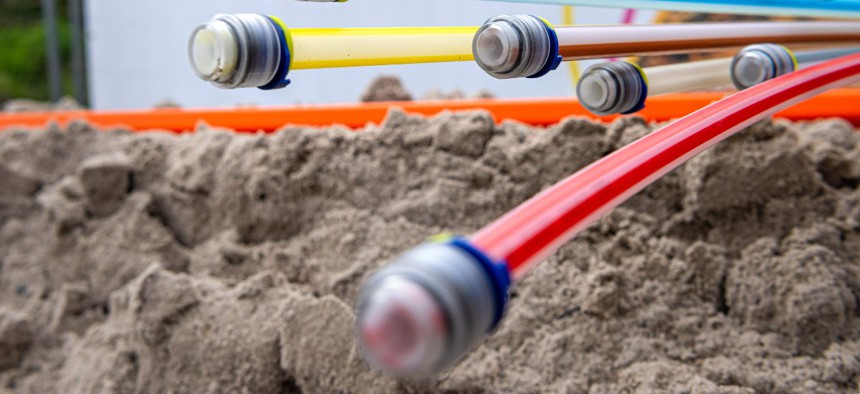 The watchdog recommends synchronizing federal broadband efforts.
Despite tens of billions of dollars in funding and numerous efforts to improve internet availability across America, millions of Americans still lack broadband internet, according to a new audit from the Government Accountability Office.
Released May 31, the audit posits reasons why the federal government's broadband efforts haven't been more successful.
"Federal broadband efforts are fragmented and overlapping, with more than 100 programs administered by 15 agencies," auditors stated. "Many programs have broadband as their main purpose, and several overlap because they can be used for the purpose of broadband deployment."
The audit indicates the federal government invested more than $44 billion in broadband from 2015 to 2020. However, the audit makes clear that many efforts are disjointed and suffer programmatic differences. In one example, the National Telecommunications and Information Administration, which is responsible for coordinating telecommunications matters across the executive branch and improving broadband coordination, "did not identify which statutory provisions limit alignment nor recommend any changes" when it led an interagency group that reviewed differing broadband programs in 2018.
"Improved alignment is needed to help address fragmentation and overlap. Without legislative proposals for Congress to consider, agencies may continue to face limitations in aligning programs to close the digital divide," auditors state.
The auditors also make the case for a new national broadband strategy with "clear roles, goals, objectives and performance measures."
"In 2021, the Executive Office of the President, through the National Economic Council and in collaboration with other White House offices, took the lead for coordinating broadband programs," the audit states. "The Executive Office of the President has not decided if a national strategy is needed, but it is well positioned to develop and implement one. A strategy to help better align programs could also include legislative proposals for Congress. Without such a strategy, federal broadband efforts will not be fully coordinated, and thereby continue to risk overlap and duplication of effort."
GAO issued three recommendations. NTIA agreed with such recommendations to identify statutory limitations to program alignment and develop legislative proposals. The Executive Office of the President did not take a position on GAO's recommendation to develop a national broadband strategy.