NatSec Experts to Congress: Pass Legislation to Boost Domestic Semiconductor Production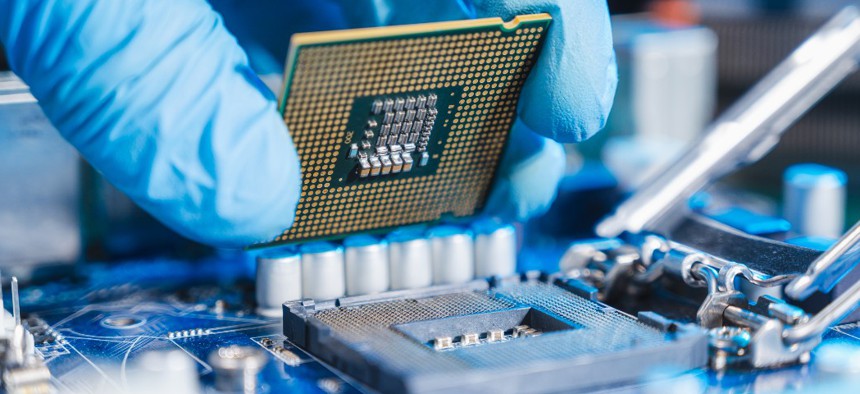 The Bipartisan Innovation Act would inject tens of billions into domestic semiconductor production.
Several current and former high-profile federal officials of both major political parties urged Congress Monday to pass legislation that would improve American competitiveness in semiconductor production and advanced manufacturing and create a more resilient supply chain.
"Chips are essential components of our most vital and sensitive military equipment. Our overreliance on foreign manufacturers puts crucial elements of our national and economic security at risk," Commerce Secretary Gina Raimondo said in a panel discussion hosted by her agency. "Our competitors like China are racing to support their semiconductor industries and they aren't waiting for us to catch up. Every day we wait is a day we fall further behind."
The bipartisan cadre of experts specifically called on Congress to pass the Bipartisan Innovation Act. The bill, authored by Senate Majority Leader Chuck Schumer, D-N.Y., would invest $52 billion in domestic semiconductor production and create the country's first Supply Chain Resilience Office to address challenges like those posed by the COVID-19 pandemic.
The statistics in domestic semiconductor production tell the story. In 1990, the U.S. produced 40% of all semiconductor chips used worldwide. In 2022, the U.S. produces only about 12%, meaning almost 90% of the world's leading semiconductors are produced outside America. China, meanwhile, has upped its chip production game significantly.
The supply chain crisis has exacerbated demand, producing additional challenges even among federal agencies, including the U.S. military, which needs cutting-edge chips for communication, navigation and weapons systems.
"It is vital that Congress act now to counter Chinese economic aggression, compete and secure competitive advantages necessary to preserve peace and promote prosperity," said Lieutenant General (Ret.) H.R. McMaster.
Former Under Secretary of State Keith Krach said federal investment in technology "is a strategic national imperative" and a "powerful catalyst for additional private-sector investment." An influx of tens of billions of dollars, he added, sends "a clear message to our citizens, allies, and the Chinese Communist Party itself that America is united in its commitment to preserve our precious freedom from authoritarianism.