Innovation-Minded Feds Invited to Join New Community of Practice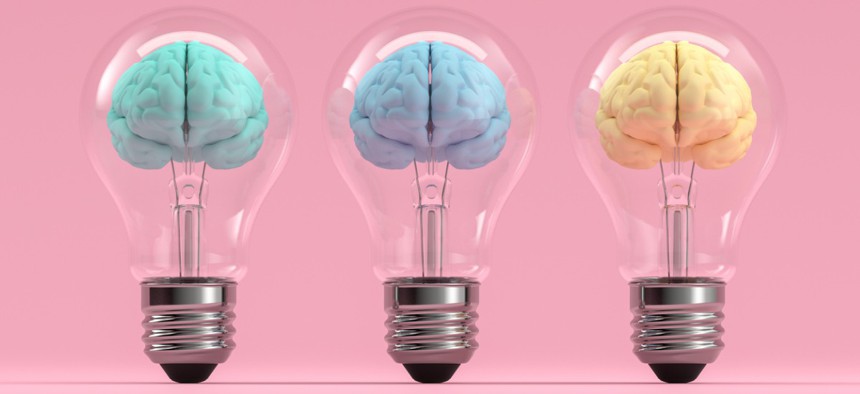 The group is looking for federal employees of all levels to promote the application of modern approaches and practices across the government.
Federal employees from multiple agencies recently formed a new Innovation Adoption Community of Practice.
Through it, they will produce and share learnings to promote the application of modern approaches, practices and principles across the government.
"Digital.gov's Innovation Adoption Community is for any federal employee who identifies as an innovator, intrapreneur, or change agent—they don't have to work in a government innovation lab or hold sway over resources. We believe that innovation, intrapreneurship, and change is in the purview of all federal employees. Those with advanced experience can help those with less experience," a General Services Administration spokesperson told Nextgov Monday. "And everyone, regardless of their expertise, profession, or experience level, can benefit from a diverse community of helpers willing to provide advice, share resources, or more generally support each other in what is usually a challenging effort."
Roots to this new community trace in some parts back to the 2015 Strategy of American Innovation from the White House, which included a recommendation that prompted growing an organic network of innovation drivers within the government. A cadre of personnel from across different agencies joined together to think up new methods and practices to promote modernization. The ad-hoc group has since convened more than 2,000 federal government employees in 100 co-creation workshops and two design-a-thons, created toolkits and informational resources, ran an innovation-pushing boot camp experience—and more.
Building off of that work, some of the agency volunteers who helped steer those activities recognized the need for a community of practice to keep the momentum. Those individuals, from GSA, the Heath and Human Services Department, Environmental Protection Agency and elsewhere, opted to serve as the initial team to manage this new community. 
"Soon, the CoP will publish an innovation playbook on Digital.gov designed to help steer innovators through a core set of actions that will help them frame their effort," GSA's spokesperson confirmed. 
The official further noted that the Centers of Excellence Innovation Adoption Practice also launched officially last week. As the practice grows, that CoE will be in a good position to share what works more broadly, beyond the partnering agencies. The community plans to hold learning sessions on in-demand topics, and the CoE also has events in the pipeline, like "Fedpreneur Salons" to bring together innovators to explore relevant challenges a few times a year.
"What makes this so important right now is the volume of expected modernization across government. Recent funding mechanisms will generate modernization and technology initiatives across government," the spokesperson said. "We want to ensure that they get help with a smooth transition from old ways to new ways of working."