Survey: Technologists Prefer to Keep Working Remotely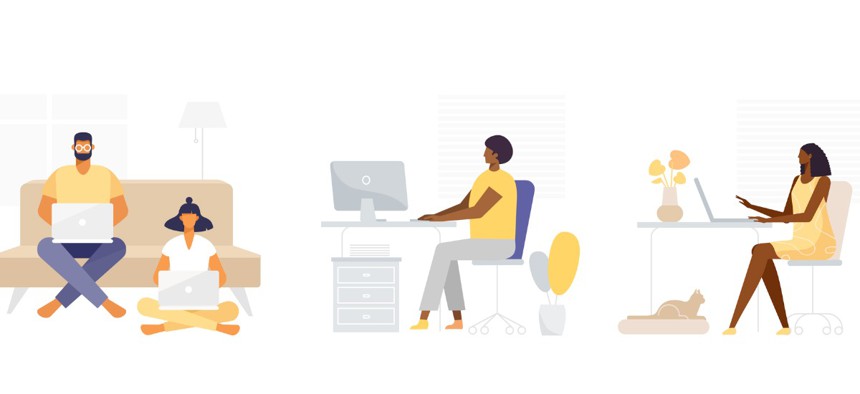 The coronavirus pandemic shuttered federal and private sector office space for more than a year, sending millions of employees to work remotely from their homes.
As offices begin to open again, a national survey of technologists released Tuesday indicates most do not want to return full-time to in-person office work and instead favor a hybrid or entirely remote approach.
The survey, conducted by Colorado-based Dice, which serves IT and engineering professionals, found 59% of technologists find both a hybrid office structure and a 100% remote structure to be extremely or very desirable. Conversely, only 17% of technologists find a return to full-time office work extremely or very desirable.
However, the desire for technologists to work remotely five days per week actually decreased 12% from the fourth quarter of 2020, when Dice conducted a similar nationwide survey. The results indicate technologists prefer a hybrid work model to being fully remote, in part because a majority (51%) of technologists surveyed said full-time remote work made it harder to maintain working relationships with colleagues.
"It's been incredibly interesting to see how technologists' working preferences have changed before and during the pandemic. While many technologists would still prefer to work 100% remotely, there is an equal desire for a hybrid approach, and we've actually seen fewer remote days per week become more desirable over the past year," Art Zeile, CEO of Dice, a DHI Group brand, said in a statement. "The companies who succeed in attracting and retaining top talent will be those who take the time to build an agile approach that gives technologists flexibility and control over their work environment."
The survey indicates 70% of technologists view cost savings associated with remote work as enticing, while another 67% enjoy flexibility and schedule control. Year over year, 9% more technologists said they felt the healthiest while working remotely. However, more than 1 in 3 technologists said they found it difficult to maintain an effective relationship with their managers, up from 22% in 2020.
Technologists overall also experienced more burnout in the second quarter of 2021 than the fourth quarter of 2020, although burnout impacted employees between the ages of 18 and 34 significantly more than employees 55 and older. More younger employees (47%) reported an increased workload than 55 and older employees (33%), and 24% of all technologists reported their work-life balance was "worse" than pre-pandemic levels due to a combination of increased demands, workforce shortages and no set boundaries between home and work. Conversely, about three-quarters of those surveyed said their work-life balance is better (33%) or the same (43%) as it was prior to COVID-19.