DISA's Infrastructure as Code Partnerships Aim to Speed Up Defense Cloud Adoption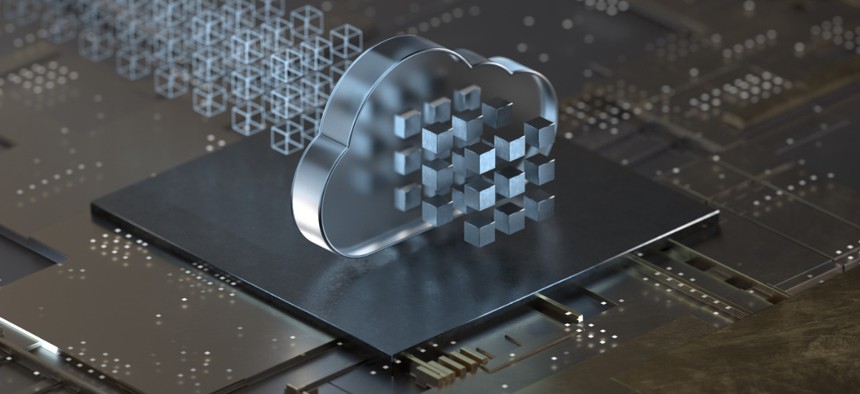 Microsoft and Amazon Web Services are assisting the Defense Information Systems Agency's Cloud Computing Program Office under recent agreements for the Defense Department's Cloud Infrastructure as Code project, according to an announcement. 
Under two Collaborative Research and Development Agreements, Microsoft and AWS will develop preconfigured, preauthorized environments to facilitate faster cloud adoption, DISA CCPO told Nextgov in an email. The two CRADAs were fully executed in December, according to CCPO. 
Microsoft announced the collaboration in a Tuesday blog post; a spokesperson for AWS declined to comment. DoD Cloud IaCs currently support Microsoft Azure, while an AWS baseline is under development, according to CCPO's website.
"The Microsoft and AWS CRADAs will provide a means for DISA and the Cloud Service Providers to collaborate, exchange beneficial technology, information, and share resources to mature the DoD Cloud IaC for accelerated consumption of cloud services by DoD entities," CCPO said. 
DoD Cloud IaC uses automation to cut down on the often months-long and repetitious process of designing, deploying, configuring and securing cloud environments, CCPO said. The program is an example of DevSecOps that supports the chief information officer's priorities for software modernization, CCPO said. 
In Microsoft's blog post, Tom Keane, corporate vice president for Azure Global, wrote the IaC templates will not only shorten deployment timelines, but also provide continuous monitoring, compliance, and "supporting architecture standardization across all Impact Levels and data classifications." 
"Rather than worrying about networks, identity, and operating systems, the Department of Defense Cloud Infrastructure as Code Environment for Azure allows the Sustainment Management System team to focus on the application and delivering our capabilities into our partners' hands," Eric R. Mixon, a computer scientist with the U.S. Army Engineer Research and Development Center's Construction Engineering Research Laboratory, said in a statement included in the blog post.