IRS Leader Defends Agency's Stimulus Check Performance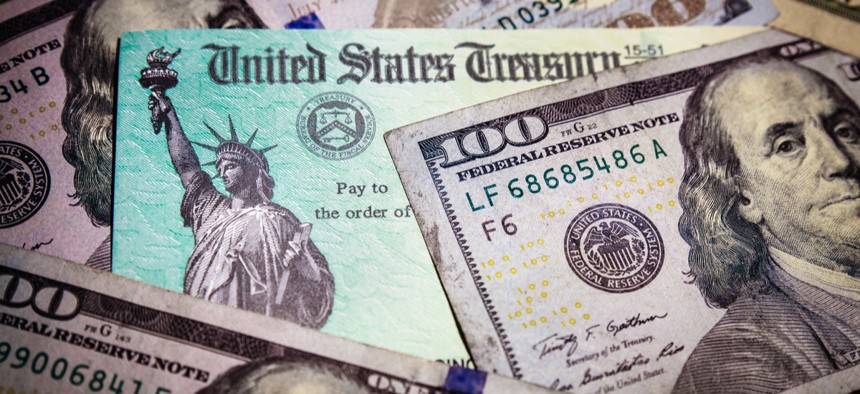 Lawmakers questioned whether lagging IT modernization efforts caused delays or missing financial relief payments for some Americans.
The IRS played an integral role distributing economic impact payments to Americans during the pandemic, and lawmakers on Wednesday tried to make the case that the agency's failure to update its aging technology systems is what caused delays in stimulus check payments.
But Vijay D'Souza, the director of information technology and cybersecurity at the Government Accountability Office, told lawmakers on the House Oversight subcommittee on government operations that outdated IT systems are a problem, but they aren't necessarily the culprit behind the delays. 
"I think any of the issues that we've talked about related to the payments had more to do with sort of policy and procedural issues versus the underlying technology, actually," D'Souza said in response to questions from Rep. Ro Khanna, D-Calif. D'Souza added the outstanding issue he sees is getting people who haven't received a check yet access to the online portal. 
Still, the hearing was not without its fireworks. Democratic lawmakers such as subcommittee chair Rep. Gerry Connolly, D-Va., accused Republicans of running the IRS into the ground by neglecting to provide adequate funding, leaving it unable to take on modernization efforts to improve citizen services. Republicans, led by ranking member Rep. Jody Hice, R-Ga., accused IRS of failing to spend funds on true modernization. Instead, Hice said too much money is still spent on maintaining legacy systems.
IRS Commissioner Charles Rettig pushed back at insinuations of irresponsibility by touting his IT team's round-the-clock work to provide services during the pandemic while at the same time pivoting to a work from home environment. Rettig, however, also acknowledged persistent perils presented by outdated IT systems and asked for more funding. 
"This committee understands how the federal government continues to spend a majority of the IT budget merely maintaining these legacy systems instead of investing in IT modernization reforms, which needs to occur," Hice said in his opening remarks. "With a majority of agency IT spending going to the operations and maintenance of these old systems, new investments are crowded out. I think that's where we need to get some answers today."
In a tweet following the hearing, Hice accused IRS of "blowing" funding in the past. When Hice asked Rettig directly how to guarantee funds would be used for modernization instead of legacy system maintenance, the commissioner offered a straightforward answer. In order to get agencies like IRS to spend money on modernization, Congress must appropriate funds earmarked specifically for this purpose.
Rettig used the example of the Taxpayer First Act, which was signed into law in 2019. The bill requires IRS to engage in modernization work such as empowering the chief information officer to report directly to the agency's commissioner, a provision similar to requirements in the Federal Information Technology Acquisition Reform Act. 
"The Taxpayer First Act was passed, strong bipartisan support, has tremendous provisions in it for modernizing the systems of the Internal Revenue Service, but it does not yet have any funding associated with it," Rettig said. 
Rettig said the agency developed an additional modernization plan separate from the Taxpayer First Act. That plan was launched in April 2019, but IRS has yet to receive the funding it requested to enact the plan, Rettig said.