VA Launches New Patient Scheduling Tool as Part of Records Modernization Project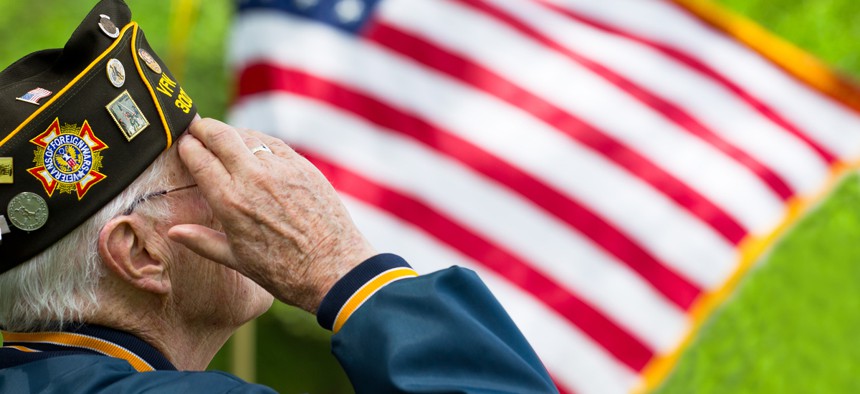 The resource will be unleashed enterprisewide down the line.
The Veterans Affairs Department kicked off the rollout of a new patient-appointment scheduling tool at the VA Central Ohio Healthcare System Aug. 21, with high hopes that it will streamline veterans' and medical providers' experiences as it gets deployed enterprisewide in the coming years.
The launch of the resource—deemed the Centralized Scheduling Solution, or CSS—is considered by those involved to be both a major milestone and crucial component of the agency's weighty, ongoing electronic health record modernization effort to leverage a unified commercial system with the Pentagon. 
"Even during COVID we're continuing to provide world-class care, but we're also continuing to modernize," VA's Acting Deputy Secretary Pam Powers told Nextgov Tuesday, adding that CSS is "really going to make a big impact on our providers and the efficiency, but also for our veterans and the service that they get."
Powers and three other agency officials playing key roles in the endeavor briefed Nextgov on the nascent tool's evolution and functionality, what's to come, and why the agency ditched a prior scheduling system development pursuit to set up CSS with Cerner Corp., the vendor steering VA's in-production revamp of its electronic health record system. 
Pivoting to Resource-Based Scheduling
When scheduling appointments using current means, VA personnel must engage in a time-consuming process that requires manual data entries and logging into separate software applications to coordinate calendars, clinicians, rooms and equipment. In that process' place, CSS will provide a systemwide, "all-in-one" capability that incorporates straightforward color-coded time slots and what Chief Medical Officer of VA's Electronic Health Record Modernization Office Dr. Laura Kroupa called "a resource-based" approach to scheduling. 
"It really brings together the provider, the patient, the nurse, the room—all the resources that are needed to take care of a veteran—into one place, so that they can all be scheduled at one time," Kroupa said. "And that allows the medical centers to really take the best advantage of the time and space that they have, so that there's no time wasted between appointments, so that there are not multiple clinics looking to find an open space for a veteran—you can see the entire structure in one view, and bring all those resources together so the veteran can get their care in a timely way." 
Kroupa added that CSS also integrates to send telephone reminders to veterans regarding their appointment timing and interfaces with VA's kiosks that patients use to check-in. Further, the product provides what Kroupa said is essentially a "one-click" way to schedule video visits—a much-needed capability amid the ongoing pandemic.
"We're doing much more telehealth than we've done before," Kroupa explained. "So being able to schedule those more quickly and easily is very important."
VA has had a long and a sometimes rough history deploying scheduling systems, but it all culminated to garner nationwide attention in 2014 when reports surfaced that a "secret" waitlist of more than 1,400 veterans waiting months for treatment was being kept by the Phoenix VA Health Care System—and 40 on the list died while holding out for care. 
Following the crisis, the agency set in motion the VistA Scheduling Enhancements, or VSE, program to boost its in-house system. Officials deemed the work did not effectively confront underlying issues and it was canceled, prompting the agency to turn to installing the Medical Appointment Scheduling System, or MASS. The commercial system was developed by Epic and a subsidiary of Lockheed Martin and saw an early deployment at the Chalmers P. Wylie Ambulatory Care Center in Columbus, Ohio. But that contract for MASS was canceled in January, opening the door for the launch of Cerner's scheduling software solution—as insiders say they recognized the need for it to be an integrated component of its $10-billion electronic health record system and modernization effort the company is heading.
Reasoning behind VA's selection of Cerner for the tool after having already started down the MASS path with Epic, all "went back to making sure this was interoperable," according to Powers, who attended CSS' debut in Ohio this weekend.
"That is why we went to Cerner to really roll that out throughout the entire enterprise—it just makes sense to work with one contractor throughout all of our innovations, and all of our modernization effort," she said. 
Up Next and Early Impacts
CSS will ultimately be a capability offered as a module within the Cerner-developed electronic health record system for many facilities, but the VA Central Ohio Healthcare System is not set to gain access to the full new integrated package until at least the spring of 2021. Part of the reason that the Central Ohio Healthcare System was chosen as the first to receive the sole scheduling solution ahead of gaining the full suite is because the Chalmers P. Wylie VA Ambulatory Care Center, where the MASS system was set to expire this summer, is its main campus. 
The ultimate deployment of VA's new EHR system is anticipated to occur over about a decade and the entire process was delayed by the pandemic—but standing up CSS in Ohio went much quicker than anticipated. Officials began the effort in June, setting sights on October for the solution's go-live. Yet through what John Windom, executive director of VA's Electronic Health Record Modernization Office called "a phenomenal act of teamwork," it was ready in August.
"We've got tremendous momentum now," Windom said. "I'd like to take advantage of it and continue to move this thing forward instead of waiting on this perfect venue or vignette that just will never come."
With CSS improving processes in Columbus, Windom said VA intends to soon deploy the entire Cerner-made EHR integrated suite, equipped with scheduling, at Mann-Grandstaff VA Medical Center in Spokane, Washington. Then, focus will shift back to Columbus, where VA facilities will see the full deployment of the entire EHR system package. 
"I can tell you our strategy that has been approved, and we have briefed Congress on it, is that we are now going to be deploying—excuse my military term—on two battlefronts: [Veterans Integrated Service Networks] 20, which is in the Pacific Northwest, and also VISN 10 which is obviously the Ohio, Michigan region," Windom, a Navy veteran, explained. "We're going to be doing this simultaneously, and what we think it gives us is versatility in this very volatile pandemic-based environment to where if there are spikes, we're able to shift to other areas of the country and still execute to our mission objectives." 
The agency has a full schedule that addresses deployments across each site in the VA enterprise, he noted. But the Spokane and Columbus facilities are what the agency calls initial operating capability sites, or IOCs, according to Windom. The sites offer VA insiders a chance to refine applications, training methodologies and their understanding of first-ever processes before they are deployed across the entire enterprise. "It really is a risk management tool that allows us not to overly invest in strategies before we demonstrate that they in fact work," Windom noted.
VA Central Ohio Health Care System Director Vivian Hutson knows firsthand what it's like to puzzle out and perfect new assets and approaches within such modernization-pushing environments.
"At the Columbus VA, we have always been very innovative—that has been our culture," Hutson told Nextgov. "My staff are the ones really wanting the modernization because they see so much good in the new records and the new system. So they are wanting to modernize it, actually, from the bottom up."
Hutson reiterated the other officials' view that scheduling "is very much a part of our electronic health records," and detailed how the facility's personnel worked with Kroupa and technical experts from both VA's EHRM Office and Cerner through several months of CSS-centered training and implementation ahead of it being unleashed. 
"The initial feedback is that the system is very intuitive," Hutson noted. "It's important for my physicians, my scheduling specialists and my clinical people—they like the system and they really like the support," from Cerner and the overall department.
Noting that the team leans into having a "super user-adoption culture," Hutson said the insiders identified glitches throughout the early implementation, brought them up to higher levels for resolution and are now "seeing positive change based on the feedback they provided."
"So we have an expectation that is going to be a good model for how we do scheduling," Hutson said. 
Acting Deputy Secretary Powers spotlighted the significance of showing early success and buy-in through smaller iterations of monumental efforts and said in working with Hutson and the Ohio team for the first release VA "has learned a lot of best practices across the board that will really set [the agency] up for success going forward."
"It's really exciting to see what the team has done in the middle of a pandemic. We could have easily just said, 'nope, we're waiting until the conditions are perfect on the ground," Powers said. "But we didn't. We said 'the conditions will never be perfect. We have to find a way to continually modernize and transform this department in a safe way, and in a way that works within this incredibly large integrated system.' And I think that we are on the path to doing just that."