Feds Look to Application Programming Interfaces as Gateways to Modernization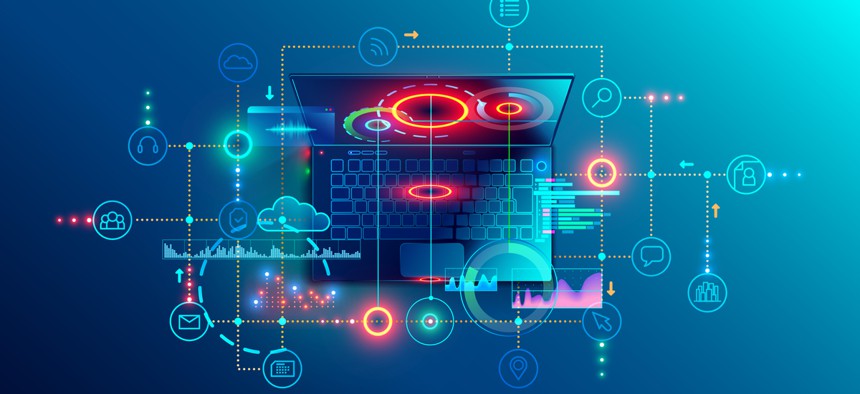 The technology can boost partnerships and lead to new solutions across federal agencies.
Government insiders regard application programming interfaces, or APIs, as "future enablers" that can accelerate technological advancement and empower both the public and private sectors to create innovative federal solutions, executives said at the Dell Real Transformation summit in Washington Thursday.  
"APIs—that, I believe, will be the gateway to modernization efforts," Veterans Affairs Department's Chief Modernization Officer, Surafeal Asgedom, said. "When I think of APIs, I think of almost a wall socket. This is going to allow applications and programs to access our vast enterprise data."
As a set of protocols that enables applications to communicate and interoperably share information or functionality, the VA recognizes APIs as critical tools that can boost their partnerships with industry and be leveraged to help the agency meet its mission to serve those who have served America. 
There are nearly 20 million veterans across the nation, many of whom the agency serves through the largest integrated healthcare system in the country. In that effort, Asgedom said VA is pursuing a digital future enabled by its vast amounts of data, as it's come to comprehensively realize and cope with its evolving demographics. 
"Today, our veterans expect a more current care service," he said. "They want to be able to get the same kind of service they get in the commercial world."
APIs will support the agency in providing a more modern service to former military personnel. He said initially, they're starting small with four specific APIs: Facilities API, Benefits API, Health API and Verification API. 
Through the facilities API, the agency is leveraging Amazon's Alexa to help people find and access relevant information around specific VA facilities and schedule future appointments. The agency is partnering with Apple for the health API, which will be used to build tools that help veterans manage their health. Tracking and uploading benefits information can be a long and cumbersome process, so the benefits API enables people to build tools that will help veterans submit and access information around their claims. And the verification API will allow techies to create resources that veterans can use to verify their veteran status electronically across a variety of sites. 
"This is going to be able to allow us to innovate much faster than we are able to do," Asgedom said. 
Agencies outside the VA also see great value in API technology. 
"One of the things [Asgedom] said, was a key to [VA's] success was the ability to have APIs, so they can move things in and out," the General Services Administration's Deputy Chief Information Officer Beth Killoran said. "And I think for GSA—that's what we are trying to do."
The Justice Department's Chief Information Officer and Chief Data Officer, Joe Klimavicz, also said it's critical to create channels for data-sharing through APIs. As a participant at the Office of Personnel Management's CDO training course Wednesday, Klimavicz said it really resonated with him how federal agencies face challenges that span across entire data lifecycles. 
"We really need to think about API managers to bring all this together, because we are not going to go back and retrofit all the data to one format and standard," he said. "We need to figure out how to intelligently and smartly access that information, share that information and make sure it's available."