Labor Unveils New Resources to Boost Contractor Hiring Compliance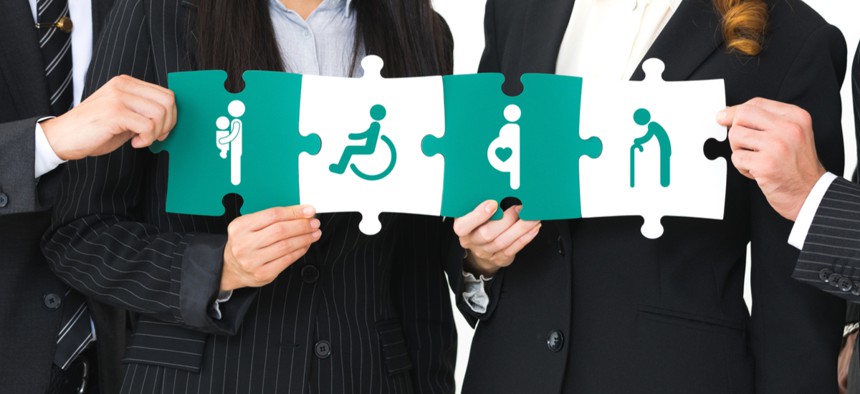 The Labor Department's Office of Federal Contract Compliance Programs unveiled two new resources Friday for government contractors to help comply with equal employment opportunity rules: an interactive contractor assistance portal and a newly appointed ombudsman.
"OFCCP is committed to transparency in the agency's enforcement practices and providing more certainty to federal contractors," Acting Labor Secretary Patrick Pizzella said in a statement.
As Labor's civil rights agency, OFCCP enforces various federal laws that prohibit those who do business with the government from discriminating on the basis of race, color, religion, sex, sexual orientation, gender identity, national origin, disability or status as a protected veteran. The agency offers compliance assistance and conducts evaluations to ensure contractors and their subcontractors follow personnel policies and procedures, recommends enforcement actions to Labor's solicitor when necessary and links stakeholders with Labor's job training programs to help employers recruit qualified workers, among other duties. 
As a compliance assistance resource, OFCCP's new portal will act as its online help desk that companies can access to ask the agency direct questions about the specific issues they face when embarking on federal business, retrieve helpful reference and compliance assistance materials, learn about solutions to common compliance challenges and share successful strategies to support other stakeholders in their efforts. 
Agencies can also access the portal to gather information around specialized topic areas. In the future, OFCCP plans to use it for periodic live group chats and discussions. The agency also intends to continuously update the online help desk with new features and compliance assistance resources.
"We want federal contractors to use this tool to ask questions and search answers regarding compliance with the laws and regulations enforced by OFCCP," Director Craig Leen said. 
Also on Friday, the agency announced Marcus Stergio was appointed as ombudsman. 
Stergio, who holds a master's degree in conflict resolution and previously administered the dispute resolution process for a number of multinational institutions, will work with a wide variety of OFCCP's stakeholders to ensure that the agency is treating them fairly and in accordance with legal authorities, policies, and procedures. He'll also work to improve the agency's internal operations. 
OFCCP originally announced its plan to stand-up an ombud service and implement an ombudsman in a directive from Sept. 2018, as part of a broader initiative to improve transparency in its compliance evaluations and activities. 
Stergio's first assignment will be to design and establish OFCCP's ombud service and facilitate the resolution of specific issues raised by various stakeholders in coordination with regional and district offices.