DOD's Next Electronic Health System Rollout Will Be Different, Officials Say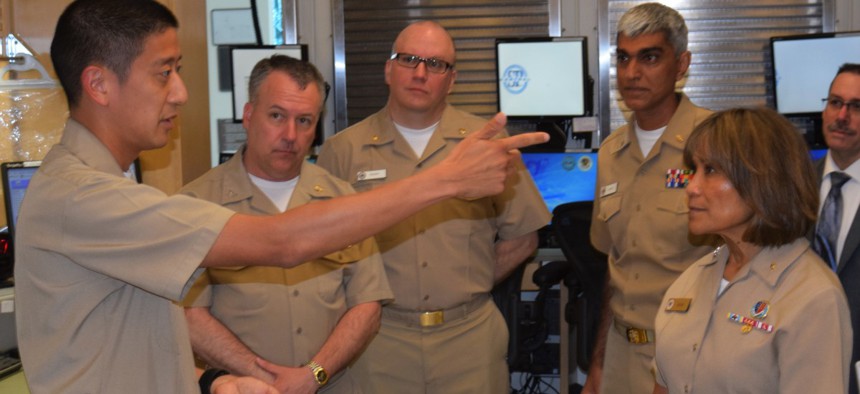 After a poor showing in the first deployment of the MHS GENESIS electronic health records system, officials have retuned the training system and ensured better infrastructure is in place for the next rollout.
After a rocky—and ultimately truncated—initial operating test of the Defense Department's new electronic health records system, the department is getting ready for a second round in September. With key lessons learned from the first rollout, officials say this time will be different.
"We have learned important lessons over the last 18 months at the initial deployment sites in the Pacific Northwest," Vice Admiral Raquel Bono, director of the Defense Health Agency, told reporters Tuesday. "We will soon be implementing MHS GENESIS at locations in California and Idaho, and the lessons learned from the IOC experience will be essential to our work at these sites."
The department released the first live version of the MHS GENESIS system at three military hospitals—Fairchild Air Force Base, Naval Hospital Bremerton and Naval Health Clinic Oak Harbor—beginning in February 2017. By January 2018, the rollout was going so poorly the agency considered scrapping plans for a fourth site, Madigan Army Medical Center. DHA officials confirmed to Nextgov that the site had made the transition to the MHS GENESIS platform.
Doctors using the new system reported struggling with an awkward user interface and insufficient bandwidth, causing problematic latency issues.
As DHA officials ready for the next wave to roll out on Sept. 7, they've taken these lessons learned to heart.
"There are three major areas that we've changed dramatically," said William Tinston, a program executive officer the Defense Healthcare Management System. "We changed the training strategy—we didn't get that right the first time. We dramatically changed the training strategy. We have created a change management process, and Gen. Payne leads a team that is very focused on that change management. The other thing is the infrastructure. Six months prior to going live at a site we have the infrastructure updated and have six months to make sure that it's working."
The training strategy has undergone the most changes, according to Maj. Gen. Lee Payne, assistant director for combat support for DHA and the MHS GENESIS functional champion. In prior iterations, the training system focused on superusers who would then be able to help their colleagues through the new process.
Now, the training regimen uses "peer experts" to train like-for-like positions.
"So, I'm in an emergency position, I would have a peer expert that's in an emergency position. Front desk clerk would have a similar person," Payne said. "It helps us build a bigger bench of expertise within the organization. Those peer experts get more training, more exposure to the record to help the average frontline user move ahead."
The team has also implemented a stronger change management system to guide the workforce through the transition.
"As part of our change management strategy, it's really important to understand your as-is workflows and your to-be workflows," Payne said. "So, we have teams that go out and educate the staff on, 'Here's what your current workflow is,' and then they come back months later and say, 'Here's your to-be workflow,' and help them make that transition from as-is to to-be. That's very, very important."
The third pillar—infrastructure—is also being addressed in the next rollout. Tinston said the team ensured new, sufficient infrastructure able to handle the new system was in place at least six months before a new rollout.
"That was a key lesson learned coming out of the IOC sites: The infrastructure needs to be in place and it needs to really have some burn-in time," he said. "Wave Nellis and Wave Travis, we are on track to have that in place at least six months prior to going live at those locations."
The Sept. 7 deployment—dubbed Wave Travis for the largest base in the set—will go live at Travis Air Force Base, Naval Air Station Lemoore, Presidio of Monterey in California and Mountain Home Air Force Base. The next wave—Wave Nellis—includes Nellis Air Force Base, Fort Irwin, Twentynine Palms, Edwards Air Force Base, Beale Air Force Base, Los Angeles Air Force Base and Vandenberg Air Force Base, set for deployment in June 2020.
On the current schedule, DHA expects to have MHS GENESIS deployed at all military medical facilities by the end of 2023.