After Listening to Veterans, VA Put All Its Services on One Website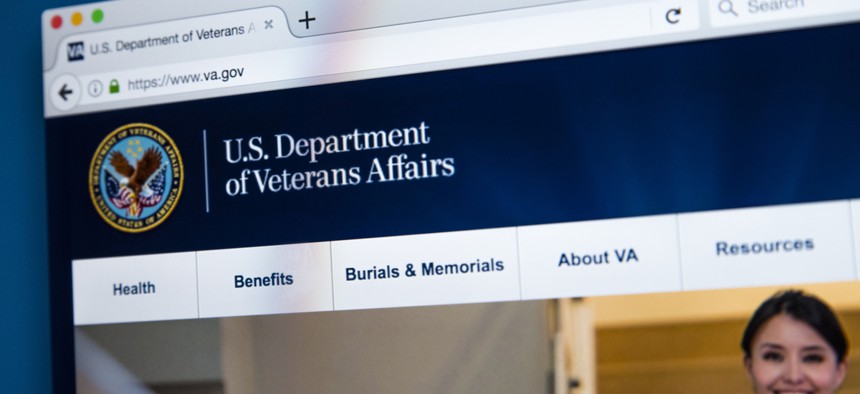 In the future, officials hope to eliminate most—if not all—of the paperwork and other bureaucratic barriers that prevent veterans from accessing the benefits they've earned.
Wednesday night, the tech team at the Veterans Affairs Department launched their latest effort to improve the quality of services for former military personnel with the relaunch of VA.gov.
Not long after the U.S. Digital Service team at Veterans Affairs streamlined access to benefits information on Vets.gov, it became clear that the very existence of a separate site to host that information was a needless extra step for veterans.
In an effort to mold the experience of how veterans interact with VA services to be more in line with how those veterans would like it to work, the USDS team set about moving all those streamlined resources to a more central location. The revamped VA.gov is the new single point portal for any and all veterans services.
"Vets.gov was intended to build a plain language, easier experience for veterans to understand the benefits they've earned and to be able to access and transact with the VA more effectively," said Marcy Jacobs, executive director of USDS at VA.
However, after conversations with more than 5,000 users, the team discovered that veterans didn't want a website just for benefits.
"They don't expect to go to a benefits site for benefits stuff and benefits tools and a health site for health stuff, and have to log in completely differently," Jacobs said during an event Wednesday hosted by Nextgov. "They want to go to one VA and have a single front door."
The new VA.gov intends to be that single access point for veterans and their families, with easy-to-access information on every service the VA offers. In order to keep the front page from being overcluttered, the USDS team spoke with veterans and looked at user data to discover the top 20 things 80 percent of users looked for most often.
The site also includes a personalized log-in feature that customizes the experience to the individual veteran.
"The personalized homepage aggregates whatever you have in flight, from benefits—your claims status or appeals status or a form that's needed—and your health information—you have a doctor's appointment coming up or prescription refill that's in the mail or ability to message your doctor—and pulls that into a curated and aggregated experience," Jacobs explained. "So, it takes the burden off the user to know where these things exist and where to get to them and puts that really on us to come to the veteran with a different perspective."
As with all rollouts, Jacobs expects there to be some bumps in the relaunch. But the USDS team is used to working in an agile method and is already working on future improvements for the next delivery cycle.
One such future improvement Jacobs is excited for will be when the VA and Defense Department systems work together so seamlessly that service members transitioning to civilian life don't have to fill out any paperwork to get their VA benefits.
"We don't have to say, 'Thank you for your service. Here's a lot of paper to fill out.' We say, 'Thank you for your service. We know who you are, you just served for 10 years. Here are all the things you're eligible for.' You don't have to fill out a form, just opt in to what you want," Jacobs said. "I would love to get to the point where we don't have to ask a question that we already have the answer to."