There's One Less Option for Agencies Now on GSA's Next-Gen Telecom Contract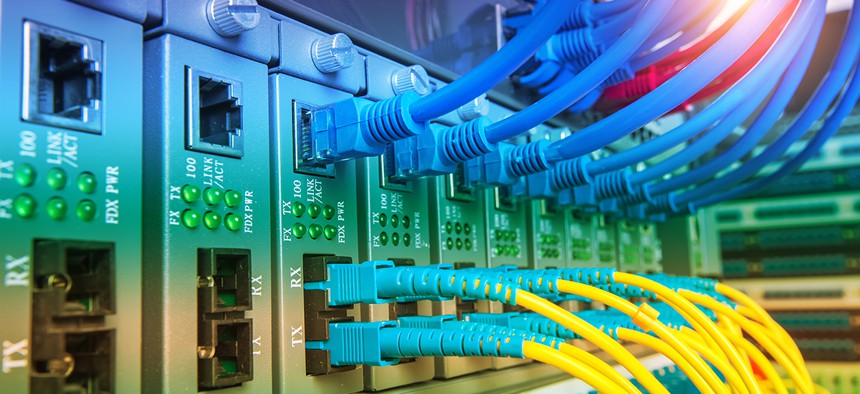 With last year's acquisition of Level 3 by CenturyLink, the companies' offerings on the Enterprise Infrastructure Services contract have been consolidated.
The pool of vendors on the General Services Administration's $50 billion replacement telecommunications infrastructure contract has shrunk from 10 to nine.
The agency announced last week that Level 3 Communications has been removed from the Enterprise Infrastructure Services contract after the company was acquired by CenturyLink—another contract holder—one year ago. As Level 3 was subsumed by CenturyLink, the company chose to keep only one spot on the EIS contract.
After nearly 11 months of talks, the parties decided to remove Level 3 from the contract and largely replace the current CenturyLink contract with the proposal from Level 3, with some CenturyLink capabilities added on, David Young, senior vice president of CenturyLink's strategic government group, told Nextgov. The original CenturyLink contract has been canceled and the new offering—using the Level 3 contract as a base—has been renamed as the new CenturyLink contract.
Young said the company and GSA have been in discussions since November on how best to move forward. Internally, CenturyLink and Level 3 officials looked at how their proposals lined up and determined that Level 3's contract had more to offer.
He said the company analyzed the products and contracts for both units and found Level 3 was offering newer technologies and had a larger customer base. When the go-forward products were part of the original CenturyLink contract, those were wrapped into the new, combined offering.
As for the name change: "Level 3 still exists" as a subsidiary of CenturyLink, Young said, "but it's not designed to operate as a public company," forcing the change from "Level 3" to "CenturyLink" despite being based on the former's bid proposal.
While companies have been awarded spots on the EIS contract vehicle, agencies have yet to award task orders against the contract. Agencies have been working on plans to transition from the current Networx contract to EIS, which they will then put to the EIS vendors to bid on. Since there have yet to be any task order awards, the changes will not affect any current contracts, GSA said in a notice on its Interact site.
GSA officials also noted the change will not affect contracts other than EIS, including Networx and the Washington Interagency Telecommunications System, or WITS-3, telecom vehicle.