12 Companies Tapped For Phase II of Agriculture's Centers of Excellence Journey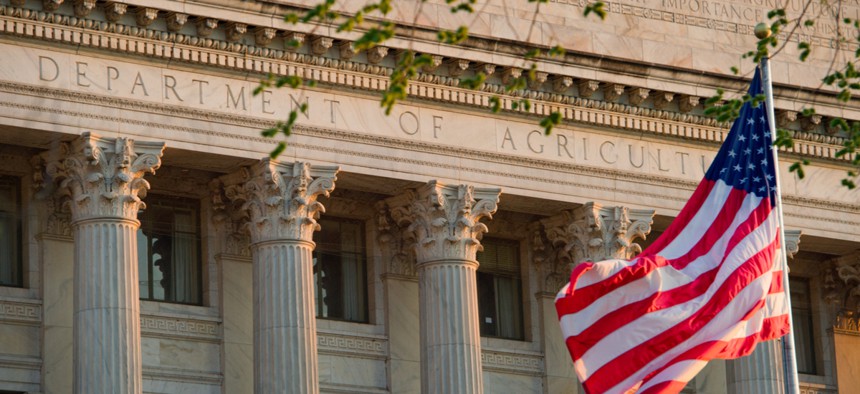 The real work begins as a dozen companies sign on to implement the modernization strategies developed in the first phase of the program.
The first project under the Centers of Excellence initiative took a major step forward Monday with the award of implementation contracts to vendors for each of the five focus areas.
The Agriculture Department—the first agency to go through the new program—and General Services Administration announced five individual winners split among four centers, plus a blanket purchase agreement with 10 vendors to help the agency improve its IT infrastructure.
"USDA is extremely excited about transitioning to Phase II of our Centers of Excellence initiatives with GSA," USDA Chief Information Officer Gary Washington said in a release announcing the awards. "Since beginning in March of 2018… [t]he CoEs have helped USDA accelerate its modernization efforts across our mission areas."
After establishing the five centers around contact centers, customer experience, data analytics, cloud adoption and infrastructure optimization, Agriculture went through the first phase with GSA. The agencies awarded contracts to assess Agriculture's needs across each area, resulting in solicitations for new vendors to come in and help implement those strategies.
For the contact centers, GSA announced an award to Accenture Federal Services for the OneUSDA Contact Center and NIC Federal to work on the Voice of the Customer tool.
SAIC was tapped for the Data Analytics Capacity Building and Data Visualization and Analytics program.
Booz Allen Hamilton will help improve customer service through the Customer Experience Digital Support Services contract.
Business processes will be advanced through the Business Modernization Office Support Services contract awarded to Summit Consulting.
And Agriculture will be able to buy infrastructure optimization and cloud adoption assistance through a multiple award BPA that includes Booz Allen Hamilton, TechFlow, Smartronix, SAIC, TechTrend, OM Group, Ace Info Solutions, Accenture Federal Services, Deloitte Consulting and T-Rex Solutions.
"I am proud of the Federal Acquisition Service, especially the Technology Transformation Services team, for making these Phase II awards and hitting this major milestone so quickly," said GSA Administrator Emily Murphy. "This effort will result in a better customer experience for citizens and a suite of best practices and lessons learned that can be applied across the government to ensure agencies have the tools and knowledge they need to better serve the American people."
As Agriculture transitions to the second phase, the Housing and Urban Development Department is getting ready to start phase I of its journey through the program. HUD CIO David Chow told Nextgov the agency has signed on to use all five centers—though slightly differently than Agriculture—and is in talks to help start a sixth around cybersecurity.