How A Human Resources System Could Revolutionize the Army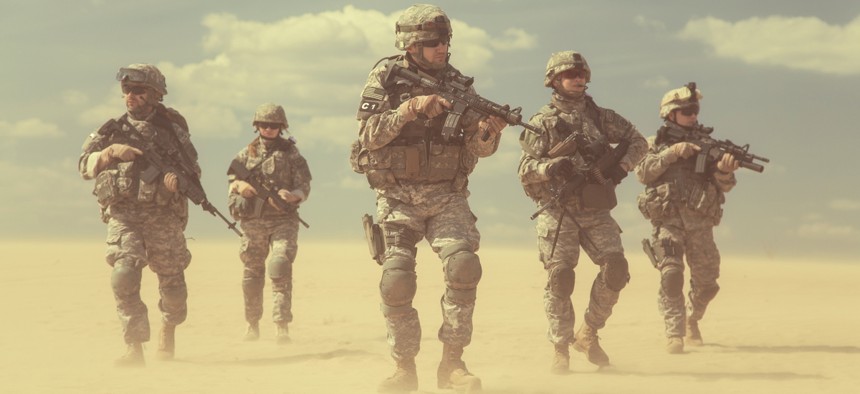 One of the hardest parts of starting a new government program is finding the right talent to see it through. The Army knows this all too well. But a couple of program managers think they have at least part of the solution.
Col. Gregory Johnson, chief of the Army's Functional Management Division, faced this challenge two years ago when he joined the leadership team for the Integrated Personnel and Pay System-Army, or IPPS-A, a program to integrate the Army's 200 pay systems and revolutionize the way it manages its human resources.
Johnson needed a team of strong coders, designers and customer experience professionals but had no ready means of identifying those people within the Army's ranks. So, he reached out to colleagues whom he had a rapport with, asking for names. He sifted through all those responses looking for certain skills and attributes and eventually pulled together a core team capable of meeting the mission: make sure no one ever had to go through that broken process again.
The program began with a mandate to modernize and consolidate the Army's pay systems but soon turned into much more. As the project plan developed, it became clear that the Army's current system for categorizing soldiers was woefully inadequate.
Today, IPPS-A is more than just installing a new human resources system—it's about reinventing the way the Army sees its soldiers and takes advantage of their unique talents, according to Johnson and Col. Darby McNulty, IPPS-A project manager.
"Very much, today, we track guys on two variables: their skill—infantryman—and then their grade—captain or a staff sergeant. And we very much utilize them in the Army just by those two variables," Johnson explained. "Now, we have a 1.1 million-man Army, in a lot of cases you have to track them in those ways. But it's really, what other talents do you bring to the table and how do we utilize those talents to better the national defense?"
Currently, finding the right people for an important task meant tapping your network—as Johnson did at the start of IPPS-A—and sifting through reams of disorganized paper trying to find the right needle in a stack of needles.
Under the IPPS-A HR system, soldiers will have personal profiles detailing their histories, training, interests and unique skills.
"What opens up significantly is, can you really code, do you really have the analytic brain to do cyber, can you work robotics, can you do AI, can you code machine learning, are you a data scientist at heart?" Johnson said. "There's all kinds of people in the Army doing great things—some are driving tanks; me, I'm an HR guy. But if you have this talent, maybe I can utilize you for something much more broad than that current task that you're doing."
Once the new system is up and running, leaders in need of specific skills will be able to run a search against the database, using filters such as rank, language skills, experience and training, as well as more qualitative metrics, such as social standing and peer reviews.
"We like to tease him about finding Spanish-speaking salsa dancers," McNulty said, directing the jab at Johnson.
"We can find anything with this system," Johnson responded confidently.
The new schema uses a five-by-five matrix to develop a 25-point profile that dives into knowledge, skills, behaviors, experience and readiness.
Eight of those 25—self-professed knowledge; professional licenses, certificates and skills; self-professed attributes; languages and level of proficiency; personal goals, passion and achievements; cultural experience and proficiency; civilian work experience; and soldier preference—will be self-reported by the soldiers. Others, like the writing and peer assessments, will be part of official testing.
The system has the full attention of top leadership, Johnson and McNulty said.
"It's unprecedented for the Army to focus on an HR management-type thing at this level," Johnson said. "It's absolutely unprecedented. We're very fortunate for the leadership that we have right now from the very top."
"Is it easier to fight a war when your family is taken care of? Absolutely," McNulty said. "We may not kill the enemy but we find and retain the talent that's going to do it and we take care of the soldier and their family while they're doing it."
Not to mention making it easier for leaders to find the talent they need for their programs and priorities.
And the system won't only make leadership's lives easier—it should reap major benefits for soldiers, as well, including better pay.
"HR leads to pay," Johnson said. "What comes along with changing your HR system is asking those hard questions: Hey, do I have the right incentive structures to maintain an all-volunteer force into the future?"
A system that logs all of a soldier's skills also maintains a record of the value that soldier brings to the force. This should create a "marketplace" for skilled soldiers, McNulty said, which, if properly incentivized, will lead to higher pay for in-demand skills.
Along with higher pay and more advancement opportunities, the system will help soldiers get more involved in the things they love to do. For Johnson and McNulty, that could have meant much more direct career paths.
"With this system in place, the Army would have presented us with opportunities versus us seeking out opportunities because they would have recognized that we have certain knowledge, skills and attributes," McNulty said. His initial aptitude test said he should go into ranching or become a park ranger. McNulty said he is only now doing what he loves—managing tough, technical programs—because he aggressively worked his way through the system.
"I think I'm where I'm at because I've done a really good job and aggressively pursued things that I wanted to do. But if you're not aggressive but do have aspirations, this will help those people out."