The Tech Side of Trump's Plan to Reorganize Government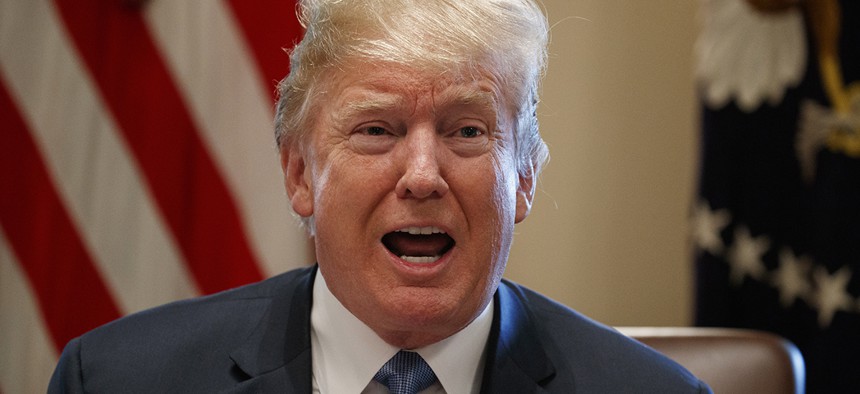 The plans would force government to get digital, as well as improve the way it provides services to citizens.
Under a new reorganization plan from the Trump administration, federal agencies would have less than four years to digitize all their paper processes.
The White House Thursday released its overarching plan to reorganize the federal government, and, as with most of the administration's management plans, it emphasizes technology's role in the future of government.
The reorganization plan focuses on combining, renaming and shifting missions of agencies across the government, though many of these initiatives will require congressional action. Tucked within its pages are 41 references to technology and an entire section dedicated to the transition to an "electronic government" and improved customer experiences.
"Government in the 21st century is fundamentally a services business, and modern information technology should be at the heart of the U.S. government service delivery model," the report's introduction states. "And yet, today's executive branch is still aligned to the stove-piped organizational constructs of the 20th century, which in many cases have grown inefficient and out-of-date."
The plan calls for digitizing all of the federal government's recordkeeping by Dec. 31, 2022, at which time the National Archives and Records Administration would stop accepting paper records from agencies.
NARA is pulling double-duty, the report notes, as the agency takes in and manages troves of paper records—currently more than 12.5 billion pages—at the same time as the tide of electronic records continues to rise. As of 2017, the agency manages the equivalent of 34 billion pages in digital records.
"This forces NARA and federal agencies to devote resources to actively processing, moving and later maintaining large volumes of paper records—requiring facilities, staff, and support contracts," the report states. "To date, efforts to address this issue have been inconsistent and ineffective across agencies."
The move aligns with legislation currently under consideration, like the House's 21st Century Integrated Digital Experience Act, or 21st Century IDEA, which would require agencies to modernize their websites, improve customer experience online and encourage citizens to use digital portals rather than relying on paper and in-person interactions.
As with the legislative efforts, the administration's reorganization plan does not leave the citizen behind. In the report, the electronic government section is followed by a call to improve the customer experience for Americans.
"Whereas government agencies execute their missions based on their specific authorities and responsibilities, customers tend to experience government across stovepipes," the report states. "As individual agencies make investments—particularly information technology investments—maturing the capability to improve customer experience across agency silos will help the government meet 21st century needs and expectations. At the same time, improving customer focus can lead to greater efficiency and effectiveness in agency operations."
Achieving this goal "will require technical expertise, enhanced business processes, management support and new government authorities to create cross-agency, government-wide solutions."
The plan calls on the Office of Management and Budget to lead this effort, namely by creating a conduit for agencies to partner with each other and stakeholders—i.e., customers. OMB will be supported in this by the U.S. Digital Service and the Technology Transformation Service based in the General Services Administration.
"To get started, this capability and relevant agencies will conduct research to identify the most significant opportunities for customer-centric change, develop customer journey maps which cross organizational silos and then develop action plans to execute service improvements," according to the report.
The report suggests starting with things like "Digital Front Doors"—agency website landing pages, which are often the first thing citizens see when searching for government services. These pages should be rebuilt "to focus less on government structure and more on user experience."
A new approach to addressing emerging tech challenges
The reorganization also proposes the creation of a public-private partnership to respond more rapidly to innovative technologies, business practices and research that could improve mission delivery, citizen services and resource management.
The Government Effectiveness Advanced Research, or GEAR, Center "would be a non-governmental public-private partnership that would engage researchers, academics, non-profits, and private industry" in various disciplines, including behavioral economics, computer science, design thinking and data-driven approaches to problems. The proposal posits that such an entity could bring together experts from a variety of backgrounds and expertise to provide "forward-thinking" recommendations the government could use to provide better services to citizens.
The reorganization document suggests GSA could issue a challenge under the America COMPETES Act and issue a request for information from industry and academia around the art of the possible.
The GEAR Center "could be established at a university, think tank or other prominent research institution, and could address a variety of technological challenges, such as the governmental impacts of automation or strategies to leverage big data."