VA Signs $10 Billion Health Records Contract With Cerner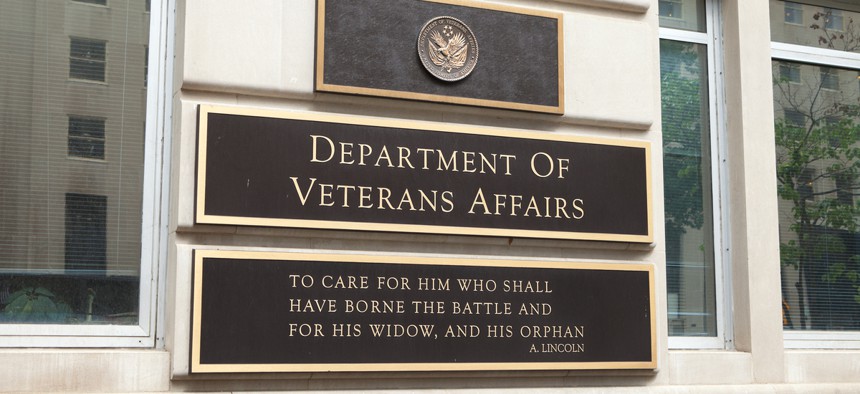 VA will formally pursue the same health records platform as the Pentagon.
The Veterans Affairs Department inked a 10-year, $10 billion contract Thursday with Cerner Corp. to adopt the same commercial electronic health records system as the Pentagon.
Veterans Affairs Acting Secretary Robert Wilkie in a statement said VA's future health records system will seamlessly communicate and exchange records with the Pentagon's, resolving an issue that cost the agencies billions in recent years.
"President Trump has made very clear to me that he wants this contract to do right by both Veterans and taxpayers, and I can say now without a doubt that it does," Wilkie said. "Signing this contract today is an enormous win for our nation's veterans. It puts in place a modern IT system that will support the best possible health care for decades to come. That's exactly what our nation's heroes deserve."
The contract with Cerner was announced last year by then-Veterans Affairs Secretary David Shulkin, but several issues, including congressional funding and Shulkin's eventual firing, slowed the contract's final signing.  
According to Wilkie, the Cerner contract will allow the agencies to share patient data among Veterans Affairs, the Defense Department and community providers "through a secure system." Combined, the two agencies have more than 20 million beneficiaries, including soldiers and veterans.
"Health information will be much easier to share, and health care will be much easier to coordinate and deliver, as well as faster and safer," Wilkie said.
The department received nearly $800 million in funding from Congress for fiscal 2018 to begin the contract.
"We're honored to have the opportunity to improve the health care experience for our nation's veterans. The VA has a long history of pioneering health care technology innovation, and we look forward to helping deliver high-quality outcomes across the continuum of care," said Cerner President Zane Burke, in a statement. 
Meanwhile, the Defense Department is rolling out MHS Genesis, also developed by Cerner Corp., at four locations, but the pilot keeps hitting problems. That contract is worth up to $9 billion. Work temporarily stopped in February to address more than 14,000 help-desk tickets, many of which involved workflow changes. Pentagon testing and evaluation officials last week declared the system "neither operationally effective nor operationally suitable" after testing three of the four facilities. 
Testing officials determined users could only about half the 197 tasks used as performance measures, and experienced latency issues and outages as more logged on. They concluded the end-to-end system couldn't support the capacity of the four test sites even though the department expects to support 9.6 million beneficiaries from hundreds of facilities.  
Defense officials said they will learn from the platform's initial failures, and they'll be working hand in hand with Veterans Affairs officials as the agency works to implement the same health records platform.
"VA and DoD are collaborating closely to ensure lessons learned at DoD sites will be implemented in future deployments at DoD as well as VA. We appreciate the DoD's willingness to share its experiences implementing its electronic health record," Wilkie said.