AT&T Won Secret $3.3 Billion NSA Contract Despite More Expensive Bid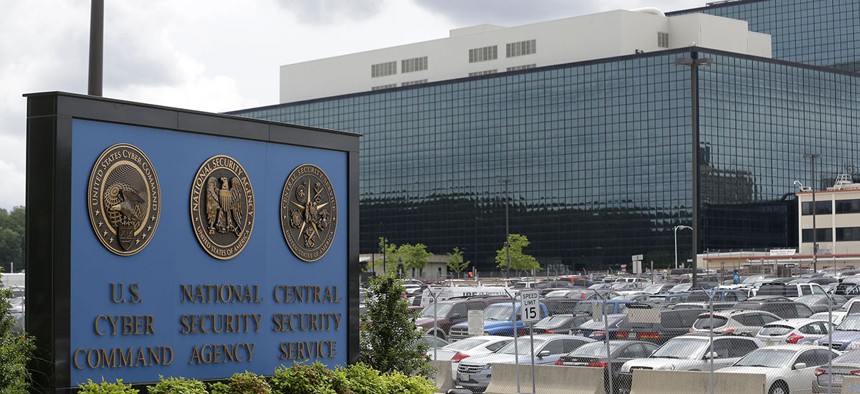 Legal documents shed light on one of NSA's most important tech contracts.
AT&T was awarded one of the National Security Agency's most coveted classified tech contracts despite a bid that was $750 million higher than the other competitor's bid.
According to redacted legal documents released March 20, the telecommunications giant bid $2.55 billion on a contract to "technically evolve" the NSA's IT environment, significantly more than a $1.79 billion bid from DXC Technology. The subsequent bid protest resolved in AT&T's favor in January.
Called Regional Infrastructure Services I, the contract is the second of three massive tech contracts called Greenway that follow-up the agency's classified Groundbreaker program. The infrastructure services contract is worth up to $3.3 billion over 10 years if all options are exercised, according to the protest documents.
The documents, included in the Government Accountability Office's protest decision, indicate why the NSA chose AT&T despite its higher costs. AT&T's bid more than met minimal acceptable requirements in eight key factors, including technical services, enterprise management services, past performance and transition and future state, according to the NSA.
DXC Technology's bid only met the minimal requirements in each category.
"The significant benefits of AT&T's non-price factors fully warrant this premium and are not offset by [DXC Technology's] lower-rated and lower-priced proposal," the NSA's source selection official wrote. The unnamed official added that AT&T's proposal would provide significant benefits in "reliability, redundancy and reduced risk" and "merit the higher price."
Key Contracts for the NSA
The bid protest documentation offers a few new details regarding how the NSA is updating the Groundbreaker program, one of its most safely-guarded secrets, with a series of contracts called Greenway.
The Groundbreaker program was originally created in 2001 to outsource the NSA's IT operations. The first contract—reportedly worth up to $5 billion over 10 years—was awarded to a consortium of contractors called the Eagle Alliance, led by Computer Sciences Corporation, which is now CSRA. Eagle Alliance would win the NSA's first recompete of Groundbreaker, which was set to expire in September 2017.
Because the Groundbreaker program grew in size and scope, the NSA opted to break the contract into three portions, now called Greenway.
Late last year, CSRA announced through a Securities and Exchange Commission filing that it captured the first of those three portions—called Global Enterprise Services—worth $2.4 billion. GAO's protest decision indicates CSRA's Global Enterprise Services contract "focuses on services provisioned on a global scale and more virtual in nature," which could indicate cloud-like services for NSA.
AT&T's Regional Infrastructure Services I contract is the second of those three portions. It is unclear whether the third portion, Regional Infrastructure Services II, has been awarded.
The protest decision indicates the infrastructure services contracts will provide "services more localized and physical in nature and provisioned at specific zones throughout the world."